There's no point in lying to you. I'm an unabashed Khris Davis fan. He's not a superstar. He's not even All-Star caliber. But I do think he's at least a quality regular with a chance to be a touch above league-average. The defense will always hold him back a bit, but the offense is the driving force that keeps him in a starting role.
I wrote about that very thing earlier this year while he was still on the disabled list. He struggled in his return to action in July, but I'm willing to overlook that a bit, as he was coming off a month of inactivity after having knee surgery. He also fell into a part time role while the Brewers were attempting to trade Gerardo Parra. The guy needed to kick off some rust. As such, he hit  .186/.271/.349 in a mere 43 plate appearances in 17 games.
In August, after Parra moved to Baltimore, he returned to a starting role and has since excelled. In 75 plate appearances across 21 games, he has hit .253/.318/.640. That's a pretty solid slash line, even if the on-base percentage is a bit lower than you'd like to see. A .640 slugging percentage rightfully makes up for a lot of things. Teams will put up with a lot in order to get nine home runs in 21 games.
Khris Davis has enjoyed quite the power spike in August. The nine home runs he hit were more than he hit in all his previous months combined (seven). As I mentioned before, he missed all of June with the knee injury and was relegated to part time play in July. But he did play mostly full time in April any May.
The question is not if this home run surge is sustainable. It's not. Nine home runs per month is an insane rate and no one could be expected to keep that up. Even Barry Bonds only eclipsed that rate once in his illustrious career. No, I'm more interested in how Khris Davis was able to slug so many home runs so far this month to see if there's something we can learn about him going forward.
The answer seems to be pretty simple. It's also why I don't think it's something he can maintain. Basically in August, Khris Davis started trying to pull the baseball an extreme amount of the balls he put in play. Here is his batted ball profile by month:
| Month | Pull | Center | Opposite |
| --- | --- | --- | --- |
| Apr | 30.8% | 40.4% | 28.9% |
| May | 39.3% | 35.7% | 25.0% |
| June |  40.0% |  40.0% |  20.0% |
| Aug | 54.7% |  34.0% |  26.7% |
As you can see, Khris Davis is starting to put over half his balls in play to his pull side. The interesting thing, though, is that not many of his home runs were truly pulled. Here is his spray chart for August: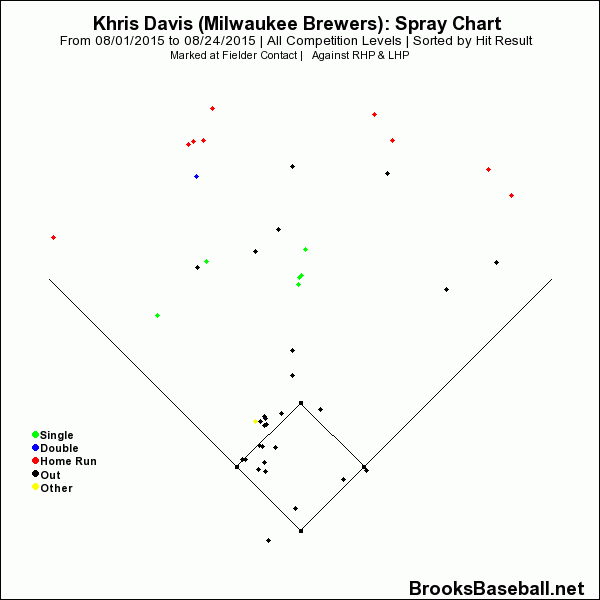 Only one of those home runs was of the dead pull varitey. Four more of them came to left-center, two of them right-center, and two more were opposite field home runs.
You'll have noticed another thing about this spray chart. There are a lot of outs coming to the left side of the infield. That's his pull side. One last related note is that he's barely hit anything to the opposite field. Two home runs and and a handful of outs.
Not only is it incredibly hard to hit nine home runs in a month, but also if the cost is pulling everything else, it's going to make Khris Davis incredibly easy to defend via the shift. The opposition won't need a right side of the infield or outfield. Davis would become a classic three-true-outcome player and he probably won't draw enough walks to sustain that profile.
We are dealing with one (incomplete) month of data which is an extremely small sample size. It is interesting to note that he's been pulling more balls with each passing month, though. If this is a conscious effort, it could end up hurting more than it helps.
Khris Davis has shown a lot of improvement this year. His walk rate has been well above average every month. His current ISO is a career high. His on-base and slugging percentages are an improvement over last year. It would be a shame to see that all evaporate because he suddenly has become too pull happy. Thus, let's hope this is more of a statistical anomaly than part of a larger trend.