Coming to Milwaukee via trade in the 2014 offseason, Adam Lind looked to provide the Brewers' lineup with another solid, powerful bat. For the overall season, he's done just that and in doing so has filled the one-time black hole at first base for the Brew Crew. The two-run home run he ripped off Cody Anderson on July 22nd brought him up to a 2015 triple-slash of .293/.374/.515, supported chiefly by a .221 ISO. At that point, Milwaukee couldn't have asked for anything more from him.
Since then, they have presumably expected him to give a bit more. From June 23rd until this past Saturday, Lind appeared in 30 games, hitting a meager .250/.319/.337 in those contests. His walk rate and BABIP have each declined slightly, but his power has betrayed him completely. He's put up an ISO of only .087. This kind of output at the plate, for someone who doesn't excel anywhere else, will not suffice, so a trend such as this may make the Brewers second-guess starting Lind as often as they have been.
It should be noted that 162 games is a long time; over a full season, any hitter will have his slumps. History can provide us with whether this sort of poor stretch for Lind has any precedent — that is, has his power ever shriveled up this much, for this long? A 30-game rolling average of his career ISO shows that it has, but not very often.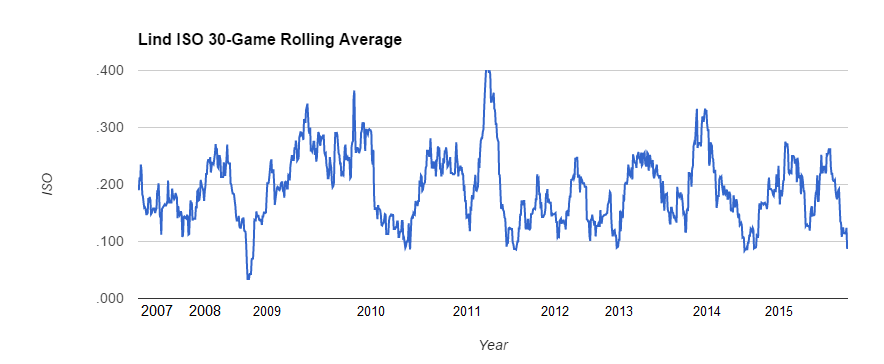 On a few occasions in the past, Lind's power has dropped below the .100 mark; the most recent sustained dip in performance came in the second half of last year with the Toronto Blue Jays. Nevertheless, this still hasn't occurred very often over the course of his career, and Lind's age (he turned 32 in July) and injury history may make it harder for him to bounce back.
Lind's peripherals certainly back up such a decline. Before entering this slump, he had hit his fly balls an average of 292.4 feet, which is in line with his career level of 290.8 feet (prior to 2015). That's plummeted to 272.5 during his cold spell. Plus, according to his batted-ball data, Lind has put the ball in the air less often — his 2015 fly ball rates have fallen from 37.3 percent to 27.3 percent. This, of course, only amplifies the effect of his shorter fly-ball distance.
Pitchers haven't targeted Lind in the same manner as of late. They've always thrown more of their pitches outside against him and had maintained that in the early part of the 2015 season; however, opposing hurlers have begun to target him more up and in, perhaps causing him to struggle.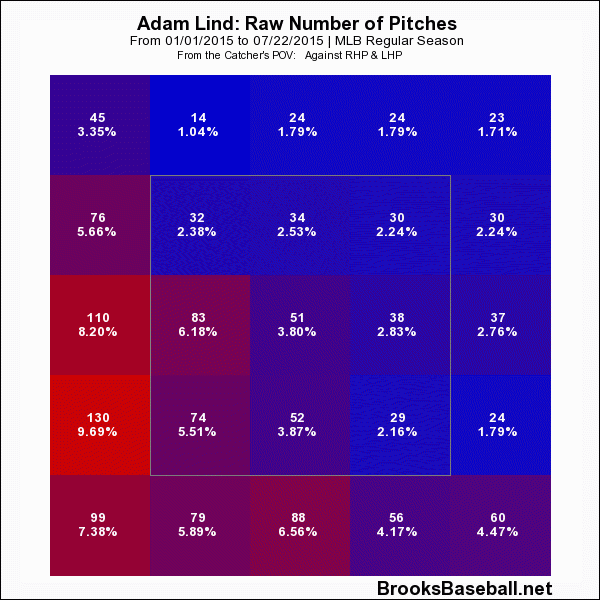 Historically, high pitches have fooled Lind, and even though he hasn't struck out as much, the poorer contact he's made on his swings has hamstrung his power production.
It's worth noting that a back injury kept Lind out of the lineup briefly at the beginning of this stint. This certainly could have a hand in his shortcomings. Then again, he suffered from the same ailment in Spring Training, and it didn't deter him then or at the start of the year. It's unclear if significant differences in the severity of the injuries exist, though, which clouds the picture. If back issues have affected him, though, the team should expect them to continue to do so going forward. Given his poor track record health-wise, it wouldn't be smart to count on Lind to remain 100 percent from here on out.
Because crazy things happen in baseball and we're inherently working with small sample sizes, this entire development could dissipate immediately. Maybe Lind will crush a few long balls in his next game back and make everyone forget that he had ever cooled off. But if this poor stretch of form stretches into September and it depresses his season statistics enough, Milwaukee will notice. Lind has underwhelmed in the past — he finished with a negative WARP from 2010 to 2012 — so it shouldn't surprise anyone if he reverted to those ways.
The Brewers didn't trade Lind at the deadline. They could feel as though they may find themselves to be contenders next year, and as such, they could use the talents that a hitter with Lind's pedigree provides. Or perhaps they're waiting for an expanded market this winter. Either way, aging will take its toll on him, as it does on every hitter. If what has developed over the past two months carries into next season, the Brew Crew will wish they had dealt him when his value was highest.