CC Sabathia will forever be fondly remembered in Milwaukee not just because of his amazing performance down the stretch in 2008, but also because of his willingness to start an amazing four times in a row on three days rest in September and into October. Not only was Sabathia sacrificing his body, but Sabathia was putting into jeopardy a nine-figure free agent windfall at the conclusion of the season. He was just weeks away from a payday on September 20th, when he made his first short-rest start, and he easily could have told Dale Sveum he didn't think he could handle the workload. But he powered through and even threw 122 pitches in his complete game victory in game 162.
"I want a ring, it's as simple as that," Sabathia told the Associated Press on October 2 as he waited to make what would be his only postseason start with the Brewers. "If I'm healthy and feel fine, I want the ball." Sabathia was the ultimate team player, and the fact that he was taking these risks for the team and the fans only amplified the cheers at Miller Park. "For a team, a guy going out on three days' rest shows the importance of the situation and your teammates appreciate it," catcher Jason Kendall said, "It's a special thing for a team."  
Sabathia, inevitably, has become a contrast for the Great Innings Limit Impasse of 2015 between Matt Harvey and the Mets. Reporters have already sought out Sabathia for comment on the issue, who was clear on his absolute apathy on the matter. But the question remains: If Sabathia was willing to sacrifice his body and his future earnings, why isn't Harvey?
CC Sabathia, who risked his free agency by pitching on short rest in '08, said, "I don't care about what is going on with Matt Harvey."

— Andrew Marchand (@AndrewMarchand) September 6, 2015
It's an argument that collapses in the face of context. Sabathia was a six-year veteran in his fourth year of collecting multi-million dollar salaries. His fourth-year arbitration award from Cleveland was a cool $11 million and kicked his career earnings up to $36.5 million. Sabathia had already reached the point where the pursuit of money was more about bragging rights and legacies than about purchasing power and providing for a family. Not so much for Harvey, who has yet to make over $700,000 in his three-year career. He's doing well, but not well enough to keep him out of the labor market until the end of days, which is a problem when you've spent your entire life training for a single vocation.
And, more importantly, Sabathia had missed all of 50 days on the disabled list for his career to that point, all from abdominal injuries, not arm injuries. Sabathia neither had to worry about a prior Tommy John surgery. Nor did Sabathia have to consider the fact that his high innings counts would only lead to further scrutiny of his medicals once he hit the free agent market, something that Harvey may have noted when his bosses nixed a trade that would have sent Carlos Gomez from the Brewers to the Mets just over a month ago over a supposedly balky hip.
And to be clear, I think it's wrong to frame this as Harvey simply making a choice not to pitch. His agent Scott Boras made that clear when he told CBSSports.com's Jon Heyman, "These are doctor's opinions… Matt Harvey would love to pitch. But the surgeon who saved his career and other surgeons consulted have said that for maximum safety he is not to exceed 180 innings for the year."
In a world where athletes need to be in crutches or a sling before fans, coaches, executives and even teammates might believe an injury is real, the right of an athlete to seek out his own doctor's opinion and have that opinion respected is critical. Just look to the C.J. Wilson situation earlier this year, in which some in the Angels' organization expressed skepticism that he couldn't push through an injured arm, even though doctors told Wilson his bone spurs had expanded to "all four sides of [his] elbow."
It's not just about facing some undeserved ribbing from teammates. Keith Hernandez discussed the Harvey issue and its intersection with baseball's labor battles on the Mets broadcast Saturday night:
Well, I don't know where the miscommunication started here. We've got differing sides. You would think something like this would've been etched in stone.

Now, as a player, Gary, and speaking purely as a player, I am going to trust my agent and my doctor, in Matt's case surgeon, as to where I'm at. And I'm gonna go by their advice. I'm not gonna trust management. Marvin Miller and the union fought for a second opinion, for the right of a player to get a second opinion. There's a conflict of interest with team doctors. And it used to be in the old days, what the team said was it, and you didn't have an opportunity to go outside. Well, that was a good thing that Marvin did.
Meanwhile, Harvey has been bludgeoned by the New York baseball press, with a number of outlets and writers declaring that Harvey is letting the Mets down or doing the club a disservice. Nothing has made that viewpoint clearer than the New York Daily News with this incisive front page from Sunday: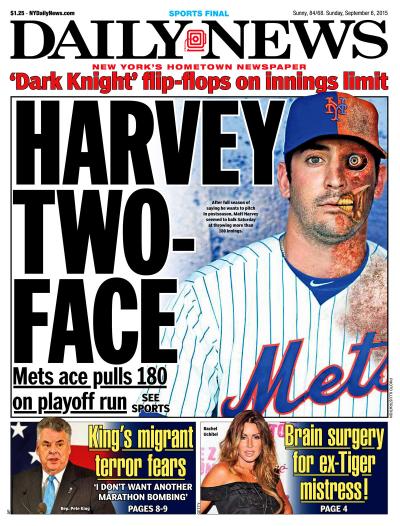 That backlash hasn't been limited to journalistic outlets, as Mets fans on Twitter have been vocal with their disapproval. Daily News reporter John Harper says Harvey is aware.
Collins indicated Harvey is "well aware'' how badly Mets fans are crushing him on Twitter. Hinted it could impact his inn. limit decision.

— John Harper (@NYDNHarper) September 6, 2015
If, as Scott Boras said, the medical issue is about "maximum safety," then it's understandable that Harvey may want to reconsider. His career is not only about money. It's possible the adoration and acceptance of Mets fans, the respect of his teammates, the potential glory of a potential 2015 playoff run, and the legacy implications of pitching through fatigue or injury might be worth the risk in Harvey's head. He'll have a lot to think about over the next week as he decides what to do for the rest of September (he said through The Players' Tribune on Sunday that he will pitch in the playoffs if the Mets make it, but he was exceptionally vague about how he and the Mets will handle the final stretch of the regular season).
This is all a huge part of what made Sabathia's Herculean effort in Milwaukee so special. Nobody forced or coerced Sabathia to take the risks he did in 2008. It was his choice to hoist the team on his back and carry it to the postseason. It's not just his effectiveness but his effort and his sacrifice that Milwaukee fans recognized with a standing ovation when he returned to Miller Park in 2014 and why Milwaukee's collective love for Sabathia continues to this day.
But that decision is not management's to make, and it's not the fans' decision to make either. It's Harvey's to make, equipped with the best information from his doctors. If the Mets don't like it, they can either release him or fight the union and try to force him to pitch. Athletes don't owe us the labor of their bodies, and no matter how healthy Matt Harvey looks, he still doesn't owe the Mets and their fans his right arm if it risks his health and his future.