While the starting lineup is anything but certain, Major League Baseball has released an almost-certain 2016 schedule and the Brewers will presumably have it pretty tough at first.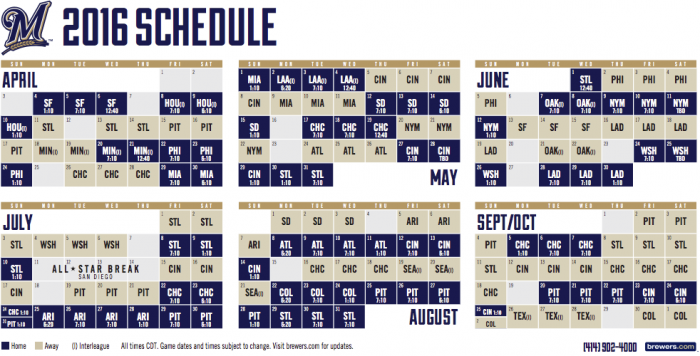 Despite starting at home for six-straight games, their first four competitors are the San Francisco Giants, the Houston Astros, the St. Louis Cardinals, and the Pittsburgh Pirates. At the point of writing this, three of those teams represent likely postseason teams and the one team that isn't currently in a playoff spot (the Giants) seems to have a penchant for playing specifically well in even-numbered years. In fact, moving forward, it's hard to imagine a scenario where people place any of those four teams low in the pre-season projections next season.
But a keen reader shouldn't actually think that matters too much, right? Even when next-season projections come up in a September conversation, it's easy to forget that April is a month of hope and promise. Offseason moves and storylines change the complexion of preseason predictions. Breaking down how good certain teams might be seven months from now is a fools errand, as plenty of trades and signings still have to happen. A team, even one as fortunate as the Giants, can't just win the World Series every other year because of narrative. Additionally, Dallas Keuchel probably deserves a pay-raise, which could affect the remainder of the Astros' winter plans. One figures the Cardinals can't continue to out-perform their Pythagorean record so handily on a yearly basis. A.J. Burnett and his 3.14 ERA are probably going to retire, and even if not, his 4.45 DRA suggests a major regression is in store.
See? We didn't even have to try that hard, and we came up with separate narratives that could help Brewers fans dream on 2016 a bit longer — or, at least, not immediately throw in the towel early in the season.
Preseason projections are not gospel — or even close to that. Take the aforementioned Houston Astros for instance. Some self-proclaimed "experts" ranked them to finish fourth in the AL West. No one could see their meteoric rise to the top of the AL West standings. In the same projected rankings, one can quickly see that the Texas Rangers were the team that was supposed to finish in the basement as well. Those teams hold first and second respectively.
None of this is to say that the Milwaukee Brewers will outperform their 2016 projections just because other teams did so. Instead, all of this is mentioned to caution against raising the white flag on 2016, just because the opening four series appear to be brutal on paper. Looking forward to next season through the regular-season schedule is an exercise in excitement and hope, not dread. Though, to be fair, a winter without baseball will do more to raise the hopes of any Brewers fan than anything else. In March, as the season draws near, the opening four series won't seem close to as daunting as it currently does.