Heading into 2015, the Brewers hoped for a few things out of their starting pitchers. They wanted Kyle Lohse to continue beating his peripherals; Matt Garza to regain a bit of the velocity he lost in 2014; Mike Fiers to put memories of 2013 away for good; and Wily Peralta and Jimmy Nelson to develop further. Only two of those men — Fiers and Nelson — followed through, and Fiers departed in July. The meltdowns of Lohse, Garza, and Peralta torpedoed any slim playoff aspirations in Milwaukee.
The latter's poor performance stood out, mostly due to the potential he possessed. He'd always featured a blazing four-seamer and sinker to go along with a biting slider and a respectable-enough changeup. Chiefly on the strength of that promising arsenal, in addition to the progress he made in 2014, PECOTA gave him the best chance of breaking out for 2015. Although his overall projection didn't inspire much optimism — a 4.25 ERA would represent a significant downgrade from his 3.53 mark in the previous year — the chance for an explosion still remained.
The 4.72 ERA Peralta posted this season obviously didn't amount to a breakout, and part of the reason for that was that he broke down. With a rib injury in May and an oblique ailment in September, he didn't pitch at 100 percent for the majority of the season. We can't really fault PECOTA for failing to foresee those. Past injuries predict future ones better than any other factor, and Peralta had a nearly sterling bill of health prior to 2015. But something else could have foretold the regression.
Jeff Long didn't agree with PECOTA's Peralta appraisal. Evaluating Peralta's PITCHf/x profile in February for Baseball Prospectus, he concluded that the lack of distinctive movement on the righty's offerings would hold him back. Peralta's four-seamer, sinker, and changeup all resembled each other pretty closely in terms of bite, and the slider — unlike that of Tyson Ross, the counterexample Long cited — didn't do enough to set itself apart. Did this uniformity help to doom Peralta's 2015 effort?
Well, here's the funny thing. Peralta actually did, to some extent, improve his pitch movement this year. His changeup picked up a little more run, and more importantly, his slider started darting down-and-away more, differentiating itself from his other pitches.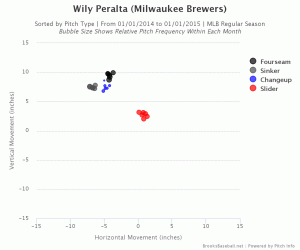 [NOTE: If the GIF is not working on your browser, click on the picture to view the changes.]
On average, Peralta's 2014 sliders had 2.7 inches of rise and 0.8 inches of, well, slide. The former decreased to 0.6 inches in 2015, while the latter increased to 1.5. That change meant the movement difference between his slider and fastball went from 8.3 inches (good enough for 63rd in baseball, per Long's article) to 9.6 inches, the 25th-largest gap in the majors.
Yet despite all of that, Peralta's slider actually performed the worst out of all his primary pitches in 2015. While the four-seamer (5.4 percent in 2014, 4.2 percent in 2015) and sinker (7.8 percent in 2014, 6.2 percent in 2015) each saw their whiff rates decline a bit, the largest drop by far came from his slider, which went from 15.2 to 11.0 percent swinging strikes. Considering an average slider fools hitters about 13.0 percent of the time, this meant Peralta went from comfortably above to comfortably below the standard for success.
The cause of this doesn't require much digging to find. Peralta's slider velocity absolutely vanished this season: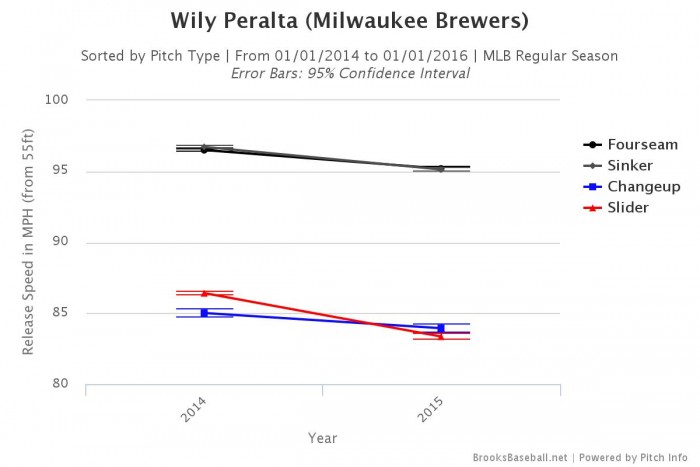 Peralta went from 86.4 mph on the offering to 83.4 mph, a drop that took him from the 24th-best velocity to the 62nd-best. While his four-seamer and sinker also lost life, they did so to less than half this extent, falling about one-and-a-half mile per hour each.
Then-pitching coach Rick Kranitz told the Milwaukee Journal-Sentinel in August that "dead arm" could explain Peralta's hardships. Since he spent so much time on the disabled list in June and July with that rib injury, he had a long time between outings, which could have interrupted his rhythm. Peralta himself said that mechanics — to which the long layoff would certainly apply as well — might have played a role. Whatever the cause, new pitching coach Derek Johnson will presumably work to restore Peralta's heat for 2016, making sure that his decline here doesn't indicate a broader trend.
If that does come to pass — Peralta regains his 96 mph four-seamer and 86 mph slider — we may finally see him take the next step. The Brewers hoped that Peralta would make the leap this season, but injuries prevented that from happening. With that said, the progress he made when he made it onto the mound portends well for his future. The movement similarities that sank him in 2014 appear to be a thing of the past; now, he just has to pair his 2015 bite with his once-deadly velocity, and he'll take off.