Wily Peralta finds his career at a crossroads this year. In his first year of arbitration, Peralta will earn $2.8 million, and with his arbitration reward only set to increase in the coming years, Peralta has to prove he's worth the cost soon. A repeat of his 2015 campaign — an injury-riddled season in which he posted a 4.72 ERA and 4.84 FIP in 20 starts — could easily lead to a non-tender.
If there is one reason to believe in Peralta, it lies in the pitch that has been the best one in his repertoire since he came up in 2012. The right-hander's sinker is one of just 18 to average over 95 MPH in the PITCHf/x dataset on Baseball Prospectus; it was just one of 14 to do so in 2015, even as Peralta labored through his season. Here's the full list of pitchers to throw such nasty sinkers last season: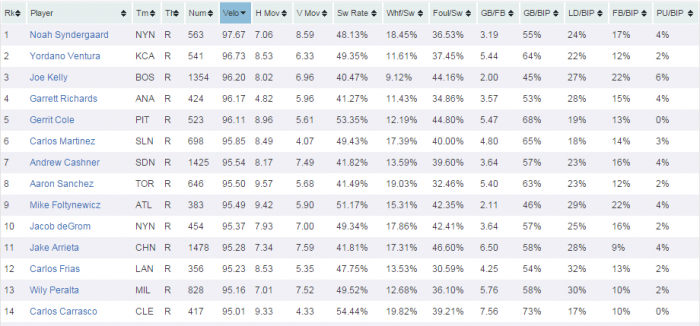 Even including Braves starter Mike Foltynewicz's disastrous -1.7 WARP last season, the 13 pitchers other than Peralta to throw 95 MPH sinkers totaled exactly +29 WARP, an average of +2.2 WARP per player. It included ace-level performances from Arrieta, deGrom and Cole and exceptional performances from rising stars like Carrasco and Syndergaard.
Peralta's sinker has the velocity, and it has the heft necessary to regularly generate ground balls, as he induced 5.8 ground balls per fly balls. But it was tagged for line drives 30 percent of the time, resulting in a .307 average against and a .453 slugging percentage on contact. Hitters knocked 20 extra-base hits against the sinker in 2015 — more than he allowed in either of the previous two seasons, despite throwing far fewer sinkers in his protracted 2015 campaign.
This is the result of Peralta's failure to develop secondary pitches. Even when Peralta managed to work ahead in the count, he threw his sinker 50 percent of the time against left-handers and just under half (44 percent) of the time against righties. The sinker not only has had to be the pitch that gets him early outs and earns him favorable counts, in 2015 it had to function as his out pitch as well.
When major-league hitters know what's coming, there are very few pitches who are good enough to get past them. Peralta's sinker is a great pitch when he's on his A-game, but it's nowhere near the level of Mariano Rivera's cutter or a peak R.A. Dickey knuckleball. The only other real option Peralta has shown besides the fastball is a slider — 33 percent usage in pitcher's counts against lefties and 39 percent against righties
per Brooks Baseball
 — and that slider last year wasn't been able to generate whiffs (a poor 10.99 percent whiff rate) and went for a ball 44 percent of time. Hitters had no problem spitting on it out of the zone, and when Peralta left it in the zone, they managed a solid .379 slugging percentage compared to a league mark of .301 with the pitcher ahead.
The sinker Peralta has shown at his best is the kind of pitch that can anchor a top-of-the-rotation arsenal. Everything pitchers like Cole and Arrieta have been able to do rests on the effectiveness of the sinker, the foundation of their ability to keep hitters off balance, get favorable counts, and set up their secondary offerings. You can't just teach a sinker like that. It's why Peralta was so sharp in 2014 despite the apparent flaws in the rest of his game.
But he needs to step forward. That sinker won't do it alone, as Peralta's 2015 and the struggles of the likes of Cashner, Foltynewicz and Frias prove. I really want to see Peralta make that step and find the secondary pitch (or pitches) that can elevate his sinker to its full potential. When it's on, he has been amazing to watch since coming up. But it is increasingly obvious it won't be enough without something else to keep hitters off balance.
The vision of what Peralta could do with a fully developed arsenal is tantalizing. Unfortunately, if the next step doesn't happen in 2016, we almost certainly won't see it realized in Milwaukee.