To anyone who has watched or followed the first several Brewers' games, Wily Peralta's stat line will not be a surprise: two starts, 8.1 innings, and eleven runs. He has struck out six and walked six, which is a terrible ratio on both counts. But pitchers get off to bad starts, and their basic peripherals look bad, and they aren't necessarily utter disasters.
Peralta, though, has in fact been terrible. His whiff rates have continued their downward trajectory for each of his pitches except his slider, and he has not yet gotten a single swing-and-miss on his changeup.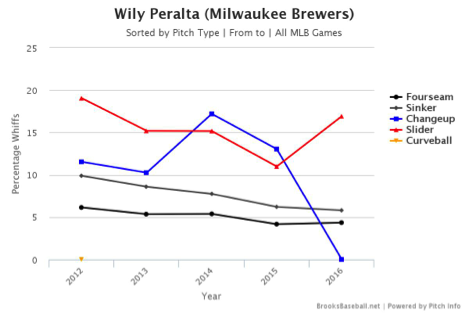 This is especially dispiriting considering that his changeup usage is up in his first two starts this year. Peralta's changeup is his fourth pitch, but as the graph below demonstrates, its usage has climbed up incrementally over the past few years.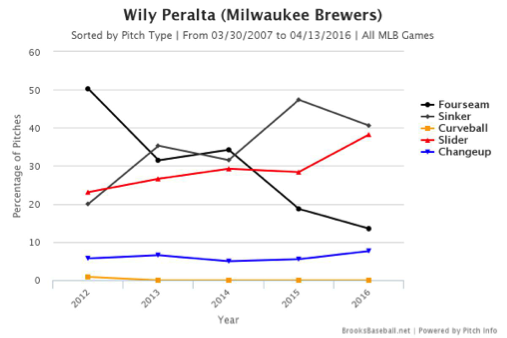 We can also see that his four-seam fastball use has dropped severely over the past three years, and he has become essentially a sinker/slider pitcher. That strategy is supposed to lend itself to ground balls, as everything comes out of the hand low and just drops further.
However, that is not what has happened. His groundball rate on each of those pitches has dropped the past two seasons, and that trend has continued this year. Instead of using these pitches that are designed to have downward movement to force contact onto the ground, Peralta has seen his groundball rate drop instead.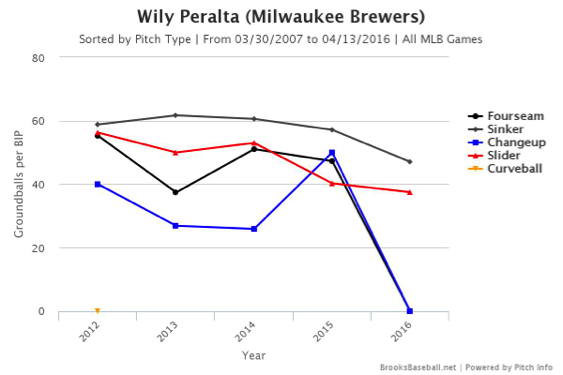 Unfortunately for Peralta, the Brewers, and any fans hoping this trend reverses itself, there is actually a very simple explanation here. He has proven increasingly incapable of keeping his pitches at the bottom of the strike zone where they belong.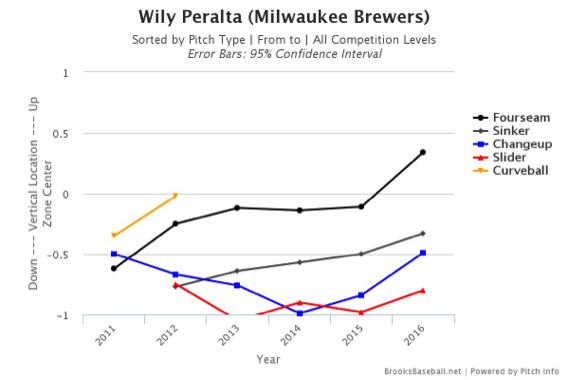 A sinkerballer's inability to keep the ball down is the death knell of his career. Peralta's strikeout rate has been below the league average each year of his career, which means he is incredibly reliant on inducing soft contact that will remain in the ballpark. However, as the above graphs show, he is simply no longer pitching in this manner. His whiff rate is dropping, his ground ball rate is dropping, and his pitches are creeping further up the strike zone.
Presumably, the Brewers' decision to name Peralta their Opening Day starter was based in large part on some attempt to give him an extra boost of confidence. If this were the case, it also should come with a long leash. After all, telling Peralta they believe in him doesn't make any sense if they plan on just demoting him after a few rough starts. But the club cannot possibly be optimistic after seeing these first few innings. None of his negative trends from the past couple season have reversed themselves even slightly.
Of course, the graphs above are slightly misleading simply because 2016 is such a tiny sample size at this point. Over the course of the season, those numbers will normalize and parts of certain graphs will creep up towards his career averages (for example: his whiff rate will rise and his vertical location will drop). However, there is no reason to think that these numbers will actually regress into a positive range. Instead, what we have seen is continued struggles from a pitcher whose peripherals have taken a nosedive over the past two seasons.
Peralta is about to turn 27, and he has never delivered on the promise he showed as a younger pitcher. It's silly to fully dismiss any pitcher given their general unpredictability, but there have been no positive signs from Peralta thus far in 2016.