The Brewers have been awful at the plate this season. In the National League, only the Mets and Phillies have scored fewer than Milwaukee's 39 runs, and the Mets have played one fewer game. The club's .213/.310/.349 batting line ranks 27th, 16th, and 22nd in the league respectively. The Brewers can get runners on base, but they can't do much with them when they get there.
Ryan Braun has been one of the few bright spots thus far, with a .268/.318/.512 batting line powered in large part by his big two-homer game in Friday's 8-4 win over Pittsburgh. Those two blasts gave him three home runs on the season, and all three have been monster shots to almost dead center field. Braun's three homers have averaged 425 feet each, putting him second behind Paul Goldschmidt (426.7 feet) in HitTrackerOnline's early "Golden Sledgehammer" leaderboard for the longest average home run of 2016.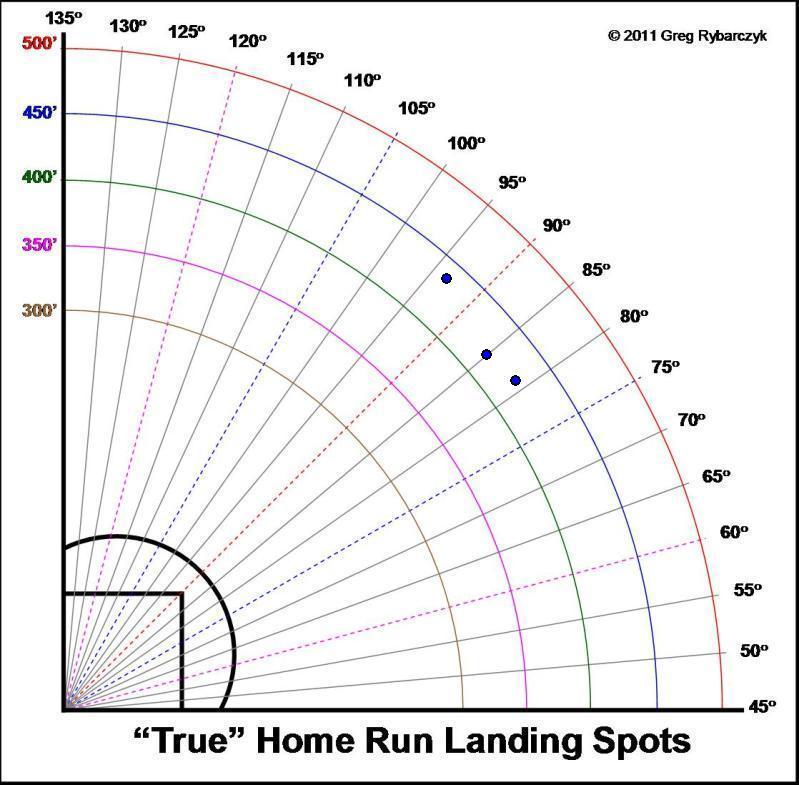 The batter's eye in Pittsburgh, where Braun deposited both of his home runs Friday, is not a place where too many hitters make repeat visits. Of the 130 home runs hit at PNC Park last year, 28 were within five degrees of center field according to HitTrackerOnline. Only three Pirates hitters hit at least two home runs within that zone: Andrew McCutchen (7), Francisco Cervelli (2) and Pedro Alvarez (2); only two opponents accomplished the feat: Khris Davis (2) and Enrique Hernandez (2). No NL Central team combined to hit more than two home runs to Pittsburgh's center field last year, and Hernandez's Dodgers were the only team outside of the NL Central to manage it. On Friday, Ryan Braun did it in consecutive at-bats.
Braun's power seemed like it had disappeared from 2013 through about the first month of the 2015 season. After hitting 74 combined home runs in what were his peak years in 2011 and 2012, Braun hit 29 home runs in his next 213 games, stretching from 2013 through late April 2015. Since then, Braun has 27 home runs in just 134 games. While it doesn't look like Braun is going to challenge 40 home runs again any time soon, 30 is looking like a real possibility in 2016, and in today's MLB, that makes him a big-time slugger.
I don't think there will ever come a time when I don't stand in awe of a home run like Braun's first on Friday night, a shot that easily cleared the deepest part of one of baseball's toughest hitter's parks. When somebody hits one there and is able to trot home because they know it's gone, you know that's real power. And just watch Andrew McCutchen's reaction in center field:
This Brewers season is mostly about developing youngsters, but Ryan Braun will be in Milwaukee for the rest of this decade. There is almost no way the Brewers will be competitive before then without some sort of contribution from the man who was signed to become the face of the franchise. Over the past calendar year, Braun is now hitting a robust .285/.357/.512 (132 wRC+) with 28 home runs and 24 stolen bases. It's not MVP quality, and Braun probably won't ever be there again, but that's an All-Star level performance from a left fielder. The fact that he can still have performances like he did Friday, where he accomplished a feat most teams will fail to achieve this season, proves he still has plenty left in the tank.