The collapse of the Brewers — the reason why David Stearns has undertaken a deep rebuild — occurred because the farm system stopped producing talent. Virtually every top draft pick from the middle years of Doug Melvin's tenure either flamed out or was dealt in win-now type trades. As a result, the team placed in the bottom five of BP's organizational rankings in each year from 2011 to 2015. While Stearns has started to turn this around, it'll take time to undo the damage.
But the book has not closed on Melvin's time at the helm. Some of the players he brought in, the guys we had all written off, may have a little more to contribute before they ride off into the independent ball sunset. Tyler Thornburg looks like one such player. The one-time top prospect, who had seemingly fizzled out without ever achieving much of anything, has done pretty well to kick off 2016. With a 2.47 DRA and 73 cFIP over his 13.0 frames — each better than Zach Britton and Kelvin Herrera, among others — he's turned himself into a pretty valuable reliever.
Thornburg's quasi-breakout didn't come completely out of nowhere. He showed some potential at the end of 2015 after returning from a number of injuries. Over the final two months of the season (a total 24.2 innings), he struck out 26.0 percent of his opponents and walked just 9.0 percent. While the latter hasn't shifted much, the former has spiked — he's posted a 38.9 percent strikeout rate in 2016. Thornburg still has some problems with control, but his ability to overpower hitters compensates for any other shortcomings.
So what's allowed Thornburg to break out? Well, another offseason to heal certainly helped. He explained to the Milwaukee Journal Sentinal's Todd Rosiak that his elbow now feels fully recovered, which has helped his fastball velocity to surge back to normal: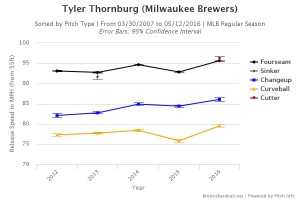 And Thornburg has deployed his heater in a different manner this year — as Kyle Lesniewski broke down over at Brew Crew Ball, the four-seamer has gone much lower in the zone, which seems to have made it more effective. But the biggest difference comes from movement, particularly on his slower offerings. Note how Thornburg's curveball has started to distinguish itself from his other two pitches: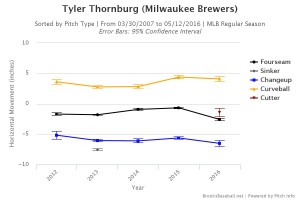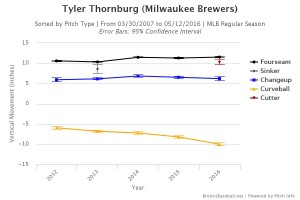 With horizontal movement, the four-seamer has become less straight (which Lesniewski noted); with vertical movement, the curveball has dropped a lot more. Out of 110 pitchers who have thrown at least 50 curves in 2016, Thornburg's 10.0-inch dip ranks sixth. Most of those curveballs, shockingly, have scraped the plate, and hitters haven't done very well against them.
The changeup, like the four-seamer, has benefited from the curveball's transformation. Thornburg has seen the whiff rate on his cambio jump to 26.5 percent, primarily because it's darted toward the left upper side of the plate. (A little extra velocity couldn't hurt, as the first graph indicates.) Altogether, Thornburg's offspeed pitches have formed a powerful one-two punch — an adversary has to expect a curveball that he'll likely swing over the top of or a changeup that will jam him inside.
Thornburg still has some work left to do though before the Brewers can trust him completely. He's given up four home runs this year and hitters have made solid contact against him 46.4 percent of the time, one of the highest clips among qualified relievers. His changeup and curveball account for three of the four long balls; he hasn't commanded the latter especially well and the same concern applies to the former, albeit to a lesser degree. This may just come with the territory — Thornburg is still working to shake off the rust after such an extended period out of action. He's once again showing his ability and if he can polish his offerings up fully, he'll improve even more.
One successful reliever obviously doesn't negate Melvin's numerous other failings. It would have been nice if Thornburg could have developed into a reliable middle-of-the-rotation starter (which, in fairness, could still happen). As a middle reliever, though, Thornburg seems to have carved out a niche for himself in Craig Counsell's bullpen. His bumpy road has finally smoothed over, and he looks as though he'll push on.