Placed in a questionable 2016 Brewers starting rotation, Zach Davies has formed into a pleasant surprise for Milwaukee. Save for Thursday's rocky outing against the Dodgers, Davies shined in June.
The 23-year-old righty's June splits were highlighted by a 2.89 ERA (3.62 FIP) and 4.88 K/BB ratio. Prior to June, the slim sinkerballer posted an inflated 5.44 ERA (5.18 FIP) and a pedestrian 1.93 K/BB Ratio.
In particular, Davies cruised through a five-game stretch in which he surrendered just six runs in 33 innings. During this streak, Davies's strikeouts skyrocketed, walks plummeted, and efficiency went through the roof.
The secret to this small sample of success looms relatively obvious when exploring Davies' pitch selection. The young righty dramatically increased his pitch diversity.

Prior to his May 21st start, Davies hadn't explored a fourseamer or slider in the major leagues. In his six starts to open the 2016 campaign, Davies owned just a 1.54 K/BB ratio in 30.2 innings, averaging less than of 5.3 innings per start. Starting in June, Davies's strikeout and inning numbers increased simultaneously.
| Date | Opponent | Innings Pitched | Strikeouts |
| --- | --- | --- | --- |
| 6/1 | vs. STL | 8.0 innings | 9 K's |
| 6/7 | vs. OAK | 7.0 innings | 5 K's |
| 6/12 | vs. NYM | 6.0 innings | 7 K's |
| 6/17 | @ LAD | 7.0 innings | 6 K's |
| 6/24 | vs. WSN | 5.0 innings | 9 K's |
During that stretch, Davies boosted his season's K/BB ratio from 1.54 to 3.10 and innings per start from 5.3 to 6.7.

As evidenced above, Davies eased a slider into his arsenal while throwing a fourseam fastball often come the end of the month. Additionally, he threw his cutter more consistently. Not only did his increased pitch diversity lead to more strikeouts, it turned his cutter into more of a swing and miss pitch.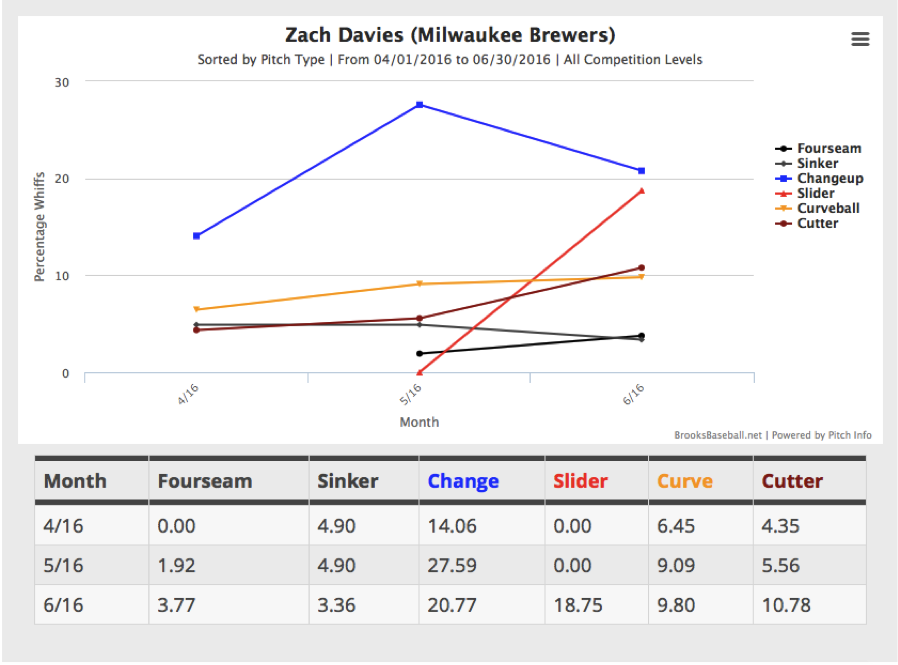 Davies is a traditional ground ball pitcher by nature, due to his heavy use of the sinker. However, the young righty has added the strikeout to his game through pitch diversity. Obviously batters will find it tough to guess correctly on a six-pitch pitcher, which is what Davies may become.
Davies's flaws tend to correlate with his lack of velocity. As Julien Assouline scribed in his recap of Davies's last start, pitchers like Davies are risky for a reason; they're susceptible to the long ball. Thursday's start saw three separate players take Davies yard in four innings pitched.
Davies will never be the ace of the Brewers, but he seems fit for a mid-rotational spot if he can keep up numbers similar to his June splits. For a small-statured and low-velo hurler, I'd argue Davies needed to diversify his pitches. Without a doubt, his increased usage of horizontal moving pitches and the discovery of his fourseamer will benefit Davies in the long run as it did in June.