If Ken Rosenthal of Fox Sports is to be believed, the Brewers could be the biggest sellers of the 2016 Trade Deadline.
Teams are already beating a path to One Brewers' Way, as Rosenthal reported earlier this month, and the list of players who could possibly find their way out of Milwaukee is long and varied: there's the usual suspects, Jonathan Lucroy and Ryan Braun, but rival executives have also inquired about relievers Jeremy Jeffress and Will Smith, as well as several of the team's young starters.
Smith and Jeffress are not exactly names you expect to come up in trade talks. Both are young, come with plenty of team control, and it's hard to say that they've got any sort of problems the rest of the league is unaware of. During a normal trade season, they'd never be mentioned. But this is not a normal trade season. Over a dozen different teams could be saddling up to the counter, looking to solidify a playoff or championship push. Desperate times call for desperate measures, and no executive who values his job wants to be seen doing nothing as his team falls inches short of the postseason. Times could get desperate enough for the shopping contenders in the coming weeks that everybody short of Bernie Brewer is in play.
So, by virtue of their position as sellers in the ultimate sellers' market, the Milwaukee Brewers have a major advantage this summer. Then, you factor in the team's payroll situation, and the picture gets even rosier. Milwaukee had exactly three players due to hit free agency this coming offseason: Aaron Hill, Chris Capuano, and Blaine Boyer. Capuano and Boyer are not pitching well enough to warrant consideration as trade bait. The other thirty-seven players on the roster are locked up through 2017, at least: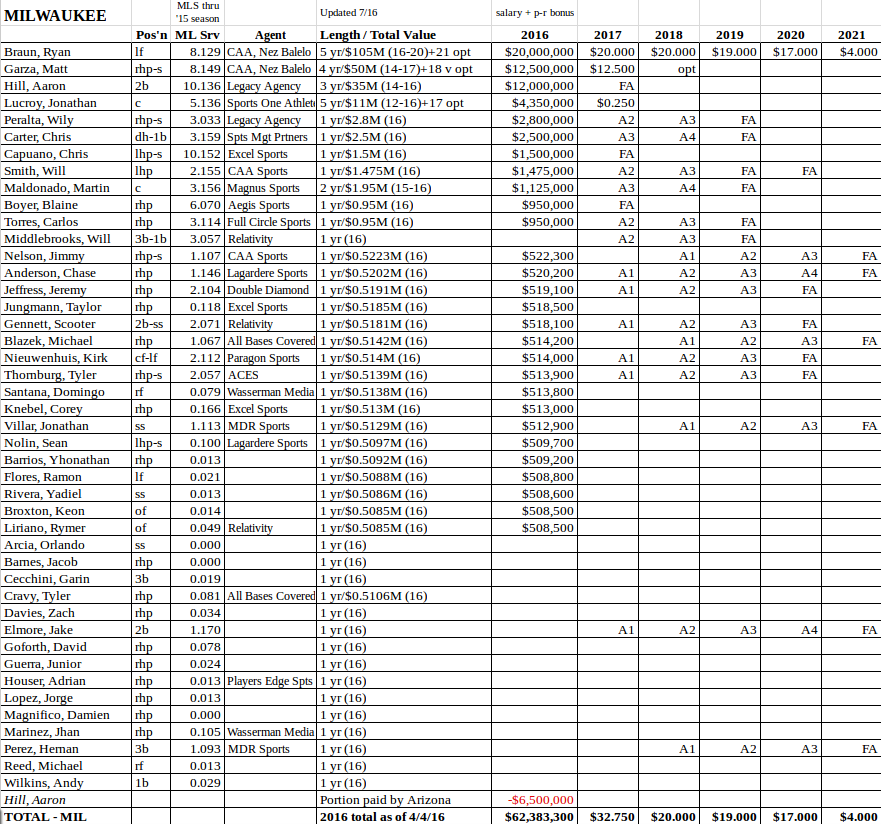 Sure, it might have been a week into the calendar, but July officially landed last Thursday. It was then that the Milwaukee Brewers made their first move of trade deadline season, flipping offseason acquisition Aaron Hill to Boston in exchange for A-ball second baseman Wendell Rijo and AAA starter Aaron Wilkerson.
Admittedly, the trade is not one to inspire large-scale celebrations in Wisconsin. Scouting reports on Rijo are heavy on the words "average" and "polished," a combination of traits that usually lend themselves to utility infielderdom. Wilkerson is a 27-year-old who only made it to the AAA level just this season, labors to scrape 90 on the radar gun, and gets by on pitchability and guile. He's an intriguing fringe prospect, and he just might be the next Mike Fiers or Junior Guerra–or, he might be a pitcher whose stuff isn't good enough to get big-league hitters out consistently. He's posted phenomenal walk and strikeout rates across two levels in 2016, and he's done it with stuff that doesn't look nearly as good as it plays on the stat sheet:
Neither acquisition is likely to set the Major Leagues on fire, but that's not the point. Just seven months ago, the Brewers acquired Hill as a means to get a better prospect out of Arizona, in Isan Diaz–that is, he literally had negative trade value. Now, he's worth two interesting–if not particularly shiny–prospects. On the whole, it was a coup. Hill was never going to fetch a top prospect, but the front office got something of value for him, and the Jean Segura trade somehow looks even better now.
If you're into trade-trees….#Brewers functionally moved Jean Segura for Chase Anderson, Isan Diaz, Aaron Wilkerson, and Wendell Rijo.

— J.P. Breen (@JP_Breen) July 7, 2016
And it could be that this is just the beginning.
But Ryan Braun and Jonathan Lucroy rank as two of the biggest trade chips on the market right now. That the Brewers have been actively shopping both players since December is no secret–but back then, nobody was interested in meeting the team's asking price. Various rival executives commented anonymously to the media on how the Brewers wanted an "unreasonable return" for them. The front office maintained that they knew what their players were worth. Since then, both players have put together first halves that support the Brewers' analysis of the situation amidst swirling trade rumors. Though the rumors have died down around both players in recent weeks, their production and pedigree mean the Brewers can demand a king's ransom for them each.
Braun is hitting north of .320, and leading the team with his .315 TAv. Furthermore, the advanced metrics suggest that he's starting to learn his way around left field. He's still below average, but he's much, much, closer to average than he was last year. Braun's value is at its highest since he was suspended, and once Jay Bruce is off the market there isn't really anyone comparable available to trade mid-season. Braun is 32 years old, making a case for a Silver Slugger award, and under contract through 2021. Trading him makes sense, since it's hard to see his value doing anything but remaining steady or going down. But trading him for less than he's worth makes no sense, ever–which is why he's still a Brewer, even though the team is unmistakably rebuilding. If the trading deadline turns into a feeding frenzy, the team might get what they want for Braun. Otherwise, he'll just keep on hitting.
Lucroy might be the most interesting man on the roster right now. He's actually in a very similar position to Carlos Gomez last season at this point, a year and change away from free agency freedom while performing at a high level. If the Brewers deal Lucroy in the next few weeks, well, it's clear they've got a strategy with this sort of thing. But Gomez's track record of success a year ago was more solid than Lucroy, whose fluky-bad 2015 is still fresh in memory. The more distance he puts between himself and that level of performance, the more he's worth to potential buyers. Lucroy could be far more valuable this off-season than he is in-season.
Then again, the Texas Rangers have gotten approximately .3 WARP from their catching troupe of Bryan Holaday, Brett Nicholas, and Bobby Wilson. Robinson Chirinos, the pre-season starter on the depth chart, made his return this past week–but he's historically fragile, and he's nowhere near Lucroy's league offensively or defensively even when healthy. Almost six months ago I handicapped the respective Lucroy suitors, and the Rangers appeared to be in pole position. Today, that still looks to be the case. Back then, Texas was hesitant to part with any of their premium prospects–outfielders Joey Gallo, Nomar Mazara, and Lewis Brinson, or infielder Jurickson Profar.
The Rangers already have Shin-Soo Choo locked up long-term in one starting outfield role, and they've made overtures to extend leftfielder Ian Desmond's contract in the past few days, so logic would follow that one of the outfielders is expendable. And now that they're in the thick of a pennant race, they've gotten over their shyness–the most recent reports are that the Rangers are "plotting to acquire Lucroy." The Brewers' main priority is acquiring young pitchers but Gallo, Mazara, and Brinson are all potential superstars of the future, and it would be madness to pass up an offer with any one of them if the Rangers capitulated and included one as the headliner of a Lucroy package.
There's no saying that a three-way trade couldn't be worked out, either. Stearns hinted this past weekend that he would be open to adding starting pitching at the deadline–a curious position for a team ten games behind .500 and clearly building for the future. But when you look at the names floating around the market for starting pitching, it makes more sense. Atlanta's Julio Teheran, Tampa Bay's Jake Odorizzi, and Oakland's Sonny Gray are both young and cost-controlled, and both have the potential to be true front-of-the-rotation starters–but because of the overflooded trade market, and their respective teams' struggles, both have been hot commodities. In Junior Guerra, Zach Davies, and Chase Anderson, the Brewers have discovered a stable bunch of mid-to-back rotation starters, but the team lacks a true ace at this point. Any of those three names would fit the team's M.O. perfectly with their age and contract, and the chance to bring one in could make the team competitive sooner than planned.
Of course, keep in mind: the extreme buyer's market that helps the Brewers when trying to sell hurts them if they decide to pursue a big-league starter. The price tags on Teheran, Odorizzi, and Gray will be very high. Texas would have to give up a lot of minor-league talent, and probably some to Milwaukee in this hypothetical three-way deal too, in order to make it fly.
Still, stranger things have happened–and this trade deadline, which ends a full day later than normal since July 31 falls on a Sunday this year–is shaping out to be quite the strange one indeed.