For six innings, the Cubs looked like the Brewers and the Brewers looked like the Cubs. Luckily, Will Smith set everything straight in the seventh.
Worst Play: While Junior Guerra had some trouble with command in his start — he walked four and gave up five hits across 6.1 innings — he managed to keep the game in hand. Smith…did not. Here's how his appearance went:
Miguel Montero tapped a single into right;
Matt Szczur hit a routine grounder to third that Jake Elmore muffed;
Tommy La Stella lined an RBI double down the right-field line, making the score 4-2;
Kris Bryant received an intentional walk to load the bases; and
Anthony Rizzo — of course it was Rizzo — cleared said bases with a double to the right-center gap.
Rizzo's extra-base hit (-.370) dropped the Brewers' chances of winning from 65.4 to 28.4 percent. When Ben Zobrist followed it up with a run-scoring single off Tyler Thornburg, those odds plummeted further, to 18.1 percent. Since the Brewers had taken a 2-0 lead in the bottom of the first, they'd maintained at least a 60 percent chance of winning; that vanished in the blink of an eye.
Maybe you can put some of the blame for the meltdown on Elmore, who should have ended the inning on Szczur's double-play ball. But Smith wouldn't have needed to rely on his third baseman if he'd struck out his opponents. Not only did he fail to do that, he got zero whiffs on the 18 unintentional pitches he threw. Smith now has a 3.86 ERA and 4.21 DRA on the year — the former is more than a run above his mark from last season, the latter nearly two runs. Whatever trade value he had has begun to evaporate.
Best Play: Still, it wouldn't be like the Brewers to go quietly. After Thornburg ended the top of the seventh with a strike-'em-out/throw-'em-out double play, Kirk Nieuwenhuis earned a one-out walk off Travis Wood. On the very next pitch, Elmore — the arguable scapegoat from the previous half-inning — walloped a ground rule double into left field, bringing the winning run to the plate.
Elmore's two-bagger (+.149) gave the Brewers a 37.2 percent win probability, which they wouldn't surpass for the rest of the game. Why wouldn't they? Despite having multiple runners in scoring position, Milwaukee couldn't get on the board. Pinch-hitter Andy Wilkins struck out and Jonathan Villar flied out to kill the rally and deflate the club's chances to 13.5 percent.
His gaffe at the hot corner notwithstanding, Elmore had himself a solid game, picking up two walks (one intentional) in addition to the double. His teammates' shortcomings were the bigger story, though. In the second inning, the Brewers had runners on second and third with two outs against Jon Lester; Jonathan Lucroy responded with a lineout. In the sixth inning, the Brewers again had runners on second and third, this time with no one out facing 41-year-old Joe Nathan. Ryan Braun, Jonathan Lucroy, and Chris Carter all went down on strikes to end it. A high-strikeout team will always leave some runners on base, but no one should accept this kind of haplessness.
Trend to Watch: We need to talk about Will Smith. His problematic performance has cost the Brewers two games in as many Sundays — remember the walkoff wild pitch against the Reds? (If you've erased it from your memory, I don't blame you. Also, sorry for dredging it back up again.) As noted above, his performance has declined sharply in a number of respects, the most troubling of which may be his platoon split.
All three of the base hits that Smith allowed on Sunday came against left-handed batters (Montero, La Stella, and Rizzo). This marks the second straight year that lefties have touched him up — they've posted a .281/.303/.406 line in 2016. Now, those results come over 33 plate appearances, so they could be fluky. (On that note, Smith has given up a .364 BABIP to southpaws despite a 28.0 percent hard contact rate, which, you know the drill.) Based on his pitch location, though, Smith has clearly trended in the wrong direction: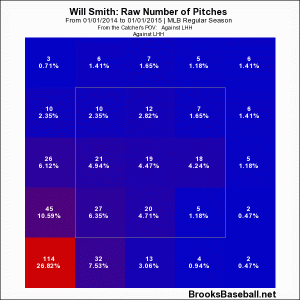 I wrote in November about Smith's peculiar 2015 — although lefties hit well off him, he continued to attack them in the same manner he had in 2014, targeting them heavily down and away. In 2016, that's changed; whether consciously or because of poor command, Smith has hung a lot of pitches. If Smith can't start to get lefties out, he'll really be in trouble.
This doesn't even begin to get into Smith's velocity woes. On Sunday, he unleashed an 83-mph slider for the first time this season; his average velocity on the pitch (81.6 mph) nevertheless fell a full tick below last year's average (82.6 mph). While he's thrown a little harder overall in his second month post-DL, his clout hasn't come back quickly enough, and it's cost him. Thornburg and Jeremy Jeffress have done well, though, so if Brewers starters can just make it through seven innings, they'll be fin-[sobs]
Up Next: The homestand continues with a four-game set against the Diamondbacks. Chase Anderson takes the hill tonight versus Braden Shipley in his 6:20 CST major-league debut. Tomorrow, Matt Garza and Patrick Corbin will face off in a battle of solid starters-turned-subpar scrubs. Jimmy Nelson will take on Archie Bradley on Wednesday, and Zach Davies and Robbie Ray will wrap up the series with a Thursday matinee. Here's to hoping Smith gets his groove back and the Brewers start hitting in the clutch.