For what may be Jonathan Lucroy's last game as a Brewer, the club sent him off with a victory and a three-game sweep of Pittsburgh.
Best Play: In a tight contest where no one scored more than once per inning, the final run would make the biggest difference. When Chris Carter stepped in with two outs in the bottom of the fifth, Francisco Liriano had retired five of the last six batters he'd faced (and the one batter who reached would head back to the dugout soon thereafter). Unperturbed, Carter launched a 2-1 changeup to deep center field, where — for the second time in the game — Andrew McCutchen could only turn around and watch.
Carter's dinger (+.117) improved Milwaukee's chances of winning from 67.8 to 78.9 percent. After Corey Knebel kicked off the sixth inning with a strikeout of McCutchen, those odds rose above 80 percent, where they would remain for the rest of the game.
In each of his first two plate appearances on Sunday, Carter earned a free pass; that output improved his seasonal line to .217/.305/.481, giving him a .278 TAv over his 407 plate appearances. The Brewers haven't heard much on the trade market about Carter, and perhaps that's for the best — if he can keep this up and finish the season on a high note, he'll have more trade value heading into the winter. At 29, Carter may not stick around for the next Milwaukee contender, but he can indirectly contribute to it.
Worst Play: After cruising through the first four innings — he threw only 62 pitches, on which he allowed a run on three hits and a walk — Matt Garza ran into some trouble in the fifth. Jordy Mercer led off with a single, and Eric Fryer tapped a full-count grounder to third that escalated things further. Hernan Perez fielded the ball cleanly, then booted the throw to first, putting runners on the corners with no one out.
Perez's error (-.116) cost the Brewers, as these things tend to do. Heading into the inning, the home team had a 75.4 percent chance of winning; that dipped to 58.9 percent once Mercer and Fryer reached. Luckily, Garza would let just one run score, sandwiching two strikeouts around an RBI groundout. From there, Carter and the bullpen took over.
Perez had already given the Brewers a run in the first inning, when he scored from first after a botched throw from Fryer. (No, really, check it out.) Even so, such a performance in the field won't fly for a borderline player, especially one who's probably due for some regression with the bat. Perez now has five errors on the year, along with a neat 0.0 FRAA; with Jake Elmore waiting in the wings, Perez won't see as much action with play like this.
Trend to Watch: Is Knebel back? After a superb rookie year in which he posted a 3.22 ERA and 2.97 DRA over 50.1 frames, Knebel struggled to start the season. He sat out the first two months because of an oblique strain, and his return was shaky — in 4.1 June innings, he gave up six walks and permitted four runs to score. That performance punched his ticket to Triple A, where he showed enough improvement for another cup of coffee.
And following that roller coaster ride, he finally seems to have settled in. Knebel struck out all three hitters he faced on Sunday; in the 5.0 innings he's accumulated since his callup, he's notched one walk and nine punchouts. A change in pitch selection has accompanied the shift in results — Knebel has overpowered hitter with heat: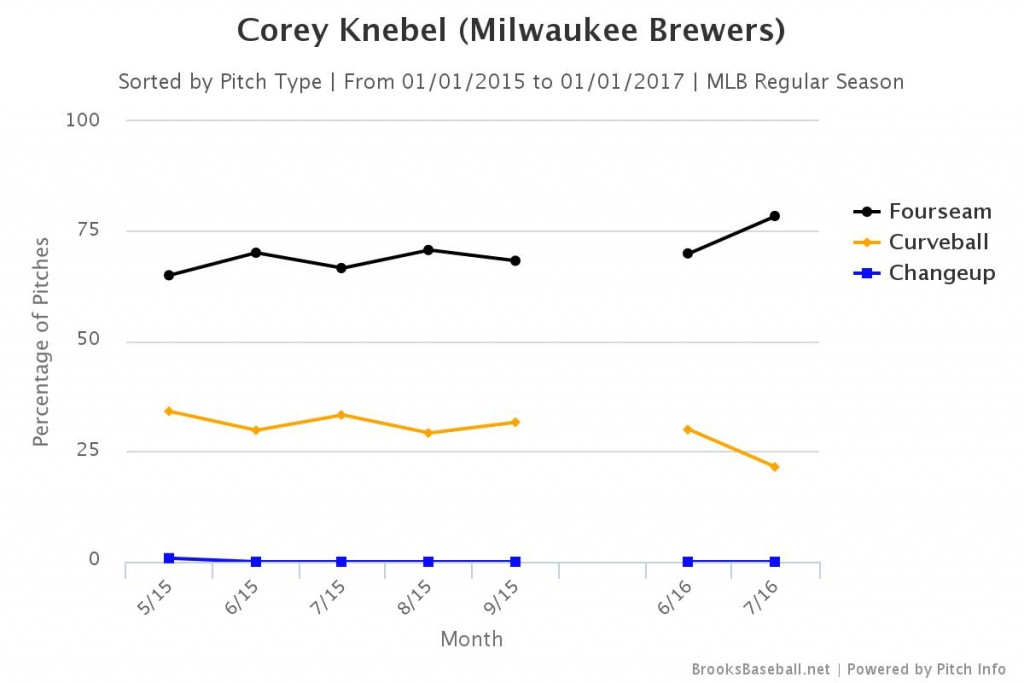 11 of the 14 pitches Knebel threw on Sunday — including all three third strikes — were four-seam fastballs. In addition to the increased quantity, Knebel has added some quality to his fastballs, throwing them for a whiff 15.1 percent of the time since his call-up. That pitch alone may not save Knebel; unless he improves it to the level of Aroldis Chapman, he'll need to perfect his curveball. A few extra heaters can only help, though, and if Knebel sustains this, he'll slot in as the setup man down the stretch.
Up Next: The Brewers head out west for a three-game duel with the Padres. Jimmy Nelson, Zach Davies, and Junior Guerra will face Jarred Cosart, Luis Perdomo, and Edwin Jackson, respectively. Let's hope that Carter keeps mashing the ball, Perez starts flashing his glove, and Knebel…leaves hitters thrashing at his heat? (In retrospect, I have a lot of respect for that Dr. Seuss guy.) To August we go!