With the departure of former closer Jeremy Jeffress — as well as the man he replaced, Will Smith — at this year's trade deadline, the Brewers opened up the late innings for their other arms. While Tyler Thornburg would obviously get the biggest opportunities, secondary relievers would see some action, and hopefully some of them would make a name for themselves. Rob Scahill, in a limited sample, has started to do that.
The 29-year-old righty has notched 27.7 innings this year between Pittsburgh and Milwaukee, with a 3.90 ERA and 4.35 DRA. Scahill's numbers don't stand out much, which likely explains why the Pirates allowed the Brewers to snatch him up on waivers. But dig a little deeper, and you'll see the parts that could make up an ace reliever — one that could bear a resemblance to Milwaukee's erstwhile ninth-inning man.
Let's focus in on Jeffress for a moment. Remember Jeffress? 'Twasn't long ago that he donned the Brewer blue. That was his second stint in Milwaukee, though, and the first one didn't go quite as well. Following inconsistencies in the minors and a failure to establish himself in the majors, Jeffress went to the Royals in the Zack Greinke trade, then bounced around for a few years. By the end of 2012, he owned a career ERA in the Show of 4.89, along with a DRA of 5.00 flat.
Then, things turned around, because of two changes. Off the field, a doctor formally diagnosed him with — and gave him the appropriate medication for — epilepsy, which had hampered him through his prior years. Moving past that and being able to focus more on baseball has obviously helped him on the mound. But the other difference, the one that pertains to Scahill, came with regards to Jeffress's arsenal: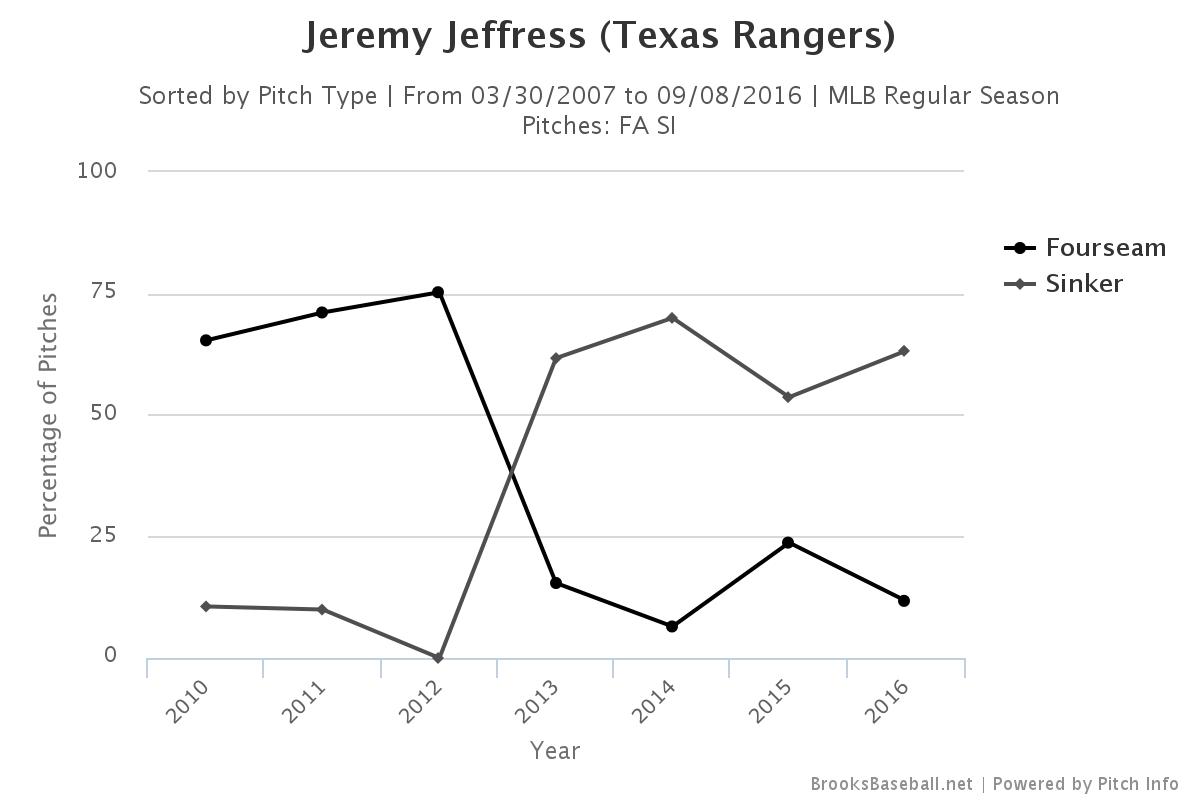 The four-seamer went out the window, and the sinker took its place. The result? A 2.52 ERA and 3.51 DRA since 2013. Jeffress has piled up a ton of grounders over that span — only nine other pitchers with as many innings have a higher ground ball rate than his 59.8 percent — and he's backed that up with a satisfactory 21.6 percent strikeout rate. His sinker, which has a 64.1 percent ground ball rate and 9.0 percent whiff rate in its elevated role, has fostered each of those two traits and made him an exquisite reliever.
How does this connect to Scahill? The current Brewer also throws a sinker, and a pretty good one at that. When put in play this season, it's gone on the ground 66.7 percent of the time. Among the 181 hurlers with at least 200 sinkers, that ranks 21st. More impressive than that, though, is the deception that the sinker offers:
| Rk | Player | Sinkers | SI Whiff% |
| --- | --- | --- | --- |
| 1 | Zach Britton | 768 | 19.1% |
| 2 | Rob Scahill | 213 | 15.0% |
| 3 | Jeurys Familia | 647 | 14.1% |
| 4 | Joshua Osich | 243 | 13.2% |
| 5 | Luke Gregerson | 371 | 11.3% |
| 6 | Vincent Velasquez | 211 | 10.9% |
| 7 | Tony Watson | 277 | 10.5% |
| 8 | Jordan Lyles | 230 | 10.0% |
| 9 | Ryan Madson | 260 | 10.0% |
| 10 | Jose Urena | 475 | 9.9% |
Rankings out of pitchers with 200+ sinkers in 2016
That's right — only Baltimore's ninth-inning nightmare can top Scahill in terms of sinker whiff rate. And really, Britton exists in another echelon, so Scahill shouldn't feel bad about trailing him. What matters is that Scahill can blow the sinker past hitters, and he can goad them into hitting a ground ball off it. As we saw with Jeffress, that combination tends to suppress runs.
So why has Scahill's production lagged behind? While he's thrown the sinker more often recently — this year, it's made up 49.1 percent of his pitches — he still hasn't reached the levels of Jeffress, who's used his sinker 60.5 percent of the time since 2013. And Scahill has really struggled with his four-seam fastball: Whereas he consistently drops the sinker down in the zone, the straight heater stays up over the plate. He'll need to swap out some of those four-seamers for sinkers to really take the leap.
Improving his offspeed pitch could also aid Scahill. Jeffress plays off his sinker with a nasty curveball, which has a 62.2 percent strike rate and 16.5 percent whiff rate across the past four seasons. While Scahill has a curve of his own, it can't compare — this year, it's gone for a strike 50.0 percent of the time and a whiff 3.6 percent of the time. A secondary offering isn't a necessity, though; for proof of that, look to Britton, who's relied on his sinker 91.9 percent of the time in 2016. Scahill's sinker has proven quite effective, so maybe that route would suit him.
Whatever happens, we should have patience with Scahill, and other players of his ilk. Lest we forget, Jeffress took some time to develop: When he broke out in 2013, he was already 25. Scahill's even older, at 29, but he could make the leap too with a little repertoire adjustment. Even if the odds and the aging curves don't favor him, that sinker might have the power to make him Milwaukee's next closer.