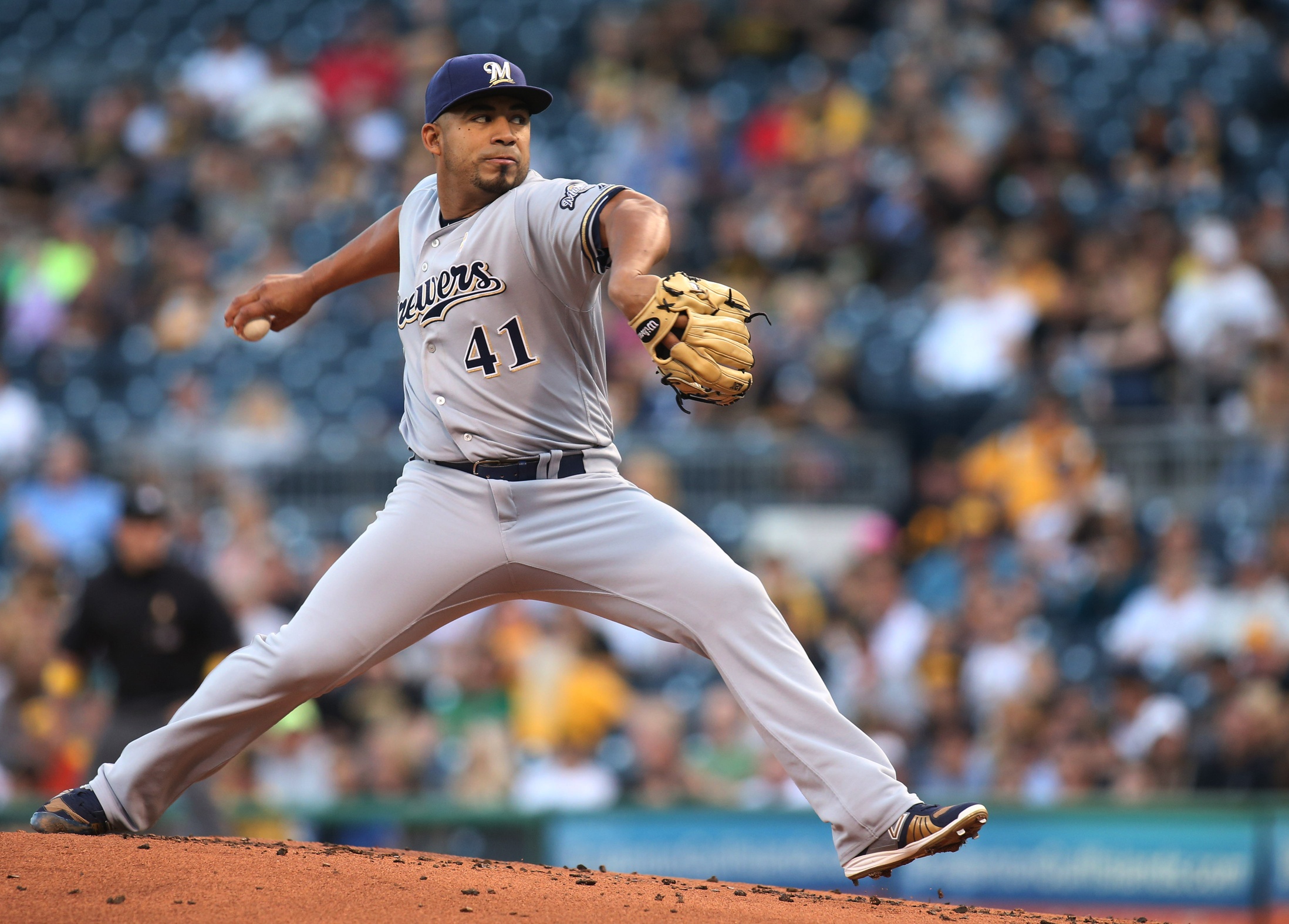 The Brewers announced this past week that Junior Guerra's season is over, thankfully not due to a aggravation of the injury that forced him to miss nearly a month, but simply due to the 31-year-old reaching an innings limit. The #2016BrewersAce finishes his first season as a major league starter with a stellar 2.81 ERA and a 9-3 record backed up by an even 100 strikeouts over 121.3 innings.
Guerra will almost certainly be shopped by Milwaukee's front office over the hot stove season, but no matter what jersey he's wearing come Opening Day 2017, it's worth wondering just how sustainable Guerra's excellent 2016 performance will prove to be. Will his nasty splitter continue to confound hitters into next season and beyond? Or will he regress towards the performance suggested his middling peripherals, including a 3.72 FIP and 4.31 DRA?
If you want reasons to believe, look no further than the video from his June 29 start against the Dodgers, his best start of the season. That night at Miller Park, Guerra shut out Los Angeles, currently in line to win the National League West, for eight full innings. He struck out seven behind 13 swinging strikes, allowed just two hits and two walks, and induced 11 groundouts in the dominant performance.
PITCHf/x seems to have some trouble distinguishing between Guerra's slider and splitter — it says Guerra threw just two splitters against 32 sliders that night, something that clearly isn't the case if you watch the highlights. But regardless, the video above shows just how nasty Guerra's off-speed offerings, however they're classified, can be. Dodgers hitters went fishing for balls in the dirt all night long. Guerra drew swinging strikes on nine of his 34 off-speed offerings, a sharp 26.4 percent rate. That's particularly amazing considering he threw just eight of those 34 pitches in the strike zones, with 25 of 34 coming low, off the plate, or both.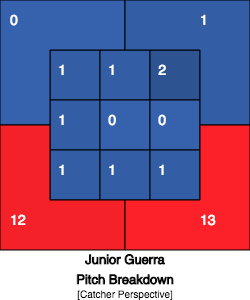 (via BaseballSavant.com)
According to Brooks Baseball, Guerra finished the season with a 14 percent whiff rate on his slider and a 20 percent whiff rate on his splitter, making them both fantastic put-away pitches, better options than most starters are able to rely on with two strikes. To me, the major question with Guerra isn't the quality of his stuff. Any time a pitcher is able to draw so many swings and misses with an off-speed pitch and can pair that with a mid-90s fastball, as Guerra showed this year (93.1 MPH average), that's a potent combination that should lead to results.
Guerra's fastball, though, isn't enough on its own to keep lineups down. Hitters touched it up for a .259 average and .416 slugging percentage in 2016, and six of the 10 home runs he allowed came off the fastball. Unfortunately, that's the pitch he needs to throw when he falls behind — his off-speed pitches were called balls over 40 percent of the time, making them unreliable options in hitters' counts.
So the question for me is if hitters will make the adjustment and start spitting on the splitter and slider when he throws them, even when Guerra is ahead in the count. With nearly a full year's worth of starts on tape now, hitters will have plenty to analyze before they step in the box against Guerra. He won't be some unknown 31-year-old rookie any more. They will know that he's bringing one of the nastiest splitters in the game to the table. A vast majority of the swinging strikes Guerra draws with that pitch come on pitches down in the dirt. What if hitters start laying off? Can he answer?
Guerra's arsenal is good enough that even with some regression, he should remain an MLB-quality starting pitcher, even if his true talent level may be more of a back-end starter than as an #Ace. If he can keep working his fastball and splitter off of each other and changing speeds to keep hitters off balance, another quality season is certainly possible, and that possibility should be enough to either draw a solid trade haul from a 2017 contender or allow the Brewers to commit to him as their Opening Day starter come next season. Guerra was one of the brightest success stories of 2016 for the Brewers, and his performance should inspire hope for the future, in whatever form those rewards come.