Expectations remain tempered for the Brewers as spring training approaches in 2017. While there is plenty for devoted fans to get excited for, the national consensus is that Milwaukee will remain in rebuilding mode this season. After an exceptionally quiet offseason characterized by value plays like Eric Thames and Neftali Feliz, it's hard to argue with that assessment.
The Brewers showed modest improvement on the field last season. With full seasons from young players like Orlando Arcia and Zach Davies coming in 2017, reasonable fans can hope for another season of consistent improvement, even if the club remains unlikely to compete with the likes of the Cubs and Cardinals. Some observers have even pointed to the club's slight improvement in 2016, a 73-win campaign that was a five-win increase over the 2015 squad's effort, as evidence the rebuild is already heading in the right direction.
Unfortunately, it's rarely that simple. Look at teams who have executed rebuilds over the past decade or so and a consistent climb to the top is not what we typically find.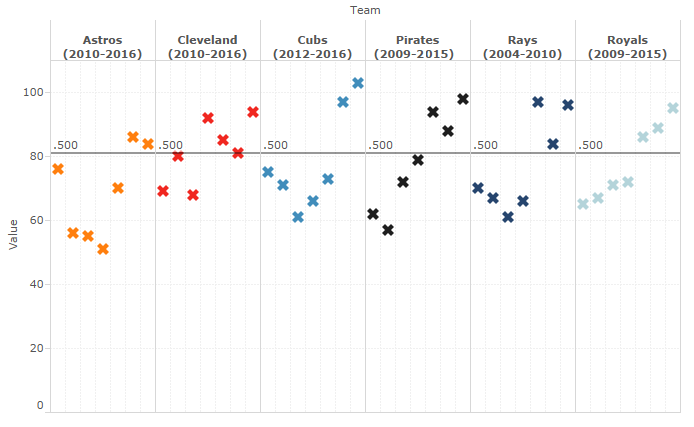 I chose to look at six recent teams that have executed the closest rebuilds to the Brewers, characterized by tearing it all down and building around waves of minor league talent: Cleveland, Houston, Pittsburgh, Tampa Bay, Kansas City, and the reigning world champion Cubs.
What I found instead was a pattern of sustained poor play followed by one major season of improvement. All six of these teams featured a season in which their victory total improved by at least 14 games. The Cubs improved by 24 games between 2014 and 2015, and the Tampa Bay Rays improved by a ludicrous 30 games between 2007 and 2008, the year they reached their first and only World Series. Only Cleveland had multiple seasons above .500 before making their first post-rebuild playoff appearance.
This is all part of the design of the rebuild plan these teams have implemented. To maximize the value of a prospect wave, these teams have chosen to wait to invest in expensive external talent, whether via free agency or trades, until their young players have shown they are ready to contribute. And while I have written extensively about how unfortunate it is that Major League Baseball's rules and financial structures have turned this into a dominant strategy, it's what has worked over the past decade or so.
So when the Brewers don't come out and set the world on fire in 2017, there's no need to panic. There will be a desire for constant improvement from certain subsets of fans, and it's always good to keep pressure on ownership and the front office to put their full investment into putting a winning — or at the very least entertaining and hopeful — squad on the field. But the process is rarely a clean one, and we shouldn't be surprised if 2017 is another season filled with growing pains.