Sometimes, the offseason feels like one of those games that you want to leave early. We've all been to a boring snoozer of a game at some point that was well out of hand long before beer sales even stopped, where staying for the rest of the event is nothing but an exercise in stubbornness. There are people who will insist that "real fans" never leave early–these people are clearly immune to road rage. As a rule, if we're in regulation innings and both teams are pitching their mop-up guys, you can safely check out and not risk missing anything consequential. But that's not the case in the offseason. To follow baseball during the down months is to willingly subject yourself to weeks and weeks on inaction more often than not. And up until now, the Brewers' offseason has been about as exciting as watching grass grow.
This past weekend, though, after a long stretch of nothing broken up by the occasional bullpen signing, the Milwaukee hot stove showed some signs of life. Reports emerged linking them as a potential suitor for free-agent catcher Matt Wieters, formerly of the Baltimore Orioles. The pattern-literate will make note of the timing–last year, the Brewers' biggest free-agency splash occurred in January, when they inked Chris Carter to a one-year deal.
Carter and Wieters are alike in that they're both useful, but frustrating, veteran players who saw their free agency market come up well short of expectations. In Carter's case, his offensive defense and tendency to swing and miss will always hold him back, even if his elite power and willingness to take ball four have consistently buoyed him to above replacement level. He's not going to hurt you, but if you're a good organization you can probably do better–especially a National League organization that can't hide Carter as a designated hitter.
Wieters came up through the minor leagues as one of the most hyped prospects in recent memory. He was regarded as a premier defensive prospect all the way back to the 2007 draft, when the Orioles got him with the fifth overall pick. The 2008 season was his first full one as a professional, and he put up a heady offensive campaign too–a .335 True Average and .345/.453/.576 slash line at High-A Fredericksburg got him a promtion to AA Bowie, where he increased those numbers to .338 and .365/.466/.625. And on top of those eye-popping stat lines he was a switch-hitting catcher with elite defensive chops behind the plate. You couldn't have lab-created a prospect who ticked off every elite-prospect box so neatly and so emphatically.
That being said, it's hard to call Wieters' Baltimore tenure a successful one, given the expectations that were placed on him from the outset. Other than the 2014 season, when he played 26 games before being shut down for Tommy John surgery, he hasn't posted a True Average above .265 in the big leagues. His power production is top-tier for the position, but his durability is a concern and his defense has not been elite in many years. And as yet another tumbleweed drifts lazily across Wieters' free agent market, one can't help but speculate just how likely it is that front offices around the league will be just as tepid on Wieters come July.
When the big picture is taken into consideration, it would be pennywise but pound foolish for Milwaukee to bring him in as a mercenary catcher for the first half of 2017.
---
Because Wieters was a top-five pick who vaporized minor-league pitching with chilling efficiency upon his arrival in the professional ranks, his ensuing Major League career has been narrated as a bust. But is this label really fair? From 2010 through 2013, Wieters posted WARP totals of 2.5, 4.6, 3.3, and 2.1. That's two years as an average MLB starting catcher, and two years solidly in the first division. He topped 20 home runs in the final three of those seasons too, establishing himself as a reliable power-hitting catcher.
And since then, Wieters has been more hard-luck than hard decline. His 2014 and 2015 seasons were both cut short by the Tommy John surgery, and his .265 BABIP in 2016 was both his second-lowest yet and a full 21 points lower than his career mark, indicating that he could be primed for a rebound if his luck just evens out. His power has eroded slightly from his 20-HR days, but he's still better than par for the position.
Most importantly, from an offensive perspective, Wieters' whiff rate stabilized in 2016. In 2015, it spiked at 23.8 percent–a curious development considering that, while rehabbing from elbow surgery, Wieters underwent LASIK surgery. Usually, hitters who get their vision corrected hit much better–this is, to my knowledge, the first case where the reverse happened. But he struck out 18.3 percent in 2016, which is almost perfectly in line with his career mark of 18.8 percent, so we can call that spike a fluke with confidence.
That being said, one legitimate issue that has caused Wieters to fall short of the hype is his less-than-stellar approach at the plate. While Wieters' patience was hailed as he burned through the minor leagues, he's posted walk rates of 7.3 percent, 9.4 percent, 8.7 percent, 10.1 percent, 7.4 percent, 5.4 percent, 7.4 percent, and 6.9 percent chronologically as a major leaguer. BrooksBaseball shows that Wieters has always had an unquenchable thirst for the high strike. Furthermore, when there's a right-handed pitcher on the mound, and there usually is, Wieters is even more likely to flail away at pitches above the hitting zone.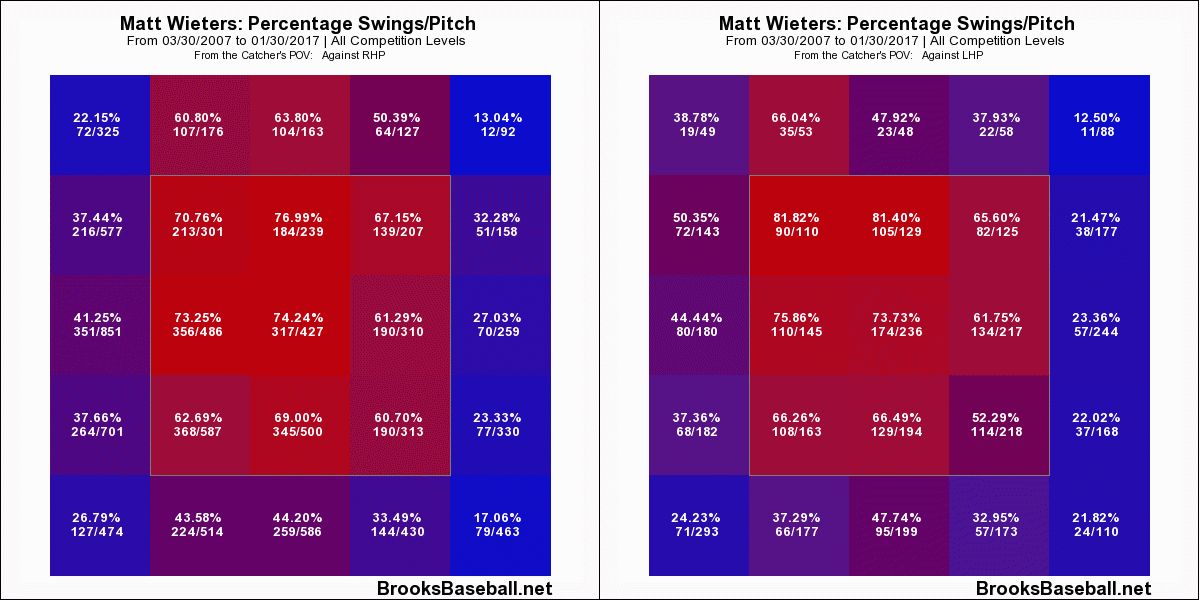 We are 3,000-plus at-bats deep into Wieters' career. It is the year 2017. You can rest assured that every single team in baseball knows this about Wieters, and that nearly every pitcher that has ever seen him in live action has been coached to attack him with letter-high fastballs and dare him to lay off, because the odds say he can't. Even now, as a veteran, Wieters is simply unable to help himself when a pitcher climbs the ladder: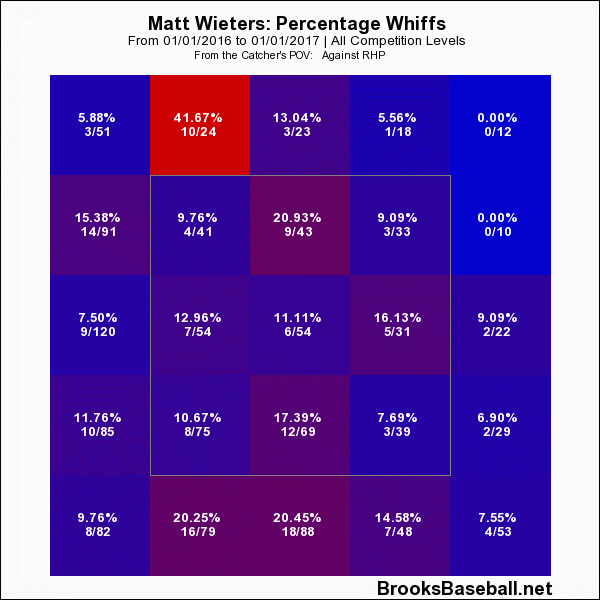 But Wieters' tendency to defeat himself with the high swinging strike has always been an issue, and he pressed through it to post four good MLB seasons. He might never be a Hall of Famer, like he was supposed to be, but fantasy baseball players all know Wieters as one of the most dependable options at a premium position–you know, when he's healthy. That hasn't changed, and those skills will likely erode slowly as he ages.
His depreciation as a defensive catcher, however, should be far more alarming to the Brewers' front office as they evaluate him and decide what their catcher position should look like in 2017.
The 2014 BP Annual praised Wieters as "an elite defender and game-caller," but the numbers suggest that this has not been the case since we were all worrying about Mayan doomsday predictions. Wieters' adjusted FRAA numbers from 2010-2012 were stellar–in total, he saved 49.3 runs behind the plate during that three-year stretch. But since then, he has actually been a below-average defensive catcher by the numbers.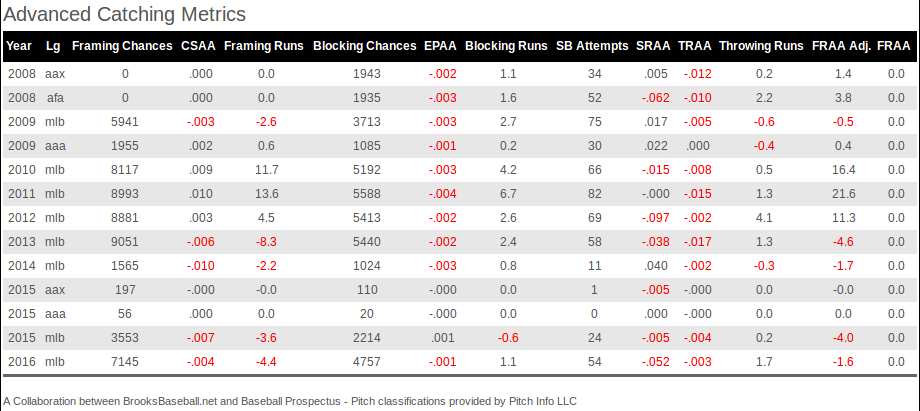 Wieters' poor framing skills are clearly doing a lot of the work in dragging him down, something that Travis Sawchik of Fangraphs made note of at the turn of the calendar. Jonathan Lucroy, the ultimate authority on defensive catching in Milwaukee, has long insisted that a low center of gravity is essential to framing the low strike. Wieters, who stands 6-foot-5, really struggles to get down and frame strikes along the bottom of the zone. His age, and his continually declining skills as a receiver, invite speculation that Wieters' days as a catcher might be numbered. For a short-term suitor, that might not matter so much. But for a short-term suitor looking to turn a profit on their investment, like Milwaukee, it really does.
---
There is one argument in favor of bringing Wieters on board that is absolutely impossible to argue directly: that Wieters is a superior option as a starting catcher to any combination of Jett Bandy, Andrew Susac, and Manny Pina. Barring an unforseen and significant leap forward by one of the former two, Wieters would almost certainly be an improvement over Milwaukee's current catching situation by several wins. However, the current front office doesn't seem likely to fall into this trap–and you'd better believe it's a trap.
We've established that Wieters is a catcher whose defensive skills have been fading for years now, and he hit the free agent market with just shy of 7,000 Major League innings on his knees. So, let's say the Brewers sign him. Even assuming that everything goes right, and Wieters experiences an Aaron Hill-like revival in Milwaukee over the first half, these question marks will still be a concern to potential buyers. Like with Ryan Braun (and Carter last year), the Brewers could easily see Wieters exceed expectations–and still be treated like a lump of Kryptonite by the rest of the league.
Meanwhile, by his mere presence in the lineup, Wieters would be hindering the front office from their main goals at this stage of the game–talent evaluation and asset accumulation.
Neither Jett Bandy nor Andrew Susac has, to this point in their respective careers, outplayed Matt Wieters, and both of them lack anything resembling a track record at the Major League level. But they are both four years younger than Wieters, and both players are still on their rookie contracts. For Milwaukee and their svelte payroll, this is not an issue–they can afford Wieters–but in terms of marketability to other general managers, it plays a huge role–not everyone can, and that hurts his perceived value.
Bandy, acquired this winter for Martin Maldonado, has an even more self-defeating approach than Wieters. In 2014, at AA Arkansas, Bandy wallked 9.1 percent of the time. Throw out that lone data point, though, and he has never taken a base on balls more than 5.5 percent of the time in a professional career that began in 2011. Bandy's "home runs, strikeouts, and no walks" offensive input is not without precedent in today's game. In fact, when you compare the K percent, BB percent, and ISO of both players, he actually looks pretty similar to Salvador Perez of the Royals. Granted, he's going to need breaking in–Bandy has never caught more than 94 games in a season, and never seen more than 365 plate appearances in a year. But his ratios stretched out to a full season of production look like 20-25 home runs with an average that won't kill you, and that's valuable behind the plate. Defensively, Bandy is nothing special, but does have the chance to be better than average–and his body has seen far less wear and tear than Matt Wieters has.
Susac, on the other hand, profiles as a similar Major Leaguer to Wieters in his prime, albeit with a little bit more swing and miss in his game. But he's shown a similar combination of passable patience, above-average defense, and big power. Plus, he struck out less than 20 percent of the time at AAA for the Giants last season, so there's hope that he can suppress his whiffs and further improve as an offensive player. Just two years ago, he was rated as the third-best prospect in the Giants' system and there was speculation that he would inherit the job as the team pushed Buster Posey off to first base, but that did not happen. Still, Bret Sayre predicted back then that "Given a full complement of at-bats, Susac could hit .260 with 20 homers," which is a good Matt Wieters season.
If the Brewers signed Wieters, these two potential assets would be relegated to fighting for a backup role and the scraps of at-bats that come with it, with the loser getting banished to AAA, where both players have already proven themselves competent enough for a promotion. Those at-bats might be converted more productively, but that's not a guarantee–and even if they were, the long-term payoff would actually be worse, as Wieters is unlikely to fetch much in a trade and he'll be well into his 30s by the time Milwaukee puts a competitive club on the field. Meanwhile, both Susac and Bandy would be still in their primes by the time the competitive window opens up.
Five years ago, taking a discount flier on a player like Wieters is exactly the kind of "smart move" that the Brewers' front office would have pulled. Thankfully, the crew calling the shots today seems to have a better understanding of where and when to spend their cash.