Embattled starter Taylor Jungmann made the Brewers' bullpen out of spring training this year, and his experience this year will be an interesting case study in the starter-to-reliever conversion project. Failed starters have repeatedly made successful transitions to the bullpen (see Blanton, Joe), and this is a route we are seeing more pitchers take as their rotation chances fade.
The conventional wisdom for this transition working makes logical sense. Starting pitchers have to pace themselves to be able to work deep into games, and they don't want to show hitters all of their pitches the first trip through the order. Because of the requirement of multiple trips through the order, starters also have to rely on more than two pitches. But when starters move to the bullpen, they do not have to combat any of these issues. Relievers instead can throw as hard as possible, and they can rely on just their one or two best pitches.
It's impossible to tell how exactly Jungmann will adjust to the bullpen. He was a mediocre big league starter, as his DRA these last two seasons was 4.18. However, when Blanton successfully transitioned to the bullpen in 2015, he was coming off a 2013 season in which he posted a DRA of 5.75 and a 2014 season in which he did not pitch in the majors; Blanton returned to post 3.35 DRA and 3.40 DRA in relief. Poor performance in the rotation is no guarantee that Jungmann will be a bad reliever.
However, Jungmann doesn't have the profile we would expect to see from a successful reliever. The righty does not throw particularly hard, and his curveball is not particularly effective either. Last season, among pitchers who threw at least 100 of the specific type of pitch, his fastball velocity ranked 450th out of 507, and his curveball whiff rate ranked 89th out of 226. Neither of these stats is indicative of someone who will suddenly be able to turn into a strikeout machine, and his ground ball rate is not elite either (300th of 651 pitchers who threw at least ten innings).
Jungmann also is not a pitcher who sees a big decline in pitch quality after his first time through the order, which might have indicated that he lacked the stamina to be an effective starter. Instead, although his offerings do get slightly worse, he is roughly the same pitcher each time through the order.
Top: Jungmann's pitch usage, sorted by times through the order.
Bottom: Jungmann's velocity, sorted by times through the order.
The graphs above clearly demonstrate that Jungmann will rely on his fastball and curveball in the bullpen, so the other potential area of interest is that curveball; if he can generate more movement by not having to pace himself, then his curveball might play up in shorter stints. However, at least through his first two seasons as a starter, there is no indication that will be the case. The vertical movement on his curveball stayed relatively even each time through the order.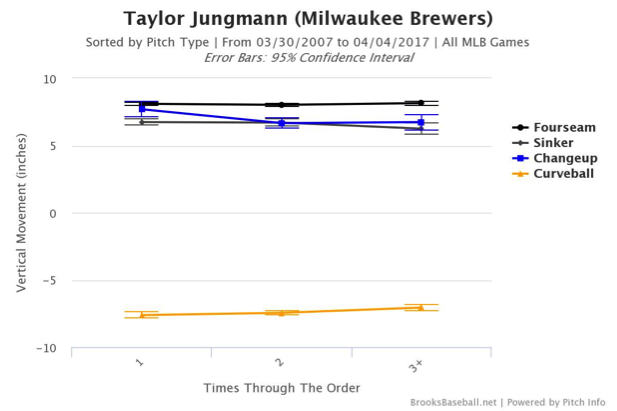 Jungmann was a relatively boring starting pitcher; he did not throw very hard or strike out very many batters. Based solely on that solidly mediocre profile, I was expecting the results of this research to be similarly boring. Unfortunately, that was borne out. Jungmann's starting pitcher profile does not indicate that he is particularly well suited to being a reliever.
However, that does not preclude the possibility that he becomes good. Because I have relied so heavily on the Joe Blanton analogy to this point, I will go back to that well one more time. Blanton was essentially a full-time starter through the 2013 season, but there was no indication that he was going to be a good reliever. His velocity was consistently not very good each time through the order, but once he became a reliever in 2015, it ticked up.
Top: Blanton's velocity through 2013, sorted by times through the order.
Bottom: Blanton's velocity by year.
What that means is that this article is essentially a long shrug. There's no reason to think that Jungmann will be a particularly good relief pitcher, but he could very well become one. Presumably, he will have some opportunities this season to prove himself, and the Brewers will be hoping he becomes good enough to either provide on-field value or make himself trade bait.