The Brewers' minor league affiliates are off and running, and early indications suggest that 2017 will be a special season up and down the rungs of the organizational ladder. Early coverage has rightly emphasized the glut of prospects clogging up the boxscores at Class-AAA Colorado Springs and Class-Advanced A Carolina. Meanwhile, right-handed starter Jorge López is back in Biloxi, biding his time as he enters his third tour of the Southern League. Two short years ago, this sort of developmental snag would have seemed absurd.
Related Reading:
Colorado Springs for Lopez and Davies
The Return of Lopez
Starting Jorge Lopez
You all know the story by now. López shot up prospect lists over the course of a dominant 2015, topping out at #71 on the Baseball Prospectus 2016 list of the 101 most promising youngsters across minor league ball. At the end of the season, he collected a Robin Yount Performance Award as the Brewers' Minor League Pitcher of the Year. He proceeded to get drubbed in 2016, gasping his way to a 6.65 DRA in the high altitude of Colorado Springs before a forced convalescence in Biloxi allowed him to end the season on a more harmonious note.
It's become easier to lose track of Brewers prospects over the last few years. The constant infusion of new talent into the system helps ease the pain of an individual bad performance. López was fun to dream on in 2015, but he was supplanted last season by the high-ceilinged quartet of Josh Hader, Brandon Woodruff, Luis Ortiz, and Phil Bickford. Cody Ponce, Marcos Diplan, Taylor Williams, and others are primed to make a similar leap this year.
But Jorge López is intent on putting himself back on the map. After struggling badly with his command in 2016, to the tune of 6.2 free passes per nine with the Sky Sox, López checked himself into the Brewers' fall instructional league. It was a humble move for a former star prospect with a spot on the 40-man roster. It was also a necessary one. For two weeks, López worked on the fundamentals, synching up his mechanics and practicing his delivery. It was the kind of drudge work that only seems worthwhile in hindsight, and only then if it pays off.
It paid off. For nine starts in the Puerto Rican Winter League, López was nigh on unhittable. He worked to a 1.56 ERA over 34.7 innings, allowing just 17 hits and walking a reasonable 13. His performance caught the attention of Edwin Rodriguez, who inserted Jorge into the Puerto Rican starting rotation for the 2017 World Baseball Classic. López turned in an uneven pair of starts, walking four and fanning six over seven total innings. Fine winter showing aside, the Brewers sent López to Biloxi to start 2017, opting to protect their young pitcher from the physical and psychological ravages of another turn at Colorado Springs.
This is a defensible decision. López leans heavily on his terrific curveball, and the altitude of Security Service Field, where the Sky Sox make their home, can have a maddening effect on such a high-spin pitch. Those curves are more likely to hang in Colorado Springs, and thus more likely to be hit. López doesn't belong in such an environment.
But he also doesn't belong in Biloxi. Lopez has proven twice over that he's capable of baffling AA hitters, and he did so again in his first start of 2017. Over six dazzling shutout innings last Tuesday, López scattered six hits and struck out seven. He threw 55 of his 81 pitches for strikes. Crucially, he didn't walk a single batter. Command has always been the weakest tool in Lopez's box. If the offseason mechanical tweaks allow López to cut back on walks, he can use his arsenal (mid-90s heater, devastating curve, and so-so change) to become a sort of poor man's Lance McCullers.
López already has the stuff to succeed at the highest level. He proved that during his Major League debut against the Padres back in 2015. Sure, it was the Padres. But watch how he carved up the heart of their order. First, the signature curveball to Yangervis Solarte: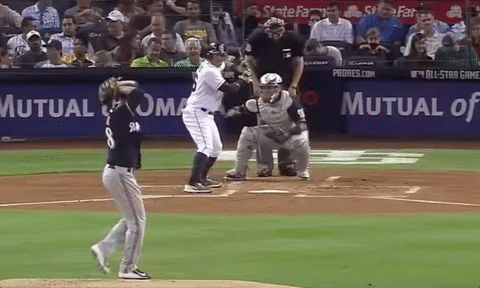 Then he caught Matt Kemp trying to elevate and tied him up with some high 95-mph heat: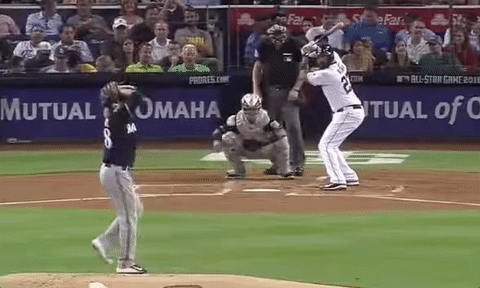 Finally, watch how this called third strike to Justin Upton zips right into Martin Maldonado's glove.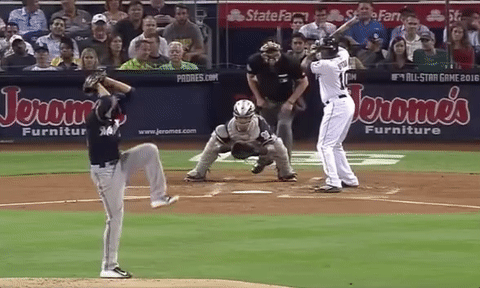 In the end, López gave up three runs in five innings while striking out seven in that game. It was a good challenge for the then-22-year old. But López, now 24, needs more of the same to continue to grow.
The solution, it seems, is to allow Lopez to round out his development with the big league club. Getting him there won't exactly be easy. Milwaukee has something of a logjam brewing in their starting rotation, and the aforementioned tandem of Josh Hader and Brandon Woodruff are eager to further muddy the water. The bullpen is an option as López's potential far outstrips that of the Brewers' carousel of twelfth arms. However, Lopez has never worked outside of the starter's traditional five-day schedule and has the tools to become a rotation mainstay.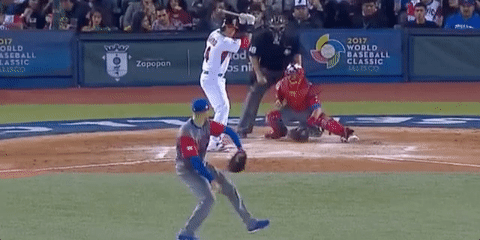 A few more months in the minors won't do any harm. But I'll be rooting for David Stearns to clear some roster space by mid-summer, and for López to make some starts down the stretch. Beyond that, I'd like to see him lean on the curveball à la McCullers. López's curveball usage in the big leagues hovered just under 15 percent. For his career, McCullers has reached for his curve with about 40 percent frequency. It's the best weapon either pitcher possesses, and Lopez's is begging to be unleashed. Besides, upping his curveball dosage may hasten his ascent to Milwaukee; breakers like this can't stay on the farm forever.