My dad, who grew up in and around Chicago, remembers driving into Wrigleyville with a friend in the summer of 1969, when Billy Williams, Ron Santo, and Ernie Banks batted 3-4-5 for the Cubs. He was seventeen years old and was there to see his first-place Cubs take on the New York Mets. The Cubs suffered a rare loss that day, which looks prescient in retrospect. These were the same "Amazin' Mets" who would go on to shock the league, overtake Chicago, and surge to a stunning World Series victory.
For some, the shock of that season never wore off. Prior to last October, there was reason to speculate that my dad played a part in the famous Cubs curse; he hadn't set foot in Wrigley since. A few months ago, my wife and I plotted to change that. We were coming up for a long weekend, and flights to Chicago were invitingly cheap. Why not take in a famous Wrigley day game with mom and dad on a Ferris-Bueller-perfect May afternoon, beneath cotton candy clouds?
Chicago's famously hospitable confines had other plans for us last Friday. We gutted through three innings of mid-30s wind chill and bitter Lake Michigan rain before retreating to the car and catching the rest on the radio. At present, it's uncertain whether my dad will ever pluck up the courage to attempt a game at Wrigley again. If he does, it'll probably be in the middle of August, against a last-place team. But all was not lost. We visited one of baseball's most hallowed halls, and emerged, dripping, with a memory we'll be able to laugh about whenever we finally regain feeling in our toes. Also of note: The rain-soaked debut of one Paolo Espino.
Espino could scarcely have asked for worse conditions in which to pitch. As such, it's difficult to glean anything meaningful from his performance. It's tough to spin a curveball when you can't feel your fingers.
Nonetheless, Espino flashed a few encouraging signs in his first start in the show. For one, he failed to walk a single batter over his four-inning start in spite of the wind and the wet. By contrast, Cubs starter Eddie Butler walked five men in just three innings, and enjoyed at least as many pep talks from catcher Wilson Contreras. Espino didn't exactly fill the zone. Of his 71 total pitches, just 42 were strikes. But the absence of walks points to a pitcher with good game awareness: He can throw strikes when they're needed, and waste a few breakers in favorable counts in the hopes that someone chases.
The stocky right-hander mixed his pitches well, relying on his fringey 89-mph fastball for about 49 percent of his pitches, per Brooks Baseball. That gave him plenty of opportunity to work in his 12-6 hammer curve (18.3 percent), slider (16.9 percent), and changeup (11.3 percent), with room left over for three sinkers to boot. Espino achieved nice separation, with his curveball riding in almost twenty miles per hour behind the four-seam fastball, while his slider and change split the difference.
And those secondaries looked pretty good in spite of the cold. Espino registered three strikeouts for the game – one on a fastball and two on the curve. In the second inning, he did this to Wilson Contreras: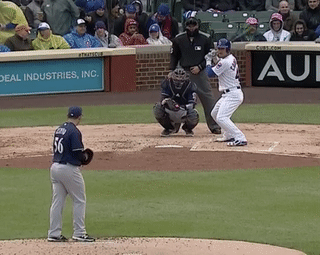 Espino's slider is nothing to be trifled with, either. Here's reigning MVP Kris Bryant lunging at one for a first-inning groundout:
Though Espino left the game with a 4.50 ERA after yielding three runs (two earned) to the defending champs, both DRA and FIP paint a rosier picture; they sit at 1.60 and 1.09, respectively. (Just don't tell them about the pair of balls that were drilled straight into the oncoming 20-mph wind.)
Realistically, Espino's preseason forecast of a 4.49 ERA and 4.80 DRA holds up pretty well, though it's not hard to imagine him slightly outperforming those figures if given the chance. The imminent return of Junior Guerra from the disabled list has shunted Espino back to Colorado Springs for now. But for my part, I hope the Brewers give him another shot this summer, if for no other reason than that I'd love to see what he can do with that curveball when he can get a proper grip.