The Brewers took a gamble on an unpredictable relief pitcher this off-season. So far, the house is up big.
On Sunday evening, the Brewers' Chase Anderson had himself a nice vengeance game against the Arizona Diamondbacks, who traded him away prior to the 2016 season. Anderson pitched six innings, surrendering one run and striking out eight. It was all he could do to endure a classic pitchers duel and keep the Brewers in striking distance, and it was needed desperately. Milwaukee's offense largely got their lunch money taken by emergent Arizona ace Robbie Ray, who struck out twelve in six and two-thirds shutout innings.
Anderson was relieved by Carlos Torres, who was relieved by Neftali Feliz, who was relieved by Wily Peralta, who was relieved by Rob Scahill. And what the Brewers got out of them was no relief, whatsoever. If Anderson's performance was a beautiful work of art, well, the four misfits of Milwaukee's bullpen did the equivalent act of covering that painting up with imaginatively vindictive and vile vandalism. Five runs apiece in the bottom of the seventh an eighth buried the Brewers for good. Keon Broxton's leadoff ninth-inning shot could've been a huge, game-changing, maybe even season-swinging event had the Brewers' bullpen been able to keep the Diamondbacks at bay, but Arizona's slugging offense simply highlighted a point that everybody was already painfully aware of–Milwaukee's bullpen is a tire fire right now.
---
It could be argued that the glowing Goodyear atop the blaze, burning brightest and hottest, is free-agent import Neftali Feliz. Feliz was impressive last season pitching in a setup role for the Pirates, and the Brewers paid him $5.35 million to come in and be the 2017 closer. That experiment lasted all of six weeks before the unquestionably-more-effective Corey Knebel was given the car keys.
But even after being removed from the spotlight of the ninth inning, Feliz has continued to hurt the Brewers. He served up the game-winning 12th-inning home run on June 2nd against the Dodgers, three runs to the Giants three days later, and a two-run ding-dong to David Peralta on Sunday that added the fourth and fifth runs of the seventh inning. Outings like that have been more and more common for Feliz this season. The would-be closer has a 5.19 ERA, a HR/9 north of two, a walk rate of 4.5 per nine innings, a DRA of 5.30, and a FIP of 6.09. While Feliz has been somewhat notorious for volatility throughout his career, numbers like that simply aren't playable in a big-league bullpen, and especially not for a team that wants to remain in the thick of a high-pressure divisional race as we approach the turn.
Feliz's walk rate has proven problematic in the past, but it seemed that had all passed. For the past three seasons he's checked in between 3.13 and 3.52 BB/9–numbers a bit higher than the league average, but still serviceable. In 2017, that number has jumped to 4.5 walks per nine innings. And while Feliz has gotten unlucky with the gopher ball–a 17.6% HR/FB rate that almost doubles his career mark of 9.4%–his untenable walk rate has frequently put ducks on the pond for those home runs, ensuring maximum damage.
(Look no further than Sunday's game for a textbook example of this. Gregor Blanco was the first batter Feliz faced after relieving Torres. He walked, and scored when David Peralta lined one off the left-field foul pole. Just like that, two runs. When it's that easy, no wonder the guy is giving up 5+ runs per game.)
And Feliz's best asset, his calling card since he was a 21-year-old rookie closing out playoff games, has been his ability to pile up the strikeouts. Last season, dialing his fastball velocity up to 96, Feliz piled up 10.23 strikeouts per nine for Pittsburgh. It was that overpowering dominance that turned him into an asset at the back of their bullpen. The absence of that dominance this year made Corey Knebel and his superhuman strikeout rate look all the more appealing. By contrast, Feliz is fanning just 6.92 hitters per nine in a Milwaukee uniform.
His velocity, movement, and release point are all in line with last year's numbers. In fact, the problem isn't even anything to do with Feliz, actually. Last year, he was able to get hitters to swing and miss on high strikes and pitches above the strike zone with consistent success: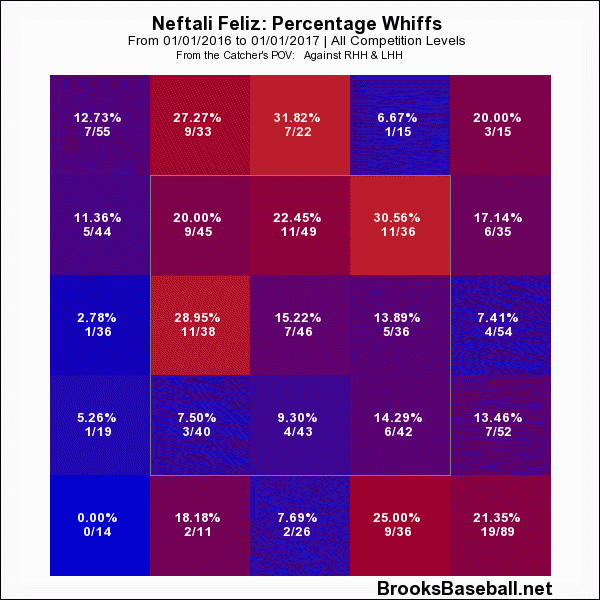 In 2017, that has not been the case at all: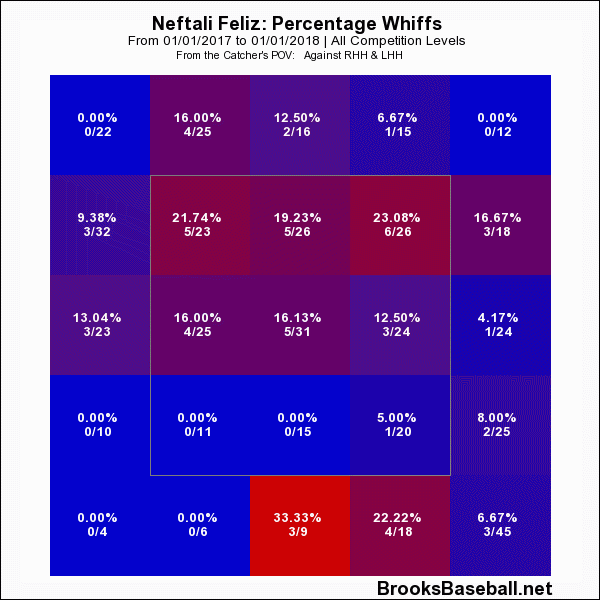 Last year, hitters swung at pitches out of the zone against Feliz 33.4 percent of the time, and made contact on those swings at a 59.2 percent clip. This year, he's only getting swings on 30.9 percent of balls outside the strike zone, and 68.2 percent of them are not being whiffed on. Therefore, the strikeouts are not there. And therefore, Feliz is significantly less effective.
---
When the Brewers signed Feliz, it was easy to follow David Stearns' train of thought. This guy's peripheral numbers indicate he could be one of the better closers in baseball: sign him to a one-year deal, hope he shines for this mediocre team, and then in July flip him to a team that needs shutdown arms at the back of the bullpen. That plan's unlikely to happen for two fairly obvious reasons. First of all, Feliz has pitched himself out of any trade value he might have had. Second of all, the Brewers priorities could be in the midst of shifting away from building for the future and to building something competitive now.
The front office needs to do some soul-searching, and figure out if it is worth it to wait on Neftali Feliz to start making batters swing and miss again. It's not something he can fix overnight, and the team needs the problem rectified as soon as possible. Given the short-term commitment, his lack of on- or off-field value right now, and the team's position in the standings, the most sensible thing might just be for the Brewers to grant Feliz his release and move on to more reliable options.