If the rebuild is in fact, over, as some have suggested, it could be time for the Brewers to turn their attention to maximizing wins in the current season. Perhaps no aspect of the team has been as widely discussed, dissected, and at times bemoaned by the fan base as the bullpen. And in fact, there's something to that. Even with breakout seasons from Corey Knebel and Jacob Barnes, the pen ranks 20th in all of baseball in Win Probability Added. Entering Tuesday, the bullpen comprised 2.1 WARP for the Brewers.
If you're a Brewers fan you probably don't need much convincing by those numbers, though. The struggles maintaining leads, high workloads, and the outright release this week of Neftali Feliz have probably convinced you enough.
A couple of factors work against the Brewers front office in terms of shopping the market for relievers, however. The cost of elite relief arms is possibly at a an all-time high, as the team is surely aware from its acquisitions in exchange for Tyler Thornburg, Jeremy Jeffress, and others. And even if the Brewers turn their attention from selling to buying, there is still a question of selling (potential) future value for possibly a one-game wild card series.
While I won't argue for one approach or another here, I do think that David Stearns has made his priorities pretty clear. In the Journal Sentinel last month, Stearns said,
"There's no skipping steps, but that's true whether it's 2017 or 2020. We are never going to be an organization that skips steps. We're always going to have to balance near term and long term. There are other organizations that have done that exceptionally well. We think we can walk that balance as well."
Whether Stearns was talking about specific "other organizations" or not, his lineage from Cardinals GM John Mozeliak and Astros GM Jeff Luhnow suggests their path may be one the Brewers follow. It's not often you hear about the Cardinals or the Astros selling off major young pieces for short-term help, and it's one reason St. Louis has had consistent winning seasons.
So while it won't please everyone following the first-place team in the Good Land, an all-in blockbuster move for an established closer probably isn't happening, regardless of where the Brewers are on the win curve. With that in mind, there are intriguing arms that are likely available for less than the organization's top prospects, or simply a player to be named later and/or cash considerations. And the Brewers, with the lowest payroll in baseball by some $10 million, should be able and willing to spend cash for any help they can get this season and beyond.
All that considered, here are a couple of arms that may offer the Brewers some good buy-low performance without sacrificing much in the way of future wins.
Francisco Rodriguez, Detroit RHP
Just kidding. But it did work twice before, so who knows?
Josh Osich, San Francisco LHP
I actually wrote just a couple of weeks ago that the lack of left-handers in the bullpen wasn't that big of a detriment to the Brewers as a team, or at least as big of a concern as it was made out to be. But still, it'd be nice to have. Especially if you have a lefty sitting at 95.
On the surface, the 28-year old has a career 4.5 DRA and a 4.65 FIP. For his career, lefties are hitting just .174/.246/.292 against him. While he's still young, the Giants have him pretty far down their depth chart, with Osich pitching 17.7 innings in mostly low-leverage situations even in a year where the team has struggled.
In those 17.7 innings, Osich has struck out better than a batter per inning and actually has a somewhat elevated BABIP over his career average, all adding up to a sub-3 FIP while facing almost an equal number of righties and lefties.
He appears to be throwing a career-high in fastballs, and why not when you touch 98 from the left side? That may be making his changeup more effective, too, as he's generating a career high in whiffs from his changeup that sits 11 miles per hour slower than his fastball: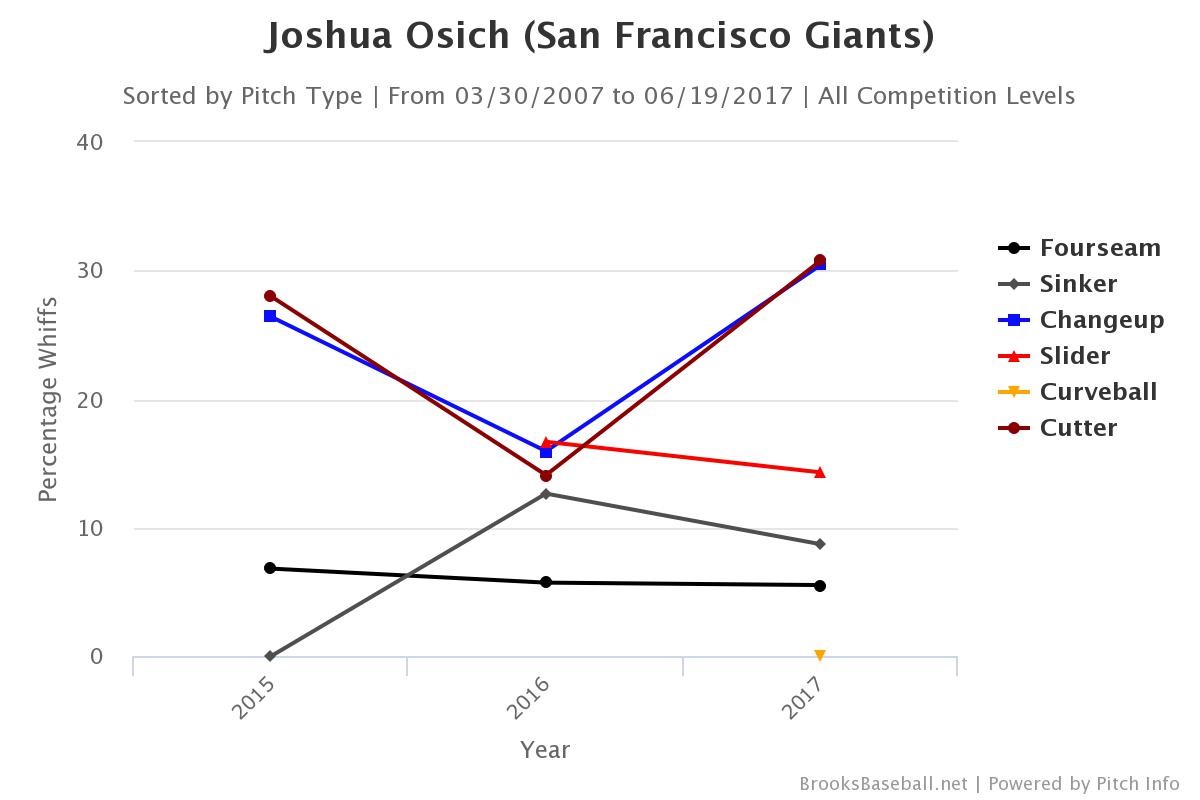 Osich would make the perfect type of Stearns addition, in that he's a win-now and win-later type of move. That's obviously no secret to the Giants, either, who do a pretty good job of growing their own talent internally as it is, and may not be ready to part with a young player with an intriguing upside.
Chris Smith, Toronto RHP
You want available? How about a 35-year old right hand reliever that's in AAA? There isn't as much exciting upside to talk about as there is with a fireballing 28 year-old lefty, but for his career Smith hasn't shown much in the way of extreme platoon splits and could be a league-average reliever for almost free, which isn't worthless.
But maybe there's some intriguing upside here, as the wily veteran struck out 10.6 batters per 9 innings and allowed a .225 TAv and a respectable 3.38 FIP in a very limited 24.2 innings pitched for Oakland last year.  It could be worth a shot to give him some low-leverage innings and see if he can provide a boost over what the Brewers have produced so far, or at least save some innings off the arms of younger prospects called up to the bullpen.
Knebel, Barnes, Hughes, and Drake all currently hold better DRAs than Smith's PECOTA preseason projection of 4.85, which doesn't inspire a lot of confidence, but it is an upgrade to the bullpen depth beyond those four over what the Brewers have put out so far.
Looking at the bargain options from teams out of contention, you could do worse than Chris Smith. And, as an added bonus he'll know his way to Miller Park, as he previously pitched for the Brewers in 2010!
With teams getting smarter all the time, and perhaps teams cautious of trading with David Stearns with the excess value he's added to the club so far, it's going to be awfully hard for the Brewers to get something for nothing, which is obvious enough. That shouldn't stop them from opening the checkbook and employing the "quality in quantity" strategy of bullpen acquisition, even if it's for some long shots that they just hope stick on the fly in the big leagues.
---
Photo Credit: Kelley L. Cox, USAToday Sports Images