Eric Thames was the story of the season for the first month or so.  He posted a 1.276 OPS in April, and he looked like a true breakout candidate whose improvements in Korea would carry over in his return to MLB.  As he is no longer hitting like peak Barry Bonds, however, he has fallen out of the public eye.  His season line is still quite good, however, as his .306 TAv ranks 34th among all players with at least 250 plate appearances.  What is up for debate, though, is how good Thames will be going forward and how much of his season line is being carried by the insane month that he had.
It is indisputable that Thames's season numbers are buoyed by his early season hot streak, but those games did happen and we cannot simply remove a player's best month to determine what his true talent level is.  Instead, we must look at the season holistically.  Splits can be used to provide context, but the whole season occurred and so the whole season counts.
Thames's best month was obviously April, but he also performed well in May (.791 OPS) and July (.886 OPS as of this writing).  Those numbers are not MVP-caliber, but they are certainly good enough to make him a starting-caliber first baseman, which the Brewers have sorely lacked in recent years.  The most concerning trend is the lack of power, as he has hit just twelve home runs in the last three months (albeit while missing a few games).  A high OBP, twenty-homer player, which Thames would be roughly on pace for if he averaged four home runs per month for a full season, is still valuable.  Over the past ten years, first basemen with that general profile have been about league average.  For just over $5 million per year, the Brewers are getting a bargain.
Interestingly to me, though, Thames' overall profile for the season doesn't look all that different from his profile during his hot streak.  He certainly hit the ball harder at the beginning of the season, but not by an absurd amount.  His season-long average exit velocity is 87.5 mph, which puts him right around the middle of the league.  If we account for the fact that his mark is stabilizing at a slightly lower place than he was posting during April, he is still in such company as Kris Bryant and Evan Longoria.  Generally speaking, he continues to hit the ball hard enough to be a valuable contributor at the plate.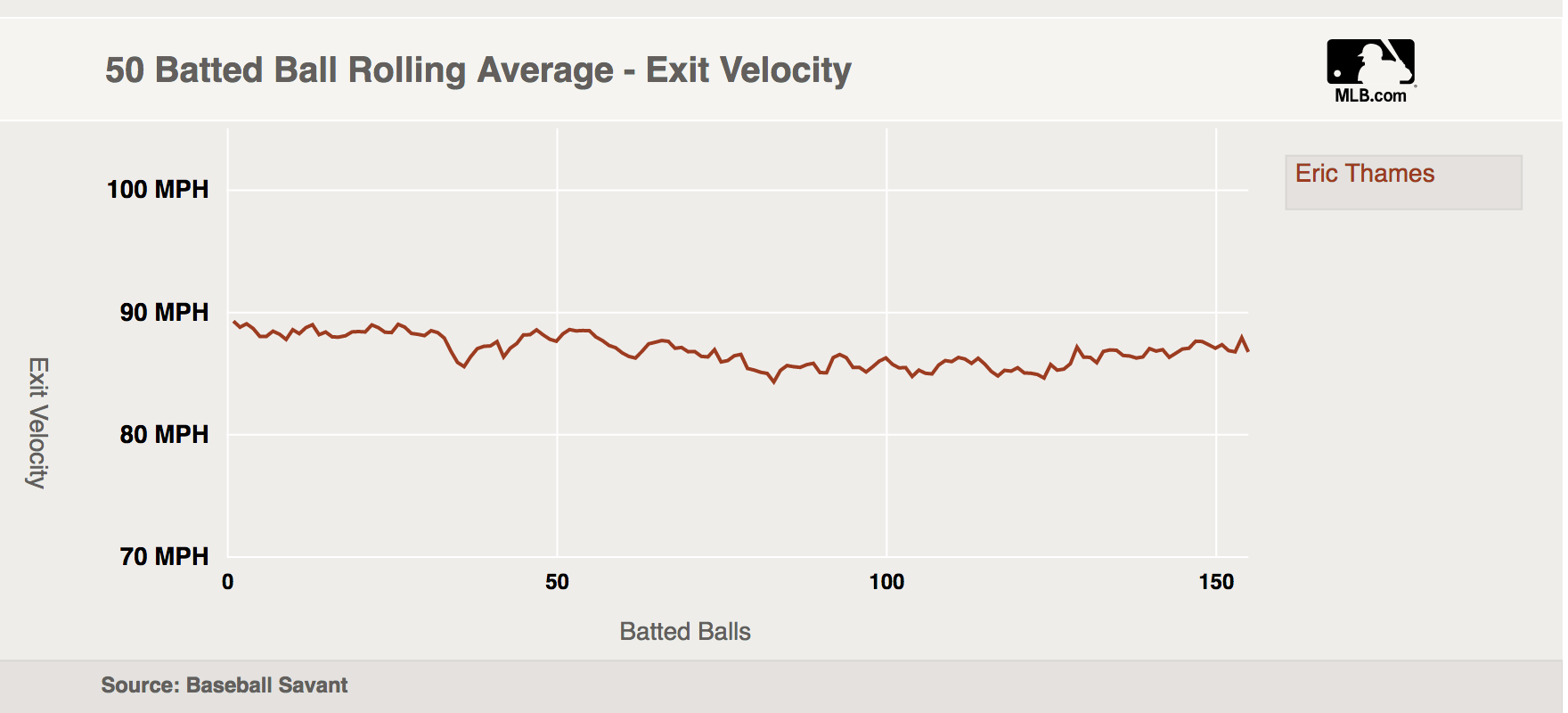 One possible red flag is that his whiff rate is rising.  This could be indicative of many things, and it is hard to know which exactly.  He could be seeing fewer hittable pitches, or he could be swinging at more pitches that are hard to hit.  It could also just be variance, although the steady upward trend suggests that is not the case.  We do know, however, that pitchers are not taking advantage of his continuing issues with offspeed pitches by feeding him more, and that could be because they have not yet recognized this trend or because they feel as if they don't need to pitch to him differently than they would normally want to.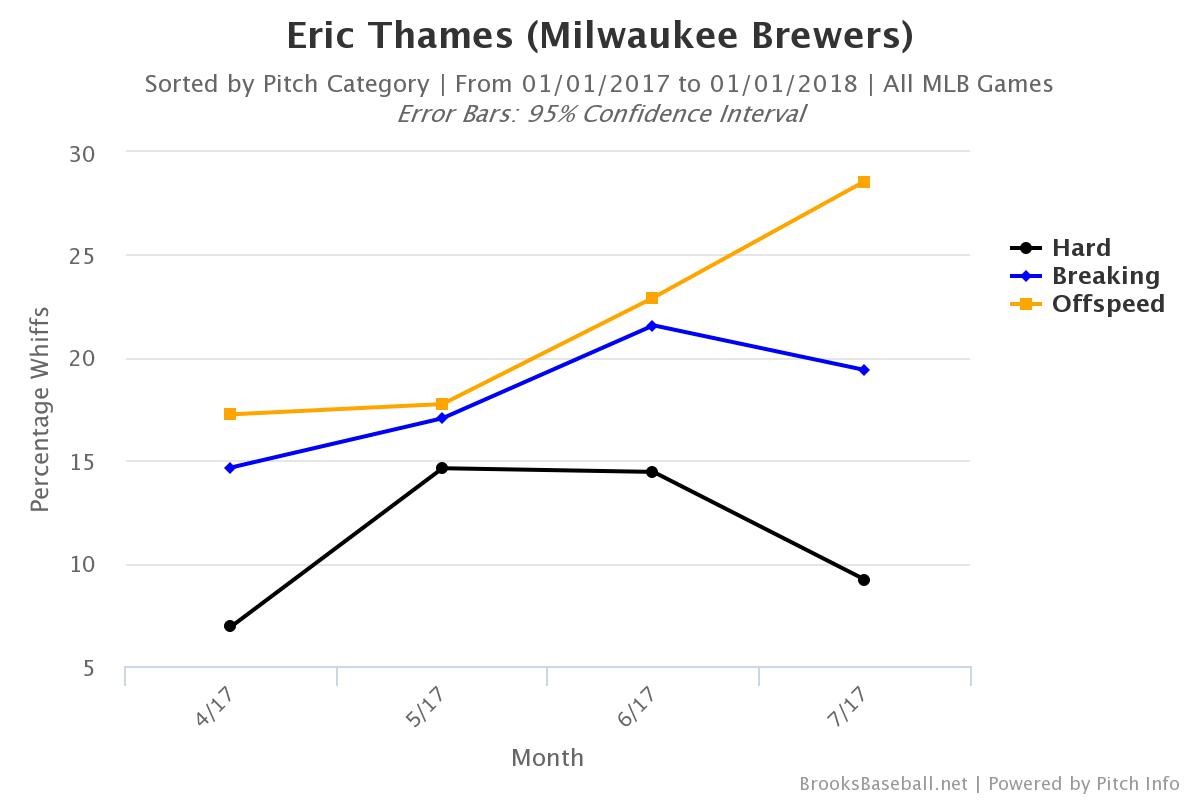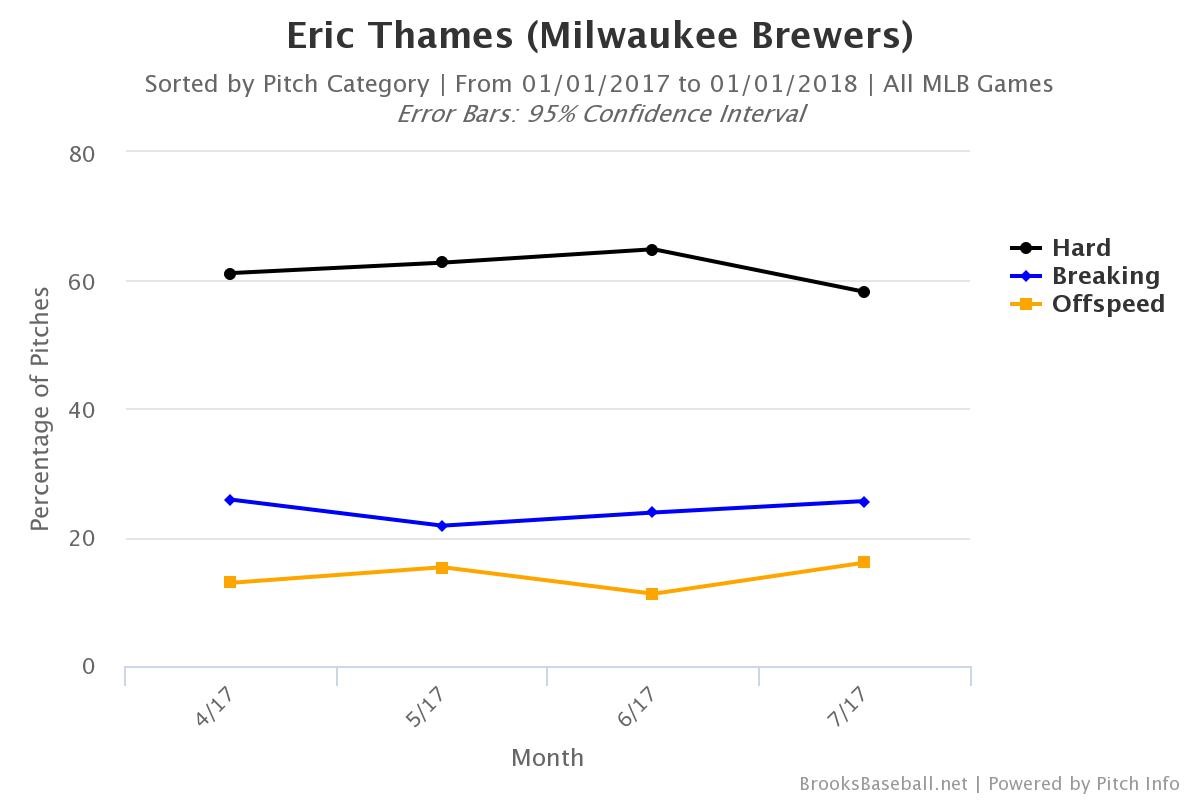 From a plate discipline perspective, there is an additional warning note as his walk rate has declined each month from 18 percent in April, 16 in May, 13 in June, and seven percent in July.  To continue to be a high-OBP player while swinging and missing as often as he does, he needs to walk enough to make up for his low batting average.
I am aware that this article has contained a lot of equivocations because Thames's overall stat lines continue to be boosted by his absurdly hot April; after all, those numbers account for roughly one-quarter of his total performance.  However, I do believe that the relatively stable nature of these peripherals suggests that he should settle in as a valuable player.  Pitchers have not figured him out in anyway, as their pitch distribution to him has not changed.  Nor did he benefit in April from an inordinate amount of hard contact, as his rolling exit velocity has stayed roughly the same.  His whiff rate is concerning, but he is going to strike out a lot; his continued success appears dependent on his ability to control the strike zone and earn walks.
Thames is not the MVP candidate that he appeared to be through the first month, but that is acceptable; the Brewers are not paying him to be such.  Because he is also not a Quad-A type (which was certainly a possibility when the season began), he remains an excellent value.  Thames is certainly capable of being a contributing starter on a playoff team.
---
Photo Credit: Charles LeClaire, USAToday Sports Images