On September 8, Jimmy Nelson dove headfirst back into first base in what was at the time a crucial win over the Cubs. The result of the play was a torn labrum, a devastating blow to the Brewers' 2017 season, and a likely setback for the team's 2018 hopes as well.
Rehabilitation from the shoulder surgery Nelson underwent last month will keep him out of action for most of the 2018 season. If he comes back at all next year, it will likely be in September, after rosters expand. The same thing happened with Boston and David Price this past season, and the Red Sox used Price as a reliever this year rather than get him stretched out to pitch deep into games that close to the playoffs. It's not unlikely that the Brewers will follow a similar plan of action with Nelson. With this in mind, where are the Brewers going to find four pitching wins for the 2018 season? If Milwaukee wants to get over the hump and participate in October baseball next year, it's not a question that can be ignored.
Given that the wounds are still fresh from the last three times Milwaukee signed free agent starters and ended up with Randy Wolf, Kyle Lohse, and Matt Garza, the Brewers might decide they would rather explore the possibility of trading for a starting pitcher who is set to hit free agency after the 2018 season. A short-term rental would, naturally, come with a more modest cost in terms of prospect compensation in a trade than a player under team control for years. But the looming return of Nelson, plus the development of Milwaukee's young pitching prospects, mean that the team might not need this rent-a-player beyond 2018. The Brewers' farm system has been built deep for exactly this reason.
The Quiet Options
These two pitchers are longtime MLB veterans who have never put up a season of 3.9 wins. However, their situations couldn't be more perfect for a trade to a team like the Brewers. Milwaukee could acquire either or both of these guys cheaply, and try to make up the difference in WARP elsewhere on the roster.
J.A. Happ
Happ is turning 35 years old and is part of an aging Toronto core that stumbled to a finish behind both Boston and New York this past season, missing the playoffs entirely. The lefty has aged with a grace rarely seen in big-league players. His career trajectory has gone from "Rookie of the Year runner-up" to "fifth starter on a last-place team" to "serviceable veteran mid-rotation option," all the way to a peak in 2016 when Happ's 20-4 record, 3.18 ERA and 1.17 WHIP gathered him 14 votes for the American League Cy Young.
Happ's ERA and WHIP regressed back toward the average in 2017, but not by much, while his DRA and FIP both settled into the respectable 3.70-3.75 range. Happ also struck out nearly a batter per inning and he's had a BB/9 below 3.0 for four consecutive seasons now. Meanwhile, in an fascinating reversal of expectations, Happ has actually gained velocity as he's aged: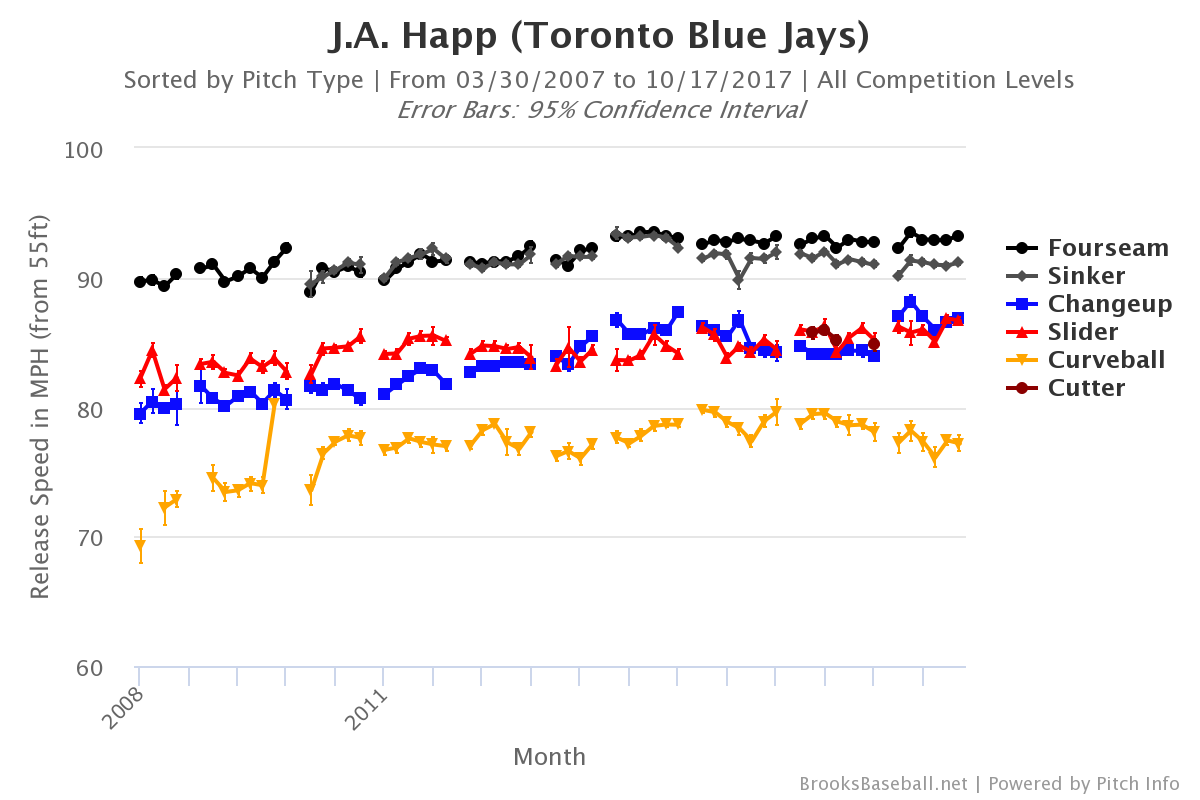 Happ's surface stats weren't Cy Young-competitive again 2017 but he was worth three PWARP, a career high. And unless the Blue Jays plan to spend wildly on replacing their aging offensive core, selling Happ's final contract year makes a ton of sense for them, even if his age, contract status, and unsexy history mean he's not going to get a ton on the trade market. The Brewers easily have enough redundancies built into the farm system to part with something for Happ that Toronto can feel good about themselves for adding to the franchise, without doing any serious damage to the team's long-term plan.
PECOTA likens Happ to a post-2013 John Lackey, which falls short of replacing Nelson but does come awfully close. Then again, he's also closely comparable to Kyle Lohse after his first Brewers' season. That's not a road any of us want to drive again.
Jason Hammel
While Happ is about to turn 35, Hammel passed that milestone just as the 2017 season was drawing to a close. His best years came in the NL Central with the Cubs in 2014 and 2015, though he took a step back in 2016. Last year, pitching for the Royals, Hammel put up an ugly 5.29 ERA that both DRA and FIP agree shouldn't have crossed that 5.00 milestone. The thing is, if it's a stretch to imagine J.A. Happ replacing Nelson's production, it's a hallucination to picture Hammel doing it. He's a twelve-year veteran with nine career pitching WARP, and the 2.9 he posted for Baltimore in 2012 is his season high.
Those trying to look at similar players for an insight into his history won't have much luck. Hammel's PECOTA similarities run the gauntlet from 2011 AJ Burnett–who still had a pair of five-win seasons chambered–to 2016 James Shields, who might have been one of the most ineffective pitchers to ever start 33 games in a year. Even Ben Sheets makes a cameo–the 2013 version, which was the version that retired before he could pitch that year.
Twenty years ago, overpaying for Hammel, the former division rival who might be good but is definitely not great, would've been the primary target for the Brewers' front office. Thankfully, the team is no longer run by such bad baseball minds. Hammel really only makes sense if the Royals came to Milwaukee's front office actively wanting to swap him for a younger, more controllable, but less proven back-end starter. Taylor Williams, Brandon Woodruff, and even Brent Suter are all pitchers whose low ceiling makes them expendable to the Brewers, but whose youth makes them more appealing to the rebuilding Royals than the aging Hammel. Even Suter, undoubtedly the best of that threesome, was just a half-win better than replacement level in 14 starts and 8 relief appearances. Hammel should be better than that.
The Bold Options
These two pitchers come with the potential to outperform Jimmy Nelson. They also come with major, major question marks. Either one might very well be done, or unable to touch that potential again. Both are on teams close enough to contention that their price tag might be entirely unreasonable. But they also represent a possible avenue to make up Nelson's missing production, plus at least the one win keeping the team out of the playoffs in 2017. Their price tags, of course, should be commensurately higher.
Garrett Richards
In 2013, the Angels moved Richards from the bullpen to the starting rotation full-time. Since then,  he established himself as one of the most quietly excellent pitchers in baseball, accumulating 13.3 WARP for the Angels during that stretch. Unfortunately, he was diagnosed with a torn ligament in his throwing elbow just six starts into the 2016 season. Richards opted against Tommy John surgery, choosing instead to try a newer biometrics surgery, but the experimental decision backfired. After just one start in 2017 Ricahrds was shut down due to a nerve issue in his bicep. He made it back for five starts in September, including a promising performance on September 22nd, when he one-hit the formidable Astros over six innings, walking one and striking out six.
On the one hand, Richards is not even thirty years old yet, and has the talent to be a front-line starter. He's posted back-to-back five-win seasons, but he also chose a more difficult path back from his UCL tear that has already caused complications and could cause even more down the line. Projecting what to expect from him next season is just about impossible, so figuring out his value isn't much easier. Maybe he's a front-line starter. Maybe he's a shell of his former self.
That being said, Richards isn't like the two quiet options. Not only does he provide a higher impact, his team is in the unique position of almost contending, but not quite contending, with absolutely no farm system to speak of but a once-in-a-generation talent on the roster. The Angels' plans to cut into the postseason in 2018 hinge on a successful Richards comeback. However, if they could leverage his value into an improvement somewhere else on the roster without giving up anything that was helpful in 2017, well, they'd have to seriously consider that.
The Angels' second base situation was not pretty in 2017. Danny Espinosa started the season there, but played his way out of town in spectacularly terrible fashion. By the end of the season, waiver claim Brandon Phillips was manning the position, and he's set to hit free agency. Jonathan Villar's value ceiling (he was worth 4.7 wins in 2016) is close enough to Richards' to make that a good starting point for negotiations, especially since Villar doesn't hit free agency until 2021 and both principals offer an extreme level of risk and variance for 2018.
Cole Hamels
Hamels's peak performance is every bit as good as Richards. He was worth 6.3 wins in 2007, and more recently a combined 5.2 in 2015 between Philadelphia and Texas. But he comes with a much more reliable track record: other than a suddenly bad 2017, Hamels has been worth at least 3.7 wins above replacement every year of his Major League career.
Last season was a problem, however. Hamels' velocity was way down across the board for the first time in his career: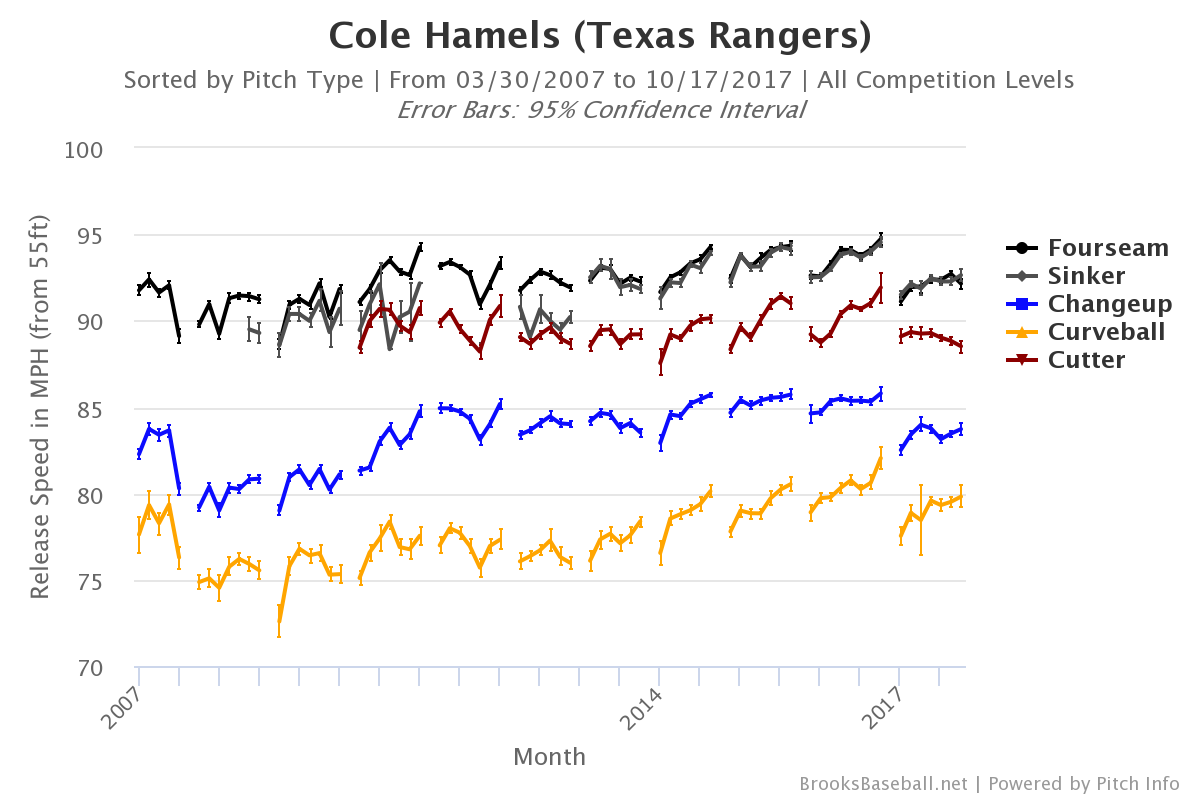 Conversely, his strikeout rate fell to just 6.4 K/9, and it sapped his all-around effectiveness as a pitcher. His 4.20 ERA was the highest he'd posted since 2009, and both DRA and FIP agree that it should've been even higher. It would be nice and convenient if Hamels had just gotten unlucky in 2017, but that wasn't the case. He was a shell of his former self.
It's hardly unprecedented for a pitcher to bounce back from losing zip on his fastball, and struggling to punch batters out. In 2014, Justin Verlander saw his strikeout rate dip to 6.9 K/9. By 2016 it was back up to 10 K/9 and he looked like a Cy Young candidate again. But Verlander was 31 that year, Hamels will be 34 next season.
PECOTA is far from confident that Hamels has anything left in the tank. His first comparison, AJ Burnett, bounced back and enjoyed a late-career resurgence. Verlander did too, of course, and Hisashi Iwakuma was hardly done in 2014. But Josh Beckett, Adam Wainwright, Erik Bedard, Johan Santana, Kelvim Escobar, Roy Oswalt, and Jake Peavy were all very good pitchers who were done being effective pitchers by the dates listed in Hamels' comparisons.
The Rangers were just three games below .500 in 2017, and they might be hesitant to part with Hamels until it's more certain that they're out of the playoff picture in 2018. But his dour performance last year might inspire their front office to try and move him before he craters his value even further–if he looks like a lost soft-tosser out on the mount again next spring nobody is going to see him as an "improvement" to their rotation. PECOTA says he's a long shot to regain his prior dominance, but even assuming those 30 percent odds are close there's a price at which taking a flier on Hamels makes a ton of sense.
---
Photo Credit: Jim Young, USAToday Sports Images.