The 2018 Brewers will come into Spring Training with far fewer question marks in the lineup than they have in recent years, but center field remains an area of uncertainty. Keon Broxton has been good for 2.4 WARP in 707 plate appearances of action over the past two seasons, but his high strikeout rate makes him hard to count on everyday. Brett Phillips managed to be worth more than him in 2017 (1.1 WARP versus 1.0 for Broxton), despite seeing only 98 plate appearances to Broxton's 463. Questions linger about Phillips's offensive ceiling, and those 98 plate appearances are not enough to silence them. Finally, the team's top prospect, Lewis Brinson, might be better than both, but was garish in a brief sample this July. The team also tried Jonathan Villar in center briefly, but it's safe to say that experiment has likely run its course.
Because of this, the centerfield job should be somewhat open to competition when the players report next spring. It should not be, by default, an opportunity to develop Lewis Brinson at the MLB level. If one player improves his game significantly during the next few months, then comes to Arizona as a brand-new ballplayer, that absolutely will change things. If that player is Brinson, great! But if that doesn't happen, there's another answer that the team should consider: a traditional right/left platoon between Broxton and Phillips. (While this scenario will consider Broxton and Phillips, it should not be construed as a dismissal of Lewis Brinson's place on the roster. Rather, it is a recognition of the fact that a team contending for the playoffs should prioritize building a championship MLB roster over everything else, and that now applies to the Brewers.)
Phillips, who bats left-handed, has already shown the beginnings of a strong platoon tendency. Forecasting this off of 98 plate appearances is far from exact, and should thus be taken with a grain of salt, but Phillips' OPS against right-handers in 2017 was .855; against lefties it was .311.
That might not be enough to establish a pattern but it's certainly a trend that bears watching. Still, an .855 OPS in 87 plate appearances at the top level is impressive. When it comes attached to a base-stealer who plays elite defense, that's even better.
Phillips's struggles against lefthanders might be a small-sample-size mirage, or his swing-and-miss issues could be further exploited as pitchers learn how to attack him. If either of those comes up they can be addressed then, and not now when they're nothing but hypotheticals. Plans can always change. But the Brewers have a perfect candidate in-house to fill out the other side of the platoon, so why not take advantage of the setup?
Keon Broxton's role with the team has been a point of discussion for a while, but limiting his exposure to right-handed pitching might just be the answer to maximizing his value while minimizing his problems. Phillips doesn't have enough MLB experience to generate a platoon splits graph on his BP player page, but Broxton does: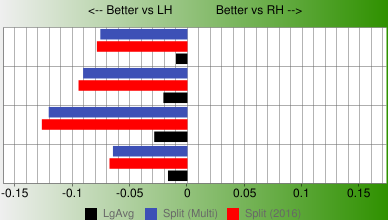 For his career, Broxton has a slash line of .286/.406/.500, with a .315 True Average, against southpaws. Turn the pitcher around and those numbers all fall off a cliff, to .210/.315/.379 and .250. BP's defensive metrics graded Broxton as costing the Brewers just shy of seven runs in 2017, but he's graded positively by those same numbers dating back to 2014 in the minor leagues. Plus, Broxton's defense passes the eye test with flying colors:
Broxton's baserunning aptitude is what truly sets him apart, though. He was the 27th-most valuable player in all of baseball by that metric in 2017. His exit velocity numbers, too, paint a picture of a ballplayer who could be elite in the right circumstances. By platooning him with Phillips and limiting his exposure to right-handers, who keep him off the basepaths at a critical rate, the Brewers are optimizing his ability to make a positive contribution and minimizing his chances of getting dragged into a vortex of failure.
As if the strategy wasn't appealing enough already, Phillips and Broxton both have skill sets that make them valuable off the bench, too. Whichever one doesn't start can be used as a pinch runner, defensive replacement, or pinch hitter against an opposite-handed reliever.
The National League Champion Los Angeles Dodgers have employed platoon splits heavily since Andrew Friedman was hired as general manager, and it is a huge reason they have been so consistently excellent. Putting your players in the best position to succeed is what every team's management personnel and front office strive towards. The Brewers have an opportunity to do just that from the get-go with their two center fielders in 2018.
---
Photo Credit: Jeff Hanisch, USAToday Sports Images