It's hard to overstate the significance of the July 2015 trade deadline. No other 48-hour period has so dramatically altered the franchise than the one that netted the Crew Domingo Santana, Brett Phillips, Josh Hader, and Adrian Houser (to say nothing of Zach Davies, who found his way into Brewers blue through a separate deal).
Santana was the most advanced prospect at the time of the Houston mega-deal, and he's flourished at the plate to the tune of a .308 TAv and 3.3 WARP in 2017, never mind that he bumbles around the outfield like a baseball-loving Inspector Clouseau.
Josh Hader debuted last year and exceeded expectations in Milwaukee after struggling in the thin air of Colorado Springs. Hader pitched to a 3.79 DRA and accumulated 0.7 WARP while punching out 12.8 batters per nine innings. He'll play a prominent role on the 2018 pitching staff, be it as a starter, swingman, or high-leverage reliever.
Houser required Tommy John surgery last July after logging two big league innings as a September call up in 2015. He's on his way back to Miller Park, earning rave reviews along the way, and should compete for a bullpen spot in 2018.
That's already a more-than-solid return.
And then there's Brett Phillips, deemed the "clear prize" of the deal per MLB Trade Rumors when news of the blockbuster broke. Phillips actually beat Hader to the majors last year, joining the big league squad on June 5 when Travis Shaw was placed on paternity leave. (Hader was recalled four days later.) But while the lanky lefty stuck in the Brewers' bullpen for the rest of the season, Phillips bounced up and down from Colorado Springs to cover for injuries and ineffectiveness in Milwaukee as needed.
Considering his youth and see-saw journey between Triple-A and the bigs, the energetic outfielder's play was electric. Phillips managed a strong .293 TAv and 1.1 WARP over 37 games and just 98 plate appearances. Any team would have been happy to plug his .276/.351/.448 batting line into their outfield mix, and that's before you factor in his 4.3 Fielding Runs Above Average. In case you hadn't heard, Phillips packs heavy artillery in the outfield.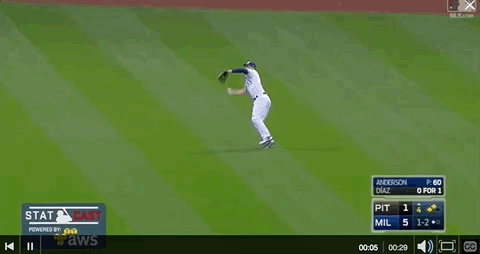 All of this has understandably generated a lot of excitement among Milwaukee's fans. It's also left a few of those fans ready to anoint Phillips an everyday or near-everyday outfielder as soon as 2018. There's been a steady drone of buzz suggesting that the Brewers should trade one of Lewis Brinson, Keon Broxton, or Santana in a package for a controllable young starter like Chris Archer or Danny Duffy this winter.
With Jimmy Nelson out for an unknown "chunk" of next season and the Brewers looking the part of plucky, upstart contenders, it's an interesting thought. But advocates of handing Phillips the outfield reins should be cautioned that a repeat stat-line is unlikely. A closer look at his 2017 performance suggests that next season could be a year of growing pains.
One of the more glaring red flags in Phillips' statistical profile is his .408 BABIP, a near-perfect reflection of the .412 mark he ran in the hitter's haven of Colorado Springs. Phillips is no stranger to inflated BABIPs, having hovered near the .360s for much of his minor league career. He has some of the physical tools to sustain a higher number, such as plus speed and his line-drive launch angle, which sat at an above-average 13.27 degrees in the majors. But the league average BABIP hovers right around .300, and Phillips is likely headed for some regression in this department.
Various projection models and xStats agree. Phillips posted a strong wOBA of .338 last year, but his xwOBA was just .286. That's the difference between Travis Shaw and José Peraza, who just ran a wRC+ of 62 en route to 0.3 WARP. Projections aren't gospel, but the 2017 PECOTA long-term forecast pegged Phillips for a .252 TAv and 1.1 WARP over 378 plate appearances in 2018. That's certainly decent, but it isn't star-level production. Steamer is more skeptical, projecting Phillips for a .228 batting average and 0.1 fWAR in just 159 PAs.
The single biggest flaw in Phillips' offensive game is his inconsistent ability to make solid contact. It's telling that the 23-year-old struck out in 35 percent of his major league plate appearances. He employs a violent and at times wild swing, with an awkward weight transfer and  that can prevent him from reaching his above-average raw power.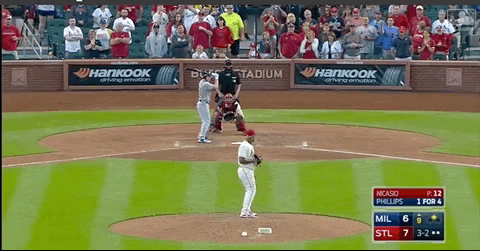 Fortunately, Phillips is capable of making adjustments, as he's had to do so numerous times to even reach the major leagues. At his peak, he could be an above-average regular in the outfield who sneaks his way onto a few All-Star teams when the batted balls bounce his way. Or he could settle in as a .240 batter who will sock 15-20 home runs, swipe a few bags, and whiff enough to keep the fans in the bleachers nice and cool on a summer day at Miller Park. At the very least, he should be able to match the career of Kirk Nieuwenhuis, who is invoked as Phillips's most comparable player on the rookie's Baseball Prospectus player card.
No matter his trajectory, Phillips is looking at a productive, multi-year career in the major leagues. His defensive prowess alone should see to that, and he has plenty of upside to offer, too. It's good to be excited about Phillips' future in Milwaukee. But he may not be the immediate answer for a team hoping to contend in 2018. Trading some outfield depth for starting pitching would be nice. But keeping that depth around would probably work out to be pretty nice, too.
---
Photo Credit: Benny Sieu, USAToday Sports Images