As the 2017 All-Star break wound down on the morning of July 13, the insurgent Milwaukee Brewers ruled the NL Central by 5.5 games. Against expectations, the Brewers were in a position to buy at the deadline, and had already been linked to a handful of top pitching targets.
That very day, the Cubs went out and got the biggest target of all. Jose Quintana made his way to the north side in an unexpected deal that pried some of the last remaining jewels from what was recently one of the top farm systems in baseball. Disinterested in losing Josh Hader to land Quintana, Brewers GM David Stearns set his sights significantly lower and zeroed in on another left-handed pitcher, whom he then acquired hours after Quintana crossed town. The terms of the deal were these: In exchange for 26-year-old minor league first baseman Garrett Cooper, the Brewers received 26-year-old Yankee reliever Tyler Webb, who had tallied all of six innings at the major league level.
On the surface, this was a swap of AAA over-performers who were buried on their respective depth charts. Webb had set the pitcher-friendly International League ablaze with a 1.38 DRA in 33.3 innings for the Scranton/Wilkes-Barre RailRiders; Cooper was riding a .329 TAv in the hitter-friendly PCL for Colorado Springs. The Yankees had a glaring need at first base and a vaunted bullpen. Half of the Brewers' opening day relief corps (Neftali Feliz, Tommy Milone, Jhan Marinez, and Taylor Jungmann) had already pitched their way out of town and the Thames/Aguilar timeshare at first was in full, powerful swing. Both teams likely hoped to catch lightning in a bottle and wring some productivity out of a pair of players from the fringe.
From Cooper, the Yankees received 45 plate appearances of .326/.333/.488 ball that translated to a .276 TAv and all of 0.1 WARP. Cooper was later traded (along with five-minute-Brewer Caleb Smith of the 2016 Rule 5 Draft) to the Miami Marlins in exchange for international slot money and a low-level pitching prospect.
The Brewers, whose position in the standings started to slide as soon as the second half opened, let Webb into just two big league games. He gave up three hits and a run in each of these.
Early returns suggest that this could be the sort of deal with such imperceptible effects on the franchises involved that nobody will ever remember it happening. Webb offers the Brewers a chance for something more, though. Gaze beyond his shaky eight-inning sample of big league work, and he looks the part of a serviceable bullpen piece.
Webb relies on a four seam fastball to set the table, opting to let it rip for two pitches out of every three. It's a competent offering, featuring decent rise and middling run. Webb's command of his fastball is average. Lots of things about Webb are average. The heater zips in around 90-92 mph, with a Statcast-measured average perceived velocity of 91.82 mph. That puts Webb squarely in the middle of the pack among lefties.
There are two secondary pitches in Webb's arsenal. The first is a 82 mph slider that the six-foot-five lefty threw once for every five of his big league pitches. It, too, is an average pitch. But Webb starts to separate himself with his changeup, which didn't show well during his 2017 cup of coffee but has been known to dominate hitters in the upper minors. The change dives to the plate at around 81 mph, and in theory gives Webb a tool that could allow him to retire right-handed batters and move beyond a specialist role.
It's nice to watch Webb throw. He has fluid arm action and repeats his delivery well, unleashing all three of his pitches from the same slot and release point. In the major leagues, Webb induced grounders on 43.5 percent of his balls allowed in play. But his minor league work was stronger, including a 57.1% mark in the thin air of Colorado Springs. He also knows how to miss bats, fanning eight in eight innings in the bigs and 11.2 per every nine innings of minor league work. He may not replicate his 4.45 K:BB ratio in the minors, but it's not hard to imagine that number settling into the mid-3s with more major league experience.
Here's Webb with the Yankees, jamming Domingo Santana with an inside fastball the week before his trade:

And here he is in the 2015 Grapefruit League, changing speeds for an emphatic K: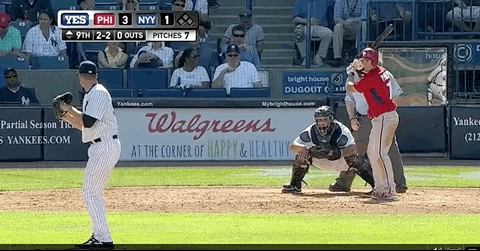 The profile is intriguing enough that Webb was selected by the Pittsburgh Pirates in the 2016 Rule 5 Draft. Though he was eventually returned to New York, he still has two minor league options and a good chance to produce some surplus value towards the back of the major league bullpen. He'll battle fellow former Rule 5 pick Wei-Chung Wang for a lefty specialist spot in spring training, and will likely accumulate frequent flyer miles between Milwaukee and Colorado next season. By the end of 2018, he could carve out a steady role retiring lefties or pitching in low-to-mid-leverage innings. Not a bad return for 45 plate appearances of Garrett Cooper.
---
Photo Credit: Benny Sieu, USAToday Sports Images