Jesús Aguilar entered Saturday night's game in the top of the ninth inning as part of a double-switch. You probably know how this story ends. Aguilar led off the bottom half against splitter-pumping veteran Junichi Tazawa, and won the game with a walk-off home run 13 pitches later. The fact that Aguilar homered, on its surface, is hardly remarkable. The burly slugger belted 16 long balls in just over 300 plate appearances last season, and is likely to follow Saturday's blast with plenty more before the season ends. But the manner in which he homered, after falling behind 0-2 and fouling off seven tough pitches, is decidedly remarkable. Before memory of his at-bat fades (broader league-wide attention has already shifted to a walk-off blast from the bat of Carlos Gómez and a record-setting 21-pitch at bat between Jaime Barria and Brandon Belt), it behooves us to spend a little time savoring what will continue to be one of the best at-bats put together by a Milwaukee hitter throughout the 2018 campaign.
What follows is a pitch-by-pitch appreciation of Aguilar's big battle.
Pitch One
Tazawa leans heavily on his fourseam fastball, relying on the pitch for a little over half of his total offerings. He'll mix in a splitter and a curveball in fairly equal measure after that, with an odd slider thrown in to keep hitters guessing.
So it's reasonable that Aguilar may have figured, in the back of his mind, that a curveball might be coming. But little could have prepared him for this one.
That 71-mph curveball just caught enough of the zone to go for a called first strike. Tazawa was lucky, in a way, since it was a close pitch, and he missed his mark.
Pitch Two
The fourseamer is going to come, it's what Tazawa is known for. But not quite yet.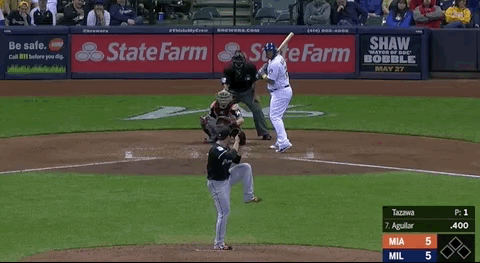 Aguilar is caught a tiny bit off-balance by this 85-mph splitter, and dives down to no avail for a swinging second strike. Like many hero's journeys, this one has something of an inauspicious beginning.
Pitch Three
Aguilar has shown himself to be a fairly patient hitter, albeit one prone to the strikeout. Last season, his walk percentage was a pleasing 8.0. Still, one can't fault Tazawa for going low and away with another splitter.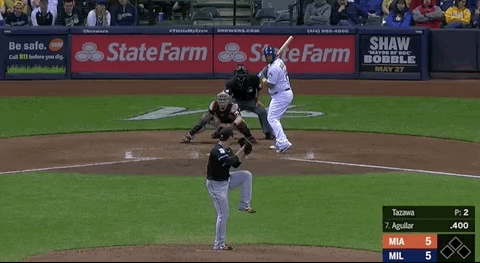 Aguilar knew not to bite. One ball, two strikes.
Pitch Four
Finally a four-seam fastball, and, at 92 mph, one that must have looked pretty tasty to Aguilar. It rides inside, but he managed a lofty .462 average on pitches in a similar location last season. Low and away is where you go if you want to strike Aguilar out. Speaking of…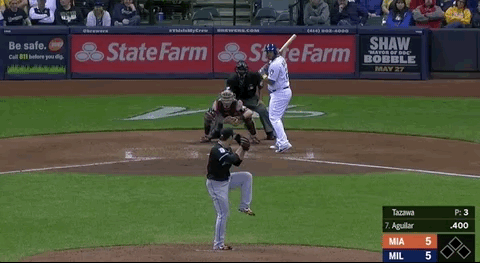 Pitch Five
This is easily my favorite pitch of the sequence. This is Tazawa's slider, at 77 mph. It's a beautiful two-strike pitch, and it did its job well: Aguilar was utterly flummoxed by this one. But he dives out, flicks his bat as far as it can go, and just manages to brush against the seam of the ball. Here's a close look: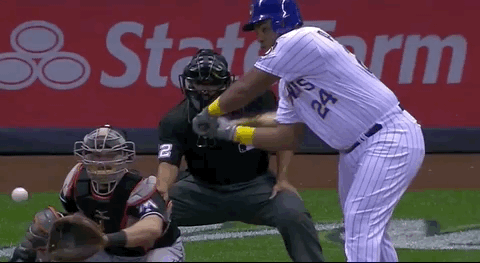 Beautiful desperation-hitting.
Pitch Six
A splitter again, and another great pitch for the situation. Less of a swing-and-miss offering, perhaps, but certainly a strong candidate for weak contact, which Aguilar made. Only he managed to poke it foul and keep himself alive.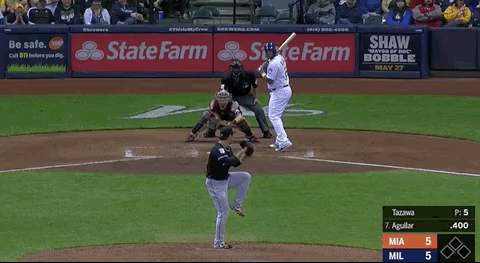 This is about the point at which we start to enter a classic cat-and-mouse game, with neither player quite knowing which role they're enacting just yet.
Pitch Seven
An attempt at an easy strikeout. The catcher sets up low and away, and asks for a fastball, hoping that the offspeed stuff will have sufficiently disrupted Aguilar's timing.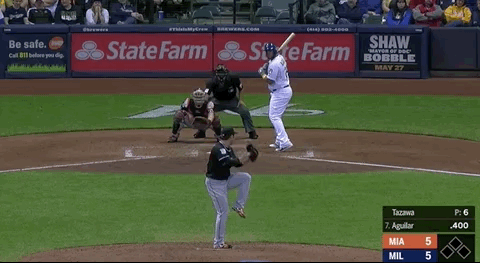 But Tazawa misses his mark by a crucial few inches; it's wide enough that Aguilar isn't tempted to chase. He's drawn even, at two balls and two strikes.
Pitch Eight
The Marlins are back to objective one at this point: Strike this dude out. They go for another splitter, something that wiggles a little bit.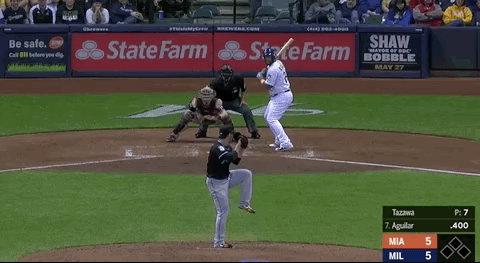 But the pitch rides out over the middle of the plate, away from the catcher's target. It's just close enough for Aguilar to smack another foul ball into the dirt.
Pitch Nine
It's time now, perhaps, to try something different. How about a 93-mph rocket in on Aguilar's hands, just out of his hitting zone. He may go for that, right?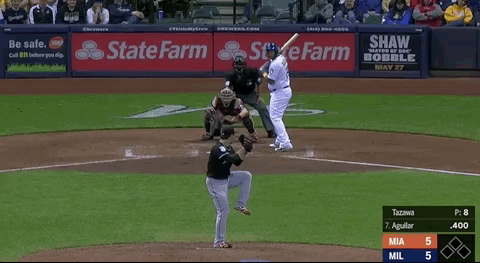 Nope. Again, Tazawa misses the mark. A few inches towards the plate and he may have coaxed a swing. The count is now 3-2.
Pitch Ten
Coming in, this probably looked like a juicy fastball over the plate. But it dives (another splitter), and Aguilar is just able to get some barrel on it and send it skipping back towards the net.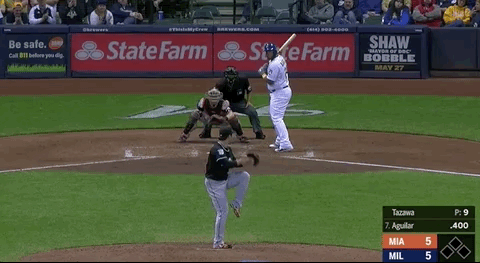 The at-bat at this point is already a success for the Brewers. Tazawa has shown everything he's got, and the next batters now have some idea of what to expect, even if Aguilar makes an out. Aguilar, though, knows that those next hitters are Jett Bandy and Hernan Perez. So he's not ready to give up just yet.
Pitch Eleven
Oof.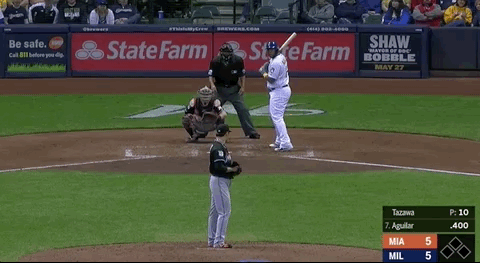 A splitter floating over the middle of the plate at 87 mph. Just missed this one. Tazawa, perhaps, didn't like how close this was; he'd switch to four seamers the rest of the way.
Pitch Twelve
Marlins: "Hey, that was a weird, defensive swing on a low fastball (92 mph). Maybe we could just try it again…"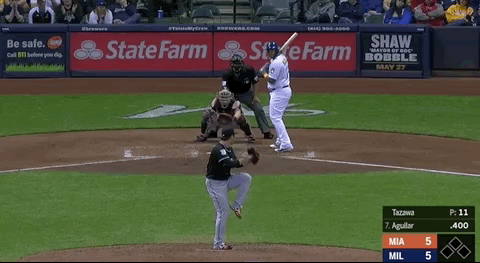 Pitch Thirteen
Marlins: "Crap."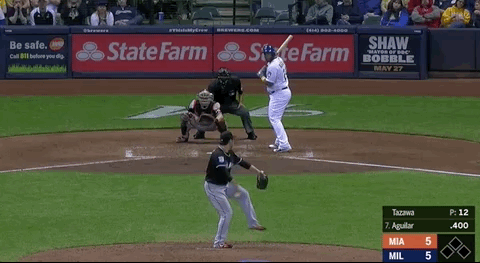 This fastball stayed up, and caught enough of the plate that Aguilar knew he could punish it. Tazawa knows it was hit well, but he turns around with an expression that starts out looking like hope, but dissolves pretty quickly into disbelief.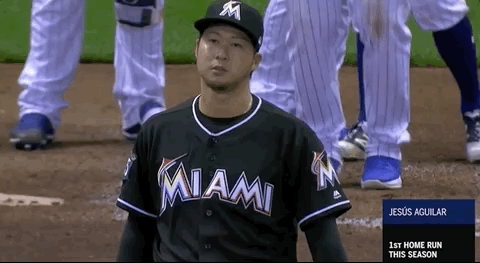 It was an incredible battle by both players, and one that must have been heartbreaking for Tazawa to lose.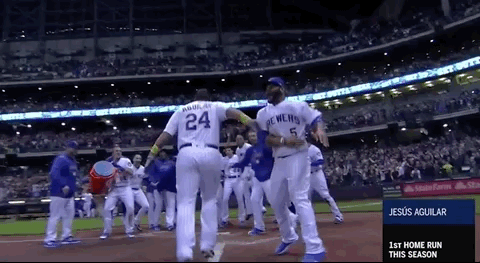 For Aguilar, the prevailing emotion was a bit different. That's a hero's trot to home. It's made all the sweeter by the fact that Aguilar is a bench player (and one who whiffs a lot and is on the short end of any would-be platoon, to boot). He racked up 1.4 WARP in limited action last year, but it wasn't entirely clear if that was a breakout or a bubble.
Heading into the season, Aguilar's very presence on the roster was called into question, as Eric Thames and his left-handed bat are made for Milwaukee, and Ryan Braun was finally set to transition towards first. But it was Aguilar who delivered another momentum-building win on Saturday night, and Aguilar who fought off the kitchen sink like a superstar. The baseball season is full of little moments like this: unlikely heroes and rare events. Aguilar is one of the least likely, and this moment is one of the rarest and most satisfying. It'll stick with me for a long time, and it'll stick with you, too, I hope.
---
Photo Credit: Benny Sieu, USAToday Sports Images