A baseball season is long, and weird things happen as a result of teams trying to pace themselves through 162 games.  The 25-man limit forces managers to get creative, and in-game roster contortions create amusing situations where players are put in positions they are not comfortable with.  Everyone has their favorite; there is an entire Twitter account devoted to position players pitching, and relief pitchers hitting is usually amusing.  My preferred oddity, though, is pitchers pinch running.
There is no reason that pitchers shouldn't be able to pinch run effectively.  Pitchers run a lot in between starts, so it's not as if they're out of practice.  Most of them were such good athletes in high school (or even college) that they were position players for most of their developmental years, and baserunning is not a skill that requires thousands of hours just to become average.  It makes sense that pitchers are bad hitters; big league hitters practice for hours a day and not all of them are good enough to remain in the majors.  Pitchers, meanwhile, are not selected for their hitting ability, and they get far less practice time.  As a result, they are not up to big league teams' expectations at the plate.
But the basepaths seem like they should be a different story.  I wouldn't expect pitchers to come in and steal bases; that is hard to do and requires certain levels of skill and training.  But just running the bases smartly requires minimal training, and pitchers should at least be capable of going station-to-station.  For various reasons, though, they are not given the opportunity.  The perceived injury risk is the most obvious and the most logical, as pitchers are valuable for their ability to throw the ball rather than their athleticism, and putting them on the basepaths increases the chance that they get hurt doing something that has nothing to do with their actual job.
On rare occasions, however, roster crunches force pitchers into duty in the late innings.  The Brewers do not do this often. In the last four seasons, it has happened just five time.  Brent Suter has done it twice (April 9, 2018, and July 4, 2017), Kyle Lohse did it twice in 2015, and Michael Blazek was called on once in 2016.  In general, pitchers pinch running tends to look like Suter's appearance from earlier this year.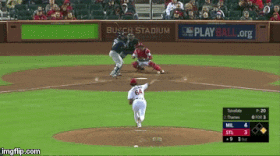 Once upon a time, though, the Brewers had an experienced option.  In 2010, Dave Bush pinch ran seven times.  Seven!  In the last ten years, only Jason Marquis in 2008 and Mike Leake in 2011 made more appearances as a pinch runner (eight for each).  Bush scored three runs, although all were on home runs, but he was called upon in high-leverage situations.  The Brewers trusted him enough to pinch run in the bottom of the tenth inning in a tie game on July 9, and then again two days later in a tie game in the bottom of the ninth.
What I find most amazing, though, is that Bush was actually not a good baserunner that season.  The type of information the clubs had available was obviously different in 2010 than it is now, but Baseball Prospectus BRR dates back that far and measures how successful players are at taking extra bases and being efficient on the basepaths.  In 2010, 174 pitchers had at least five plate appearances.  Of those 174, Bush ranked 164th in BRR, with -0.9 runs.  The normal sample size caveats apply here; single-season baserunning metrics for players who are on the basepaths once every five days at most are likely to be noisier than they would be for everyday players.  Nonetheless, Bush ranked in the bottom ten percent of pitcher-baserunners that year.
I assume the Brewers were making informed decisions based on their own measurements and what they saw in practice, but it looks quite odd in hindsight: Bush's teammate, Randy Wolf, was second on that leaderboard.  The likeliest explanation is that Bush was faster, so he took more chances and thus ran into outs.  The fact remains, however, that the Brewers used a bad baserunner to pinch run seven times during one season even though an ostensibly superior option was sitting equally idle next to him.
Pitchers pinch running is must-see TV for me.  Whether we see it more or less going forward is an open question; teams seem likely to continue to prioritize pitcher health and avoid taking unnecessary risks, but we also are seeing benches get shorter.  With just four players available as a substitute for most teams, injuries or extra innings could force this situation more often.  When it does happen, I will tune in.
---
Photo Credit: Patrick Gorski, USA Today Sports Images