Where would the Brewers be without Jesus Aguilar? With Eric Thames and Ryan Braun, the presumed muscle of the Milwaukee lineup, out for extended periods of time, Aguilar has been the one to step up. He was huge in the club's recent road trip, as he went 12-for-39 with five homers and five walks, good for a brilliant .308/.391/.769 batting line. After another big game in Wednesday's blowout win over the Diamondbacks, Aguilar owns a stellar .324/.383/.577 batting line in 128 plate appearances.
The power should come as no surprise to Brewers fans, who watched Aguilar turn into their most reliable power bat off the bench in 2017. He needed just 311 plate appearances to blast 32 extra-base hits, including 16 home runs, and his .240 ISO put him right in line with such sluggers as Kris Bryant (.242), George Springer (.239) and teammate Travis Shaw (.240). Unfortunately, all that power came with a Ryan Howard-esque 30.2 percent strikeout rate, which limited Aguilar to a .265/.331/.505 batting line despite his 30 home run pace when prorated to 600 plate appearances.
Aguilar's power production this year is right in line with what he did last season, as he owns a .252 ISO and is on roughly a 33-homer pace per 600 plate appearances. The difference has been Aguilar's ability to make contact. He has gone from one of the worst contact hitters in the league to owning a strikeout rate within decimal points of the league average. Aguilar owns a .367 BABIP that will almost certainly come back to earth, but good things will come to anybody who can make league average contact with the obvious raw power Aguilar has shown since coming to Milwaukee.
There's often a perception with strikeout-happy sluggers like Aguilar that the issue is all about discipline. If only they would stop swinging for the fences every time and waving at pitches out of the zone, the conventional wisdom goes, these hitters could ascend and become universe brain hitting scientists on the level of Ted Williams. This, I think, is too reductive of an analysis of what makes hitters good at their jobs. In some cases, it's not about the quantity of swings, but the quality of swings.
Aguilar certainly seems to be one of those cases. His swing rates, both in-zone and out-of-zone, have had negligible changes from 2017 to 2018; it seems counter-intuitive that in 2018, Aguilar's out-of-zone swing rate has actually increased. Observe, Aguilar's swing rates over the past two seasons, per Brooks Baseball, first viewing Aguilar's whiffs per swing, and then Aguilar's swing percentage:
One reason this is working for Aguilar is most of these extra out-of-zone swings are coming just off the outside corner. This is somewhere pitchers love to attack, but also somewhere that the hulking Aguilar can reach with power. But by far the most important difference for Aguilar in 2018 is the quality of his in-zone swings. According to FanGraphs's plate discipline data, Aguilar's contact rate has improved from 69.1 percent to 76.9 percent. His out-of-zone contact rate has jumped from 52.8 percent to 57.6 percent, but the real difference is the quality of his in-zone swings, on which his contact rate has skyrocketed from 79.3 percent to 89.4 percent. The whiff-per-swing visualizations from Brooks Baseball show this improvement vividly: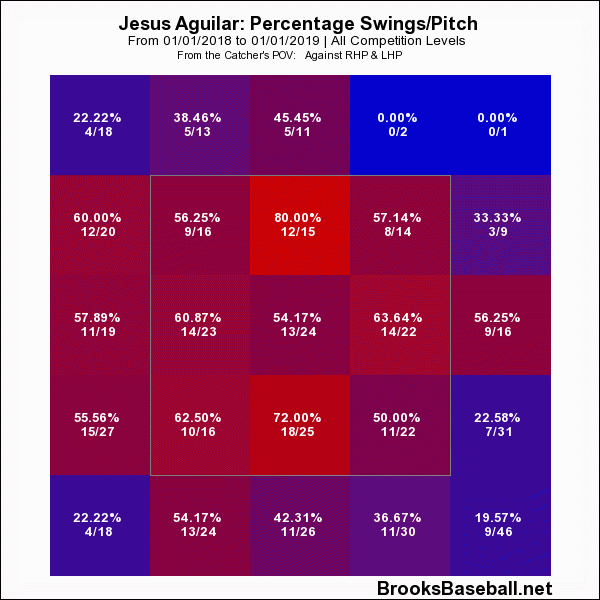 Even when Thames returns, and even if Braun manages to get consistently healthy as the season improves, Aguilar is looking like a key cog in Milwaukee's lineup. His raw power is enough to earn him a roster spot as a useful pinch hitter, but with the contact ability he has shown so far, he deserves regular, if not everyday, at-bats for the Brewers. If he can keep this up and the Brewers are able to combine him with Thames, Travis Shaw, Christian Yelich and Lorenzo Cain in the same lineup, opposing pitchers should be very, very afraid.
---
Photo Credit: Jeffrey Becker, USA Today Sports Images