In April of 2017, the Brewers traded reliever Damien Magnifico to the Baltimore Orioles in exchange for $885,000 in international bonus money. About a month later, they invested most of that cash in then-17-year-old Cuban prospect Ernesto Martinez, Jr. Since the signing fell outside the usual timeframe for top international prospects (Martinez signed almost a year after Milwaukee splurged on Pablo Abreu and Jean Carlos Carmona and two months before Larry Ernesto and Carlos Rodriguez joined the club), the transaction flew a little under most radars. But quietly, the Brewers added some high-upside value that day. Call it a David Stearns special.
Martinez is very big (6'6", 225 pounds), very strong, and very raw at the plate, as befits a 19-year-old. (He's also trilingual, which doesn't really count for anything but is pretty cool.) He acquitted himself well in Dominican ball last year, tallying 29 hits in 113 at-bats, including thirteen for extra bases. Across 148 plate appearances, he struck out 31 times and drew 30 walks, good for a .326 True Average (TAv). Clearly in need of a greater challenge, Martinez was brought stateside and scuffled, as he continues to do this year. In the DSL, he struck out in 20.9 percent of his plate appearances; through Saturday, this year he's whiffing at a 33.9 percent clip. The walk rate has fallen from 20.1 percent to a still solid 11.6 percent. His isolated power has plummeted from .177 all the way down to .049. For all his strength, Martinez has yet to hit a home run in a game on U.S. soil.
That's only a matter of time, though. Martinez possesses easy 70-grade raw power (along with a plus throwing arm) with a chance to add even more strength as he matures. He hits from the left side, displaying an open stance with loud hands. He'll wave the bat back and forth as the pitcher winds up before going into a crouch and unleashing a big leg kick. When he plants his right foot, the stance closes up, and he lets rip with a powerful swing. Batting practice home runs are the easiest home runs to hit. Even so, this kind of power is eye-opening: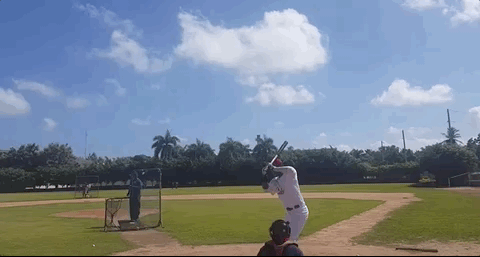 The general profile calls to mind a pair of other long-developing prospects to grace the Milwaukee system in recent years: Monte Harrison and Demi Orimoloye. Martinez is even taller than those two, and has a chance to wind up with the most raw power (albeit without as much speed). Still a teenager, he's also just as unrefined as were Harrison and Orimoloye when they were drafted. In other words, patience will be key when evaluating Martinez's development over the next several seasons. Harrison battled through a pair of injury-filled years before his 2017 breakout (he's swatted 18 home runs in Double-A this year, incidentally, but is also closing in on 200 strikeouts). Likewise, it wasn't until this season that Orimoloye tasted his first real success outside of rookie ball (.301 TAv in the Arizona League in 2015; .278 TAv across 245 plate appearances earlier this year in Appleton). If any of these players make a significant impact at the major league level, it won't be for another several years.
Announced as an outfielder and first baseman, the Brewers have Martinez playing first base exclusively in Arizona, which is a little perplexing considering his strong arm (Martinez was once clocked at 93 mph on the mound). Scouting reports from the time of his signing cited shaky footwork in the outfield; perhaps he'll get more looks in the grass down the line, or perhaps he'll continue to add mass to his frame and stay firmly planted in the infield. In either case, the bat will be his carrying tool, and it has a long way to go (particularly if he stays at the bottom of the defensive spectrum). If Martinez has a higher ceiling than most, it follows that his journey towards that ceiling will take plenty of time.
There's some thoroughly unscientific evidence to suggest that he may get there: Martinez's father, Ernesto Martinez, Sr., played eight seasons in the Cuban National Series for the Sabuesos de Holguín, winning the championship and batting .284/.398/.445 in 2002. Then he moved to France, where he's played 11 seasons for the Templiers de Sénart in the French Division Élite. 44 years old, he was still catching at the start of the year, evidently content to keep playing until he no longer can.
Bloodlines can be overblown in baseball; for every Vlad Jr., there's a Koby Clemens. But they're not nothing (See: Griffey, Bonds, Ripken, etc.). Martinez Jr. grew up around the game. Brewers scouts raved about his baseball IQ when he signed. He dominated a 15U World Tournament in 2014, hitting .436 and smacking two doubles in the championship game (he helped Cuba beat Brice Turang and Team USA). A few years later, both Ernestos represented France during their qualifying run for the 2017 World Baseball Classic (dad hit well, but France fell short of qualifying; "Ernestico" mostly just warmed the bench). Keep an eye on his development over the next few years. With loud tools and a strong pedigree, he's an easy kid to dream on.