The Brewers aren't winning the division, but if they were to find themselves in a playoff series or one-game Wild Card, there's an unheralded weapon in their bullpen that, so far, has really flown under the radar.
Josh Hader's historic success and Jeremy Jeffress' Comeback-Player-of-the-Year-worthy, All-Star season are certainly worthy of a lot of attention. Corey Knebel's dominance after his "re-set" in Arizona have made the bullpen even more formidable in September. And David Stearns' raid of the White Sox reliever pantry has added much needed depth and versatility to what was already a leading bullpen in all of baseball.
But overlooked in this dominance has been Brandon Woodruff. The young righty might just be ready for an October prime-time role in the bullpen, however the Brewers need to deploy him.
Woodruff has pitched just over 40 innings at the big-league level this year, and through September 25 sits in fourth place in Deserved Run Average for all Brewer pitchers who have thrown that many innings.  While good, that statistic actually underrates a bit how good Woodruff has been in the bullpen.
Woodruff made 4 starts this season, mostly in a swingman-type role that shuttled him between the bullpen and starting early in the year before going back down to Triple-A. In those four starts, Woodruff gave up 11 runs in 15.1 innings pitched for a 6.46 ERA. It's not any surprise that he has done better in relief appearances, as you would expect most starters to be able to do, but the difference has been pretty striking. In his 24.7 relief innings, Woodruff has allowed just 6 runs, good for a 2.19 ERA.
That ERA would trail only Jeremy Jeffress on the team. That ERA is better than Hader, Knebel, or anyone.
It's backed up by strong peripherals, too. In Woodruff's relief appearances, he's striking out better than a batter per inning, but his real strength lies in his ability to get ground balls. On the season, he has approximately 53 percent ground ball rate, which would place him in the top 10 percent of all pitchers in baseball. Those two outcomes might make him the Brewers' best option with a runner on base in a high-leverage situation late in the game with the team's better defensive unit behind him.
Much has also been made about the workload of Brewer pitchers, especially as it relates to Josh Hader's ability to go multiple days in a row and monitoring his total inning count. Brandon Woodrfuff presents a nice relief option to fill in on those days, as he still hasn't matched last season's innings total of 120 innings. And he's been particularly good in multiple-inning outings against Washington (4 IP, 5 K, 0 ER) and the Reds (3 IP, 2 K, 0 ER) since his September call-up.
Woodruff seems fresh, too. His average four-seam fastball velocity is at a season-high 96.8 mph this month, and he's getting more whiffs on that pitch than at any other time this season in the bigs.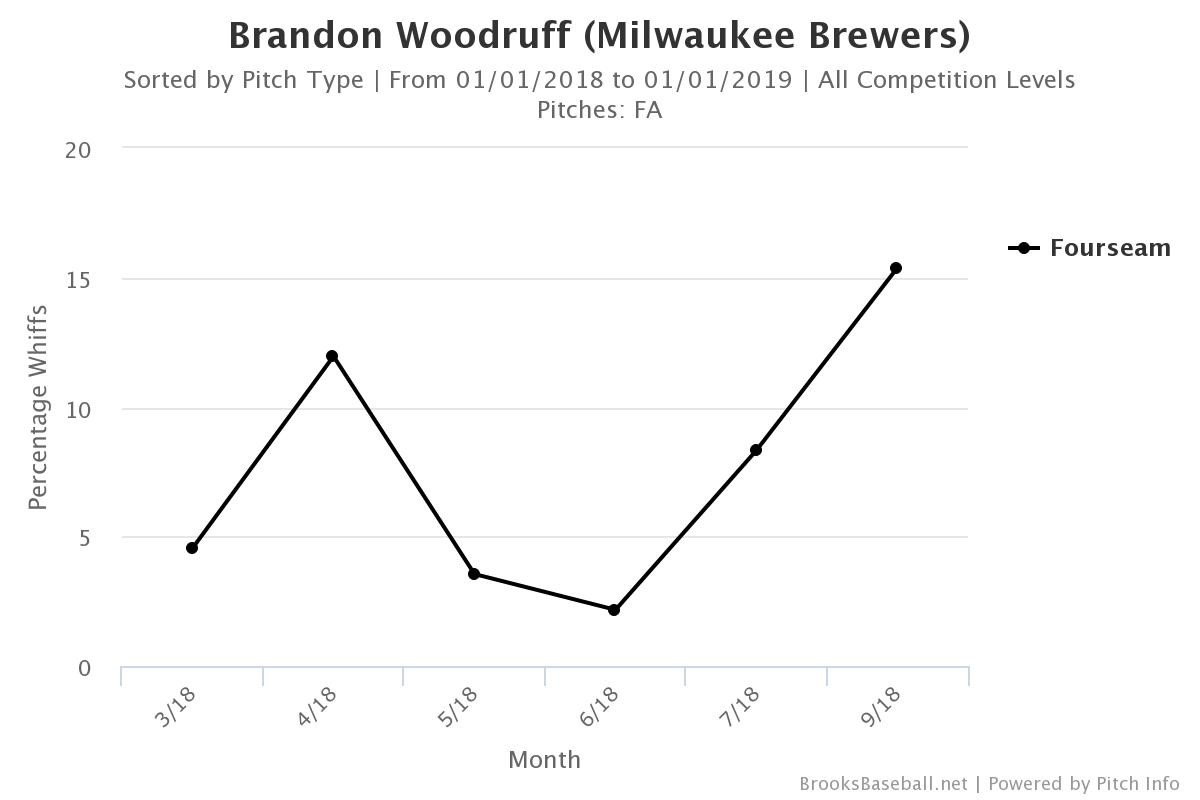 Perhaps more valuable to Craig Counsell is Woodruff's splits between left and right-handers evening out. Our secret relief ace thus far in his career has had pretty terrible luck against left-handers, including a .377 batting average in balls in play against (.221 BABIP against righties), and a lower career fielding independent pitching against left-handed batters (3.77) than right-handers (4.31). This season however, tells a different story.
| | | | | | | | | | |
| --- | --- | --- | --- | --- | --- | --- | --- | --- | --- |
| Split | PA | HR | SO | BB | ISO | AVG | OBP | SLG | TAv |
| vs. L | 81 | 1 | 25 | 10 | 0.099 | 0.239 | 0.333 | 0.338 | 0.247 |
| vs. R | 86 | 3 | 17 | 4 | 0.152 | 0.241 | 0.291 | 0.392 | 0.235 |
Woodruff has performed a little better overall against right-handed batters, which is to be expected, but the numbers are actually pretty close across the board and he's struck out more left-handers in fewer plate appearances. Even chalking some of this up to a limited sample size this season, these splits are much closer to his career Fielding Independent Pitching stats than his Batting Average on Balls In Play-fueled results against left-handers.
In sum, the Brewers have a fresh reliever who shouldn't have much of an innings cap, if any, throwing as hard and more effectively than he has at any time this year without an extreme platoon split. Considering Woodruff as a reliever only, he's been one of the most productive members of a deep and effective bullpen.
Those traits could provide a lot of versatility, should the Brewers choose to employ it.
Woodruff could fill a 2-inning relief role when Hader isn't available, since he's not even at his 2017 innings count, and on account of his platoon-busting. For those reasons he might also make either an excellent "opener," or a bridge from a third or fourth starter to go one time through the order and then to a rested bullpen. His worm-burning tendencies combined with a decent strikeout rate would also be a good option for mid-inning high-leverage situations with runners on base.
But based on how well Woodruff has pitched so far out of the bullpen right alongside the other relief aces for the Brewers this season it would be hard to argue against using him in almost any situation.