TOP PLAY (WPA):
For those who watched this game, the top play is rather obvious. It happened in the top of the sixth inning, with runners on first and second and nobody out. Matt Garza and Eduardo Escobar were mired in a battle. Escobar fouled off a couple of good pitches, but with the sixth pitch of the at-bat, Garza threw a pitch middle-in that got crushed for a three-run homer. It put the Twins up 3-1 (WPA .283).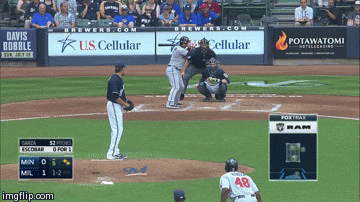 Garza was then able to retire the next two hitters quickly, but proceeded to walk Brian Dozier, which extended an already long fifth inning. Dozier then stole second base to keep the pressure on Garza. The right-hander ultimately succeeded in getting Eddie Rosario to fly out to the catcher, ending what proved to be a devastating top of the fifth inning.
Perhaps the most frustrating part of this game was that Garza was cruising threw the first four innings. And when I say cruising, I mean cruuuuising. The only hit he surrendered in the first four innings was a measly bunt single to Brian Dozier to leadoff the game. Despite that, he had only thrown 35 pitches through the first four frames. In the grueling fifth inning he threw 38 — more than he did in his first four combined.
BOTTOM PLAY (WPA):
In the bottom of the seventh inning, Ryan Braun, who pinch-hit for the pitcher, singled with two outs to drive in a run and cut the deficit to 4-2. Things looked up. There was a runner on first and second with two down, and Gerardo Parra stood at the plate — and Parra has been hitting the ball well this year. But he couldn't stop himself in this crucial at-bat. He struck out swinging to not only end the inning but also end any hopes the Brewers had of making a comeback (-.071 WPA).
The Brewers then went down quietly in the eighth inning. In the top of the ninth, Hunter hit his second homer of the game to deep center field, giving the Twins a commanding 5-2 lead and making the ninth inning very easy for Glen Perkins to retire the Brewers in order to end the game.
KEY MOMENT:
Things didn't look good in the sixth inning. Garza was pulled in the top half after giving up his second home run of the game. Kyle Gibson was pitching well, and the Brewers found themselves trailing 4-1 to what has been a surprisingly good Twins team this year.
In the bottom-half of the inning, though, the Brewers started to get the bats going. After pinch-hitter Jason Rogers grounded out to leadoff the inning, Gerardo Parra singled to left field. Lucroy followed up with a walk. One out, a man first and second, and Carlos Gomez, one of the Brewers' best hitters was due up.
Gomez worked himself into a good two-two count and crushed a ball right to center fielder Eddie Rosario. As the broadcasting team iterated, Gomez hit the ball right on the screws. It exited off the bat at 100 mph, but it unfortunately ended in the wrong place. If that ball could have been placed a bit better, it was at least a double, which would have cut the lead down to 4-3 with Gomez on second base and Adam Lind coming to the plate.
TREND TO WATCH:
While Garza didn't have a bad game, he did get crushed a few times. He served up a double to Torii Hunter to begin the fifth inning, which had an exit velocity above 100 mph. I don't need to remind you of the aforementioned home run by Escobar, and again Hunter, who hit him hard for a second time in the sixth inning for a solo home run, which had an exit velocity of 103 mph.
This is important because Garza's numbers haven't been great this year, but his ERA doesn't quite match with his peripherals (5.48 ERA, 4.78 FIP). Batted-ball velocity may have something to do with this.
For the most part, the batter has more impact on the exit velocity, but the pitcher still has some impact. Matt Garza has given up a lot of hard contact. Now, hard contact can be difficult to define. I opted to isolate how many times opposing batters have hit his pitches more than 100 mph. I found that 4.17% of his pitches have had an exit velocity of 100 MPH or more, which may not seem like a lot, but it leads the Brewers.
He also ranks seventh in the majors in this category. Though I'm not an expert on exit velocity, writers like Rob Arthur and Alan Nathan, are better suited to answer questions on this topic. Daren Williams has written that balls hit 100+ mph have at least a .545 BABIP, so it seems safe to assert that getting your pitches crushed is not good. And many of Garza's pitches this year have been getting crushed.
COMING NEXT:
The Brewers will look to win this three-game series versus the Twins on Sunday at 1:10 pm CT. Mike Fiers gets the nod for the Brewers, who's 4.75 DRA this year is rather poor. He's going up against a Twins team, though, that ranks 16th in runs. Thus, with a bit of luck and with a decent offensive performance, the Brewers can reasonably pull this one out.
Pitching for the Twins tomorrow will be Tommy Milone. While he owns a pretty ERA (3.59), his disastrous FIP (5.06) indicates that he is due for some regression. Hopefully, that regression starts tomorrow. The Brewers could use another offensive outburst after today's underwhelming performance.