There has been some discussion over the past calendar year about the Brewers trading Ryan Braun. For some, like Gery Woelfel, the impetus is Braun's PED taint and moral faults, an argument I think is naive at best (given the myriad issues with MLB's drug program) and overwarmed self-righteous dreck at worst. For others, it is simple pragmatism — between Braun's struggles last year, his injury, his age and his defense, there are lots of reasons to believe he won't produce $100 million in value between now and 2020.
The problem is, though, Braun is still a very good baseball player. Since an injury wracked April, Braun has looked revived, with huge power to all parts of the field and making regular solid contact. Since connecting with his second home run on April 28th, Braun is hitting .306/.355/.551 — reminiscent of Braun's high-powered early seasons. Not only is he hitting again, it's a joy to watch him play again.
Braun wasn't himself for much of 2014. However, with his trademark pull-power absent, he showed an amazing ability to adjust and hit the ball the other way. Only Giancarlo Stanton and Marlon Byrd topped Braun's eight home runs to the opposite field, and Braun's 1.251 OPS, .813 SLG, 22.5 wRAA and 28 extra-base hits all led the major leagues. I wondered if this would turn out to be a short-term adjustment, but Braun has continued to mash to right field in 2015. His stats and MLB ranks in those same stats: six home runs (t-2nd), 14 extra-base hits (t-2nd), .786 SLG (8th), 1.180 OPS (8th) and 10.5 wRAA (4th, behind Jose Abreu, J.D. Martinez and Adam Lind).
This year, Braun has displayed power to all fields, with four home runs to left field and five to center field. He'll smash a mistake fastball left too far inside over the left-field second-deck bleachers like this:
He'll take a center-cut 96 MPH fastball and drive it 430 feet up the middle on a line like this:
And then, for good measure, he'll go with a slider 413 feet to the opposite field in one of the toughest hitter's parks in the league:
But more importantly, as a fan watching a lost season, Braun's swing remains a thing of beauty. In case the videos above didn't make it obvious, his swing is compact and explosive, allowing him to smash pitches on either corner over the fence. He gets full rotation in the hips (visible by the "Power L" in his back leg, as the baseball camp coaches always called it) — something with which he struggled last year due to injury — and, as always, his hands move swiftly through the strike zone to allow him to get full extension maximum power out of his upper half. Allow this extremely serious baseball graphic to demonstrate.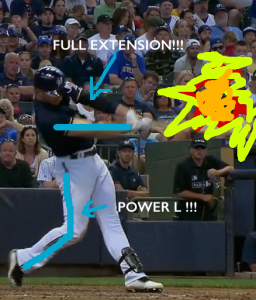 The speed of his swing allows him to utilize the same powerful motion anywhere the ball is pitched. But there is also a fluidity to Braun's swing that is rarely present with sluggers of his capacity — Prince Fielder's uppercut swing, for instance, was far more violent; Corey Hart's was far more herky-jerky. It's no coincidence that Braun has historically made more contact and hit for a better average than either of the Brewers' other recent prominent power hitters. That's what let's him launch majestic home runs to either power alley and paint spray charts like these, created with Baseball Savant.
Yes, there are real reasons for the Brewers to explore trading Ryan Braun. But in a market where cheaper players without the PED warts will be available, I have a hard time imagining the Brewers will get back anybody or any package of players who can have the same kind of on-field impact, even once they're fully developed. While he's here, I'm excited to keep watching one of the most aesthetically pleasing hitters in the game do his thing.