The Brewers have felt hopeless this season for the first time, at least to me, in a decade. Since the trading deadline in particular, with many of the club's best players offloaded for prospects, contention has seemed stuck over the horizon, just out of reach. The major-league lineup isn't competitive, and the next wave of stars or even starters has yet to surface. Watching Mike Fiers throw a no-hitter and hug Carlos Gomez in celebration for an Astros team atop its division Friday night, while fun in the moment, didn't do much to assuage these feelings.
From 2007 through 2014 (and the first week or so of 2015), I felt the Brewers had a chance to compete every year, even if it was occasionally a slim one. Their offense was always laden with enough talent — thanks to great players like Prince Fielder, Ryan Braun, Carlos Gomez, J.J. Hardy, and Jonathan Lucroy — which inspired confidence that if they could just squeeze a little bit of production from the supporting cast, a winning season was possible. Now only Braun and Lucroy remain among the Brewers stars, and neither of them has been at their best in 2015. It's clear that if the Brewers will compete in the second half of this decade, another Great Brewer (or two) must make himself apparent, and soon.
A couple of years ago, fellow blogger Larry Granillo mailed me some old Brewers media guides that were taking up too much space during his move. My favorite of the bunch is this one, from 2006: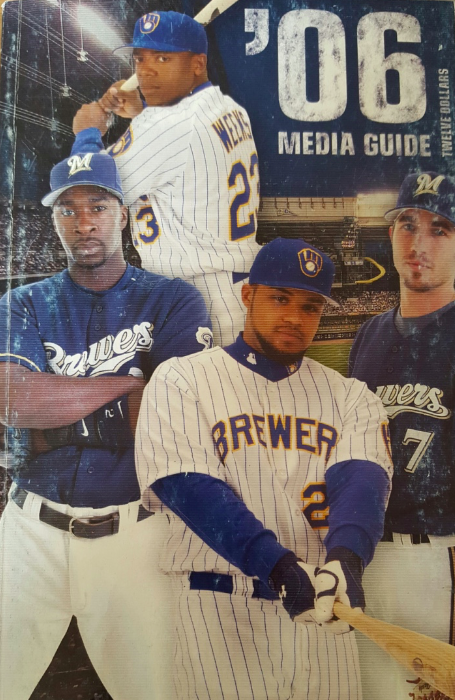 I have a lot of love for this campy, extremely mid-2000s piece of baseball kitsch. None of these players are Brewers any more, and two of them are unemployed. But here, they're the future. They're the youth movement. The Brewers had won 81 games out of nowhere in 2005, the team's first sign of baseball life since 1992. These four — combined with the talent in the minors and yet-to-be-drafted players like Braun, Yovani Gallardo and Corey Hart — comprised the core of the only competitive Brewers squads I've seen in my lifetime.
Hall was a four-year veteran, the oldest of the bunch, yet still only 26. Hardy and Fielder made their major-league debuts in 2005, and Weeks had played just seven games in 2003 prior to coming up for good in 2005. Weeks, Fielder and Hardy had combined for under 1,000 career plate appearances. Only Hall had extended major-league experience; the other three were rookies still trying to find their sea legs in The Show. But we already knew what the likes of Geoff Jenkins and Doug Davis could do. If you believed in the future of the Brewers in the mid-2000s, you believed in these young players.
It's pretty amazing to think of what these four players did in the years to pass. Their careers were just beginning, and neither the stiff major-league competition nor any of the seemingly infinite pitfalls of injuries prevented their careers from lifting off. Even Hall, the worst of the bunch, finished his Brewers career with 102 home runs, tied with Sixto Lezcano for 19th in team history.  In the years that followed, these four players reached five All-Star games for the Brewers (and Hardy deserved another one in 2008), hit 493 home runs, and compiled 53.0 WARP. They had produced all of 5.0 WARP collectively before that, four of those coming from Hall's breakout 2005 season (.291/.342/.495, 17 homers, 18 stolen bases, and average-to-good defense all across the infield).
We can only hope the next wave is this successful. Hopefully, as this year concludes and 2016 begins, the next fearsome foursome to capture our hopeful baseball souls will become clear. Maybe it will include Jimmy Nelson, who has pitched like he belongs in the top half of a rotation since early June (2.98 ERA, 72 strikeouts in 87.2 innings over his past 14 starts). Rotation mate Taylor Jungmann has made his case as well, with a dazzling 2.23 ERA, sharp 2.82 FIP. He has allowed over three earned runs just once in 13 starts, startling consistency from a pitcher in his first crack at the major leagues. 
Who else will be the future? Domingo Santana, who kicked off his Brewers career with a laser beam homer off Gio Gonzalez on Friday night? Orlando Arcia, whose glove could make him a rock behind Brewers pitching like J.J. Hardy was before? What about Brett Phillips, the centerpiece of the Gomez trade, or Gilbert Lara, the teenage phenom from the Dominican Republic the Brewers aggressively signed last year? The Brewers have a number of exciting young prospects, but most of them are still a breakout season, minors or majors, away from becoming the kind of young player who really inspires hope in a competitive future.
It's because of this uncertainty that I'm not ready to say I have hope for the Brewers yet. It's why the question for this club isn't, as it has been for the past eight years or so, "What can we do in the offseason to make the playoffs?" but rather, "How many years away are we?" But leafing through my Brewers junk and finding this gem of recent history reminded me of what hope for this team can look like, and that the future just might be closer than you think.