The 2015 season has not gone as planned for Kyle Lohse. After two solid campaigns in the Brewers' starting rotation — where he pitched to mid-three ERAs despite mediocre peripherals — he has completely deflated, allowing more than six runs per nine innings. No team can continue to run out a pitcher with that kind of performance. While Milwaukee does have incentive to avoid doing too well over the remaining part of the season (can you say Puk?), they still made the wise, albeit late, decision to pull Lohse from the starting rotation.
In the bullpen, Lohse has curiously succeeded thus far. Across 10.0 innings, he's fanned a quarter of the batters he's faced and has induced a ton of weak contact (something at which he used to excel), en route to allowing only three runs. He even managed to pick up his first save in the game on Friday, although that statistic doesn't mean a whole lot. The relief version of Lohse hasn't cranked up the velocity, nor has the repertoire he's deployed seen much change. Nevertheless, there is definitely something different about Lohse.
Compare Lohse in these two stills, the first from his start on May 4th against the Dodgers: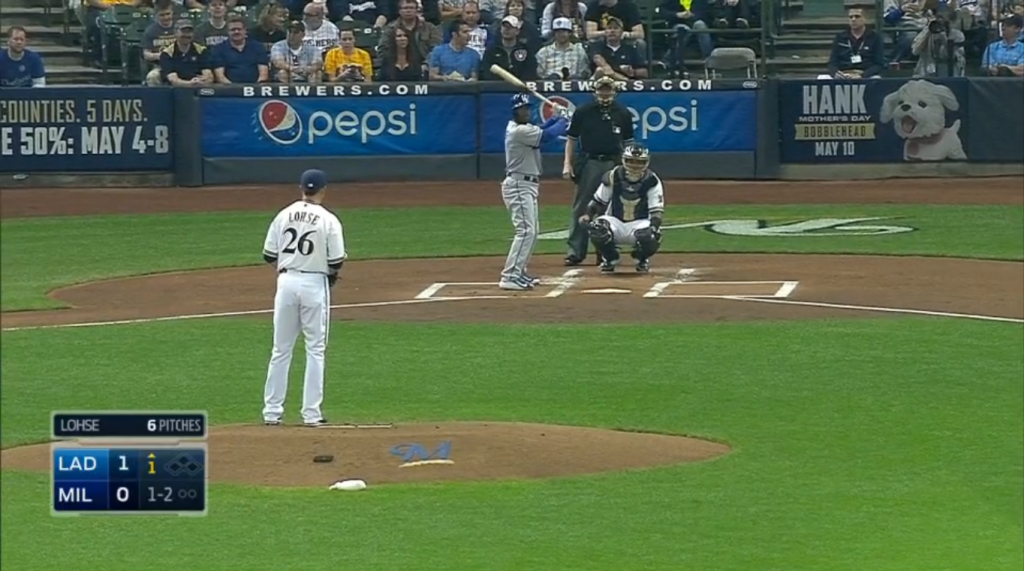 … and the second from his first relief outing, on August 7th against the Cardinals: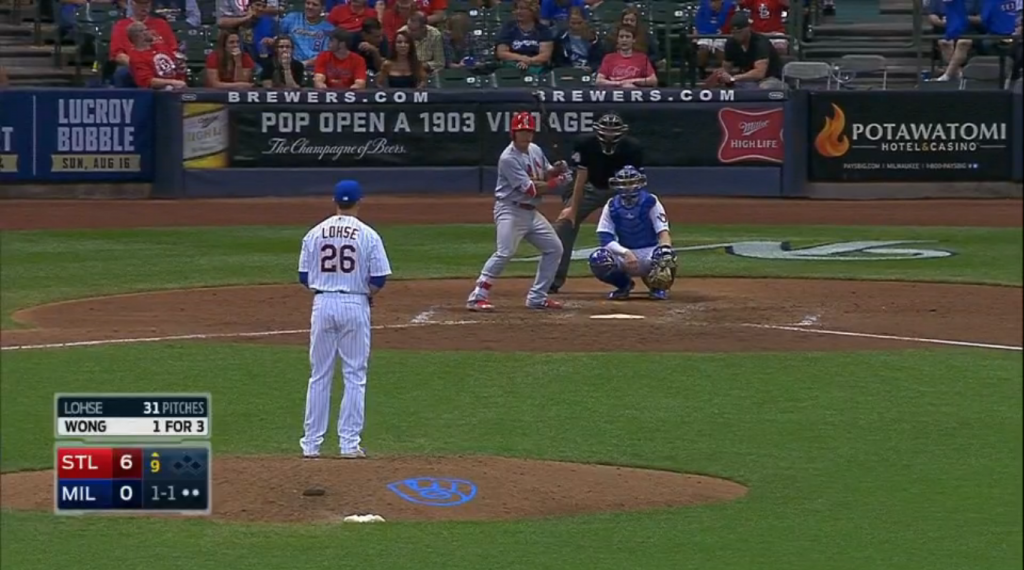 Pitching from the windup, Lohse faces the plate in exactly the same manner. Something changes, however. He has moved his entire delivery over about a foot. Note how he stands much closer to the left batter's box and to the logo on the back of the mound. In his nearly three years with the Brewers, Lohse has never released the ball this far toward third base.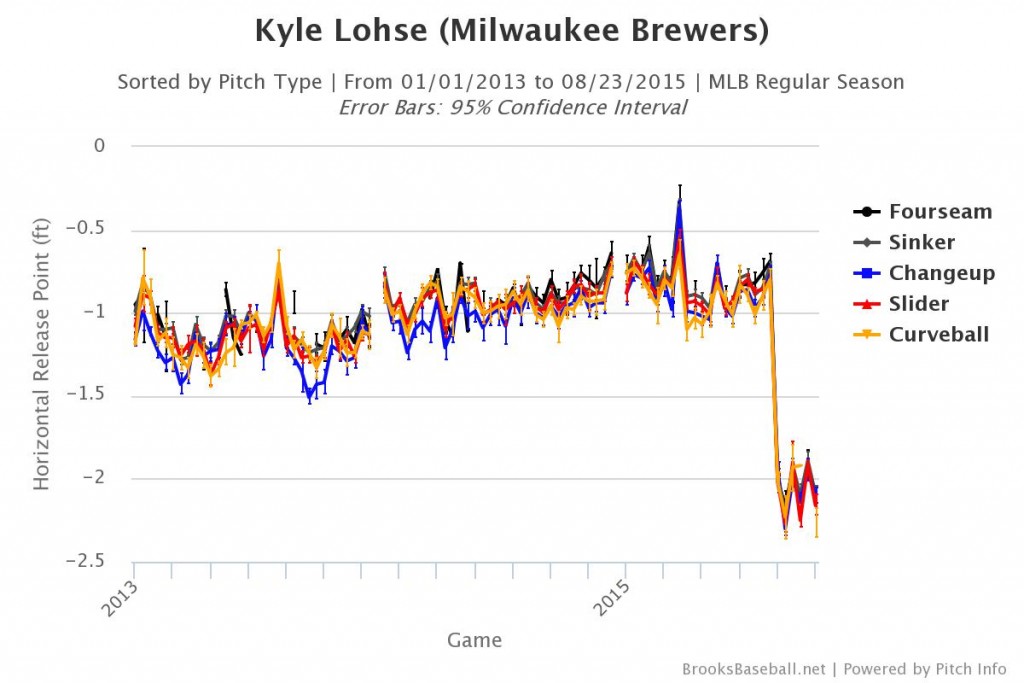 Notably, this change goes back to July 27th, in Lohse's penultimate start against the Giants. That game didn't go smoothly for him, nor did the following one against the Cubs, which hastened his move to the bullpen. For whatever reason, this didn't impact him in those games; maybe it took a reduction in pitch count for it to take its full effects.
This development comes into a whole new light once we recall Jeff Sullivan's research from February. He noted that several of Milwaukee's right-handed pitchers had abnormally low horizontal release points, concluding that:
[…P]ossibly, this is intentional, something that's taught within the organization. Evidence suggests the Brewers might prefer right-handed pitchers who stand toward the first-base side of the rubber, and throw mostly overhand.
The latter element of Sullivan's theory certainly still applies — like many of his teammates, Lohse has a decidedly high arm slot:
But the former doesn't, and to this point, it's only benefited Lohse.
One would suspect that a move such as this, further away from left-handed hitters, would make it harder for them to hit off the pitcher. That hasn't really been the case for Lohse as a reliever, as he's walked three of the fifteen southpaws he's faced. At the same time, they've only gone one for twelve with three strikeouts against him, so perhaps there's potential here. Lohse owns a multi-year TAv of .267 versus opposite-handed batters (as opposed to .240 for their same-handed counterparts), and a move like this could help him to reduce that.
Overall, this may not affect Lohse all that much. He struggled mightily as a 36-year-old starter, meaning the odds of him improving this much out of the bullpen look pretty slim. Then again, those starts came with him delivering the ball in a significantly different manner. Should Lohse return to the rotation at some point and bring this alteration with him, the success he once enjoyed could come back as well.