The 2015 regular season has come and gone, and you've probably heard this already, but there have been a lot of no-hitters this year. How many? Up to this point, there have been seven no-hitters. Think that's a lot? We'll get to that quite soon.
First let's acknowledge a few things. No-hitters are a little silly at their core. They're a celebration of a pitching performance, yet that performance is not necessarily great. The problem is no-hitters are fixated on the idea of the hit and doesn't take into account how many batters a pitcher walked or hit. It also doesn't take into account defensive performance. After all, no-hitters can be accomplished even if an error is committed and errors are arbitrarily defined, adding to the credence that a no-hitter is an arbitrarily defined accomplishment. Often times, the no-hitter is not even the best pitching performance during the season. But, you know what? No-hitters are fun. They're fun for the pitcher, they're fun for the players, they're fun for the fans, they're even fun for those cold-hearted front-office members.
This year, even though no Brewer has thrown a no-hitter, the Brewers have been connected to two of them.
If one paid any attention to baseball this summer, one's probably heard the name Max Scherzer mentioned a couple of times. And one's probably heard the name mentioned in context to his two no-hitters. In fact, Scherzer's two no-hitters in a single season are tied for the most no-hitters thrown in one campaign. But, what's amazing is that Scherzer could have easily had three no-hitters this year.
On the fourteenth of June, Scherzer was pitching against the Brewers, and he had a no-hitter going into the seventh inning when Carlos Gomez hit this bloop single.
It was the only hit Scherzer allowed all game. He was just inches away from getting his first no-hitter, and little did he know he would go on to throw two no-hitters in 2015. This would have given him the all-time record for no-hitters thrown in one year.
That being said, as I mentioned above, there were seven no-hitters thrown this year, and if Scherzer had thrown a no-hitter that day and subsequently gone on to throw two more no-hitters, the 2015 season would have been the season with the most no-hitters recorded of all time. Here is how the historical data looks. The data was scrapped from Retrosheet's no-hitters database.
The year that yielded the most no-hitters was 1884, which is an era that predates the dead-ball era and where baseball was still in its infancy. The mark of seven no-hitters in one-year has been done before, though. In 1990, 1991, and 2012 there were also seven no-hitters, which if one wants to exclude 1884, would be tied for the most of all-time in a single season.
There's also evidence to suggest that we are in an era that has had more no-hitters than ever before. Here is what it looks like, on a per-decade basis.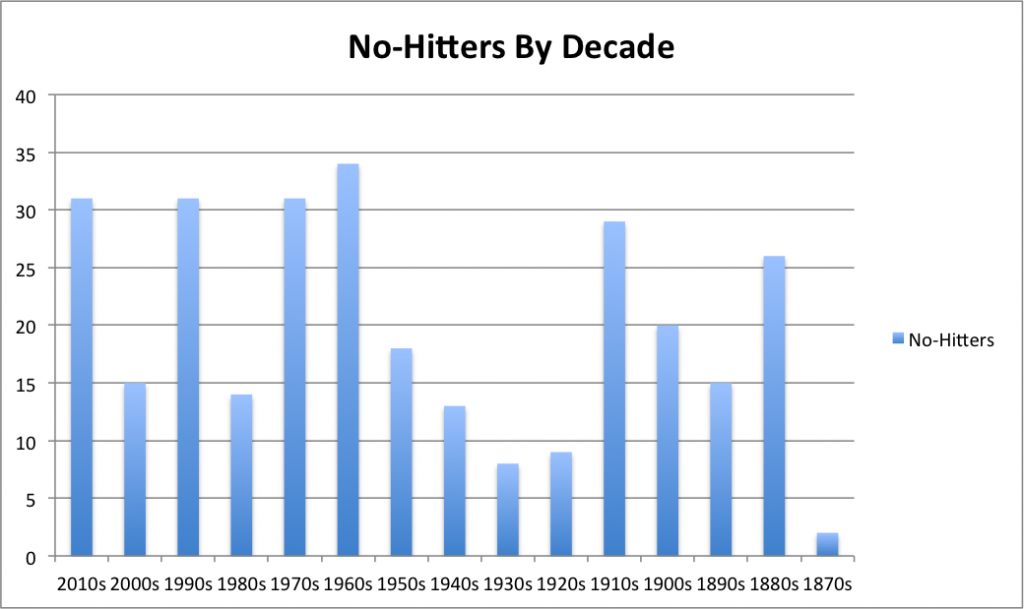 Since 1875, the only decade that's produced more no-hitters has been that of the 1960s, and it only produced three more than the 31, which we've already witnessed since 2010. Oh, ya, and we're only five seasons into this decade. Therefore, if the no-hitters keep going at this current pace, then it will be highly probable that we'll pass the no-hitter by decade mark next year.
The Brewers, though, as a franchise, are not exactly helping, in the rise of no-hitters in baseball. They broke up the Scherzer no-hitter, but on top of that, as a franchise, they've only thrown one no-hitter in their team history.
Here is what the data looks like for all current organizations.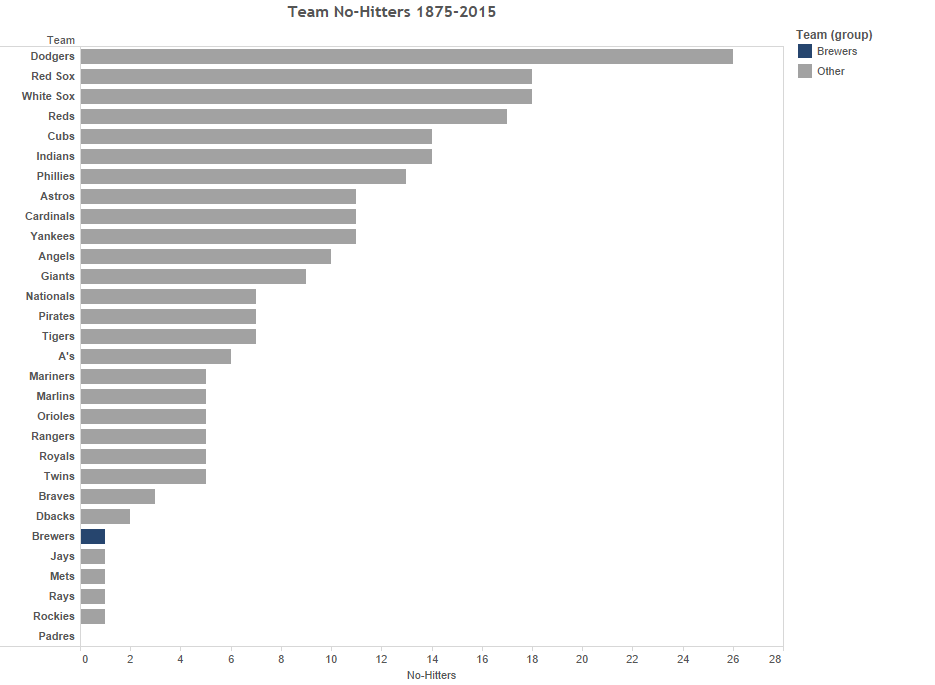 As you can see, the Dodgers with their 26 no-hitters lead the pack, followed by the Red Sox and White Sox with 18. The Brewers are all the way at the bottom. They're not the Padres — no pitcher in their franchise history has thrown a no-hitter — but they're still near the bottom with the Rays, Rockies, Mets, and Blue Jays.
The Brewers, though, were able to help the Astros add another no-hitter to their franchise. This was mainly made possible with the trade of Carlos Gomez and Mike Fiers to Houston. Fiers, then, went on to produce one of the best moments seen this year.
Even if you aren't an Astros fan, it was hard not to feel joy at the site of Fiers' amazing celebration. The smile, the way he launched his glove, and then jumped up in joy yielded one of the best pictures and moments in all of baseball. And at the end of the day that's really what baseball is all about.
It's a product that creates joy. It helps us suspend whatever is going on in our lives for just a few moments, and experience something that is aesthetically pleasing to our eyes. But, more importantly, baseball is supposed to be fun. Baseball is fun to play, fun to watch, fun to listen to, and fun to think about. It's an entertainment product, and whether no-hitters are arbitrary is irrelevant. The fans, everyone in the stadium, and on television get's wrapped up in the communal enjoyment of a singular moment. No-hitters are fun and for as long as they keep being fun, they'll always be part of the game, and that's ok.