It's that time of year again, the Mariners and Rays just finished a six-player transaction where Seattle received Nate Karns, Boog Powell and C.J. Riefenhauser, while Tampa Bay received Brad Miller, Logan Morrison and Danny Farquhar. On Monday, the Twins surprised everyone and won the bid to negotiate with KBO superstar Byung-Ho Park. The latter is a first baseman and the $12.85 million winning bid more than doubled the one that Jung-Ho Kang got last year, which as Jeff Sullivan put it, "It's pretty clear now that Kang opened some eyes." These couple of transactions have kicked off the hot stove season, which could signal that more transactions are coming soon, as GMs are having a ton of discussions.
A few months ago, I took a look at how many trades the Brewers made by month. The information showed, for the most part, similar results as I looked at trades from 1969 to 2014, 1986 to 2014 and 2002 to 2014. For each section, the data showed the Brewers most often make their trades in July and December. The Brewers should and will probably be active in the trade market this winter as they look to rebuild.
That being said, making trades is only one part of the hot stove season and only one part of rebuilding. The next major part is the free-agent signing period, which started on November 7th. The biggest names of this year's class include David Price, Zack Greinke, Jason Hayward and Johnny Cueto, and as Dave Cameron mentioned, this class may be in for a huge payday. Baseball is currently rolling in money and these free agents should reap the benefits.
While this may be true, don't expect Milwaukee to be among the buyers. The Brewers are looking to rebuild, and they're not a big-market team. They, therefore, aren't in a good position to spend with the high-market teams — even if they wanted to, they probably couldn't. But what the Brewers can do is buy some low-level free agents, hope they perform, and flip them for some assets later in the season. They could also try and sign some players that have typically been injury prone or who have underperformed, hoping they start performing and become staples in their roster for years to come.
I think these are all interesting strategies for the Brewers to improve their roster and advance their rebuilding process. Therefore, I wanted to look at when the Brewers usually sign their free agents.
Free agency technically started in 1975, but the battle really started taking place in 1969 when Curt Flood became the first baseball player to fight for free agency. Flood challenged baseball's reserve clause, as he believed it violated his 13th Amendment rights. He initially wrote a letter to Bowie Kuhn, then commissioner of Major League Baseball, but Kuhn denied Flood's request, which caused Flood to sue Major League Baseball for antitrust violations. The case eventually reached the U.S. Supreme Court in 1972, where the court ruled against Flood in a five-to-three ruling.
Although Flood lost the case, the war for free agency wasn't over. In 1974, the issue rose up again as player's union leader, Marvin Miller, told pitchers Andy Messersmith and Dave McNally to play out their year without signing a contract. A few years earlier, the players union got an independent arbitrator hear their grievances and then, "In a case brought to that arbitrator in 1975, regarding the contracts of two pitchers, Andy Messersmith and Dave McNally, [Peter] Seitz ruled that an arcane but critical section of the standard MLB player contract, the reserve clause, did not prevent Messersmith and McNally from leaving their clubs and signing deals elsewhere. With that, the era of free agency in baseball, and sports as a whole, began."
This is a long, but important way of explaining the reason why the data I gathered only goes back to 1975. The data was gathered at baseball-reference's transactions page, and only includes player signings and amateur signings for the Brewers. The information I looked at was also from a monthly basis.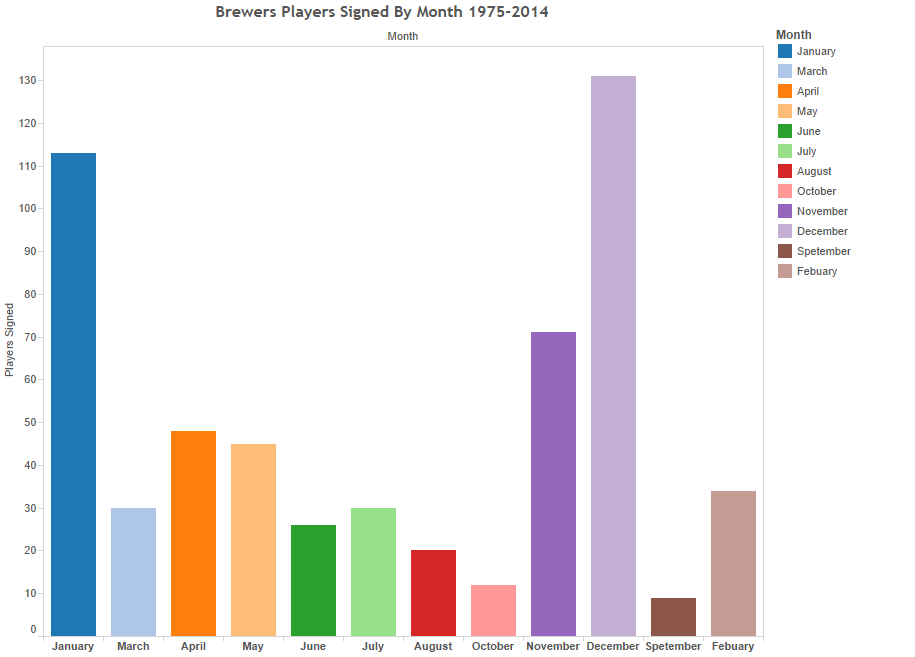 As you can see, the Brewers mostly make their signings in December and January. This is pretty intuitive as most players are signed during the offseason. As well, even though there's been a lot of recent activities early this November, most signings do not typically occur in November. And, as I've shown in the past, most trades don't happen in November, at least for the Brewers. I would typically suspect that teams likely prefer to analyze the market and not make any rash decisions, which is probably why most of the signings for the Brewers happen in the middle of the offseason. Therefore, it might not be wise to expect a lot of transactions to happen this November, although, with the flood of new young GMs, this might change.
With that being said, recent trends show that the Brewers tend to sign more players in January.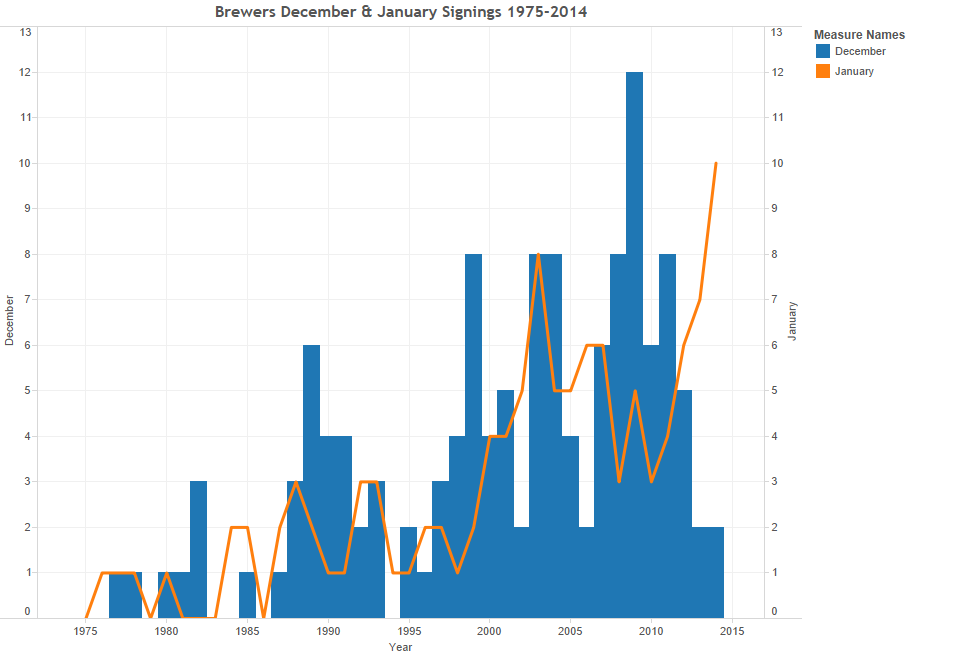 From 2012 to 2014, most of the Brewers signings happened in January (when compared to December) and dramatically so in 2014, where ten players were signed in January and only two in December.
But for those who are craving hot stove news, fear not, as I expect the Brewers to be most active in December. Even though January is a very busy month in terms of free agent signings, it is not in terms of trades. July, a month that is typically a trading frenzy, due to the trading deadline, does not have a lot of free-agent signings. December is, therefore, the only month when both events collide.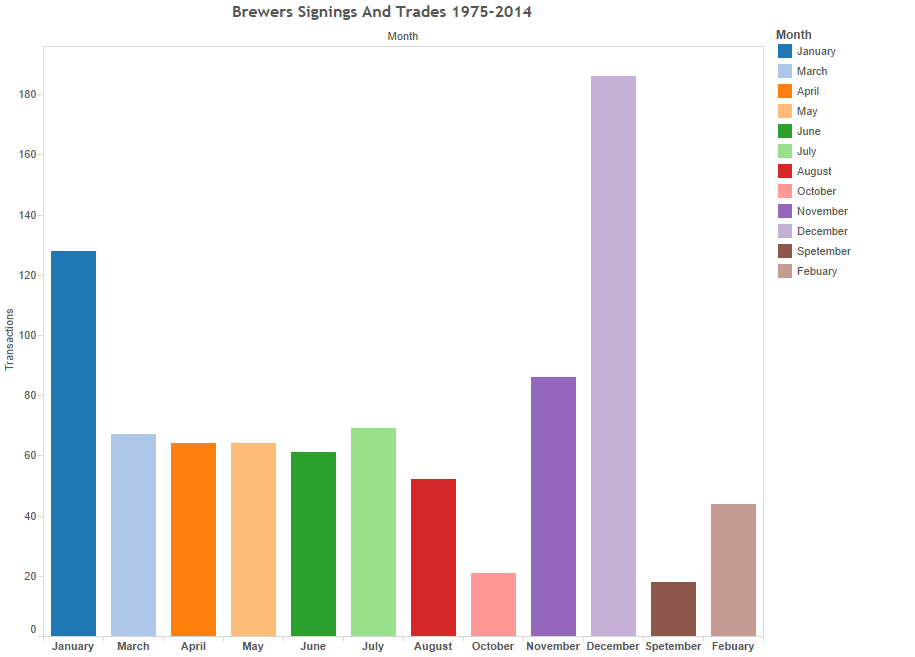 From 1975 to 2014, the Brewers have made 186 signings and trades in the month of December, which dramatically outpaces the next highest month. Therefore, even though we are all getting excited at the prospect of what the Brewers will do this offseason, I don't expect that we'll get a clear picture until December. But, when December hits, I expect it to be quite a fun and busy month as we'll constantly be checking Twitter and other websites for updates on the latest transactions.
THE TRENDS:
When it comes to the player's signings trends, there's a lot of variance, especially in recent years, but the overall trend does show the Brewers are signing more and more players.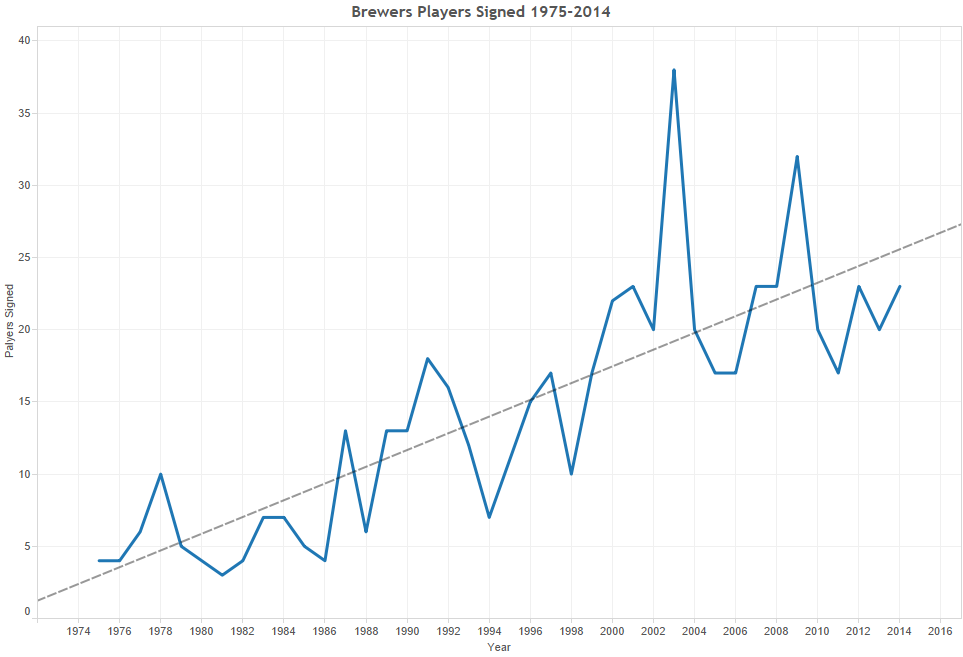 So far this year, there have already been 23 signings, which matches the total for 2014. Therefore, the Brewers should obviously surpass this mark.
This information, for the most part, doesn't mean that the Brewers are definitely going to be active this offseason. It also doesn't mean that the Brewers are going to be active players in the free-agent market. Stearns has mentioned that he plans on being more involved in the draft and in trades, as oppose to the free-agent market, as he feels it isn't a place where he generally sees himself going. Stearns also mentioned in the same Tom Haudricourt article that it doesn't mean he'll never get into the free-agent market, but rather that he will be more selective.
I do expect the Brewers to be active this winter, but mainly in the trade market. As for the free agency, I still expect the Brewers to sign some players. They obviously won't be stars, but they might be able to find a solid lowest cost player. The Brewers should have a lot of open spots this upcoming season and will be able to give players who they haven't before a chance to showcase their talent.