Quick Recap: The Cardinals jumped all over Taylor Jungmann early, and he was charged with 8 runs in 2+ innings pitched. The game was never close.
Top Play (WPA):
The only candidates for top play came in the bottom of the first, as the Cardinals jumped out to a 3-0 lead which they would not relinquish. The top play according to WPA was Randal Grichuk's double with one out (.095). Matt Holliday scored on the play, scoring the game's second run.
The inning was set up by Jeremy Hazelbaker's triple with one out. Ryan Braun made an ill-fated attempt at a sliding catch and the ball bounced past him to the wall. It was a hit regardless, but the slide gave Hazelbaker the opportunity for at least an extra base. The ball tailed away from Braun, but he should have played it more conservatively. Matt Holliday followed that up with a double to right field, before he scored on Grichuk's double. The Cards would score their 3rd run of the inning on a Yadier Molina single.
The second inning featured two more Cardinals runs to make the game 5-0. Alemdys Diaz hit a double which bounced off third base, and then scored on a triple by Matt Carpenter, which was misplayed by Domingo Santana. The fifth run was scored on a Hazelbaker sacrifice fly.
Jungmann was pulled in the 3rd inning after allowing two doubles and a walk. An optimist would look at his start and think he may have had a better day if Braun and Santana hadn't flubbed balls hit their way. A pessimist would say that the misplays hurt, but Jungmann got knocked around and was giving up consistent solid contact. There are only so many explanations one can give when a pitcher gives up 7 extra base hits and takes 60 pitches to record 6 outs.
Worst Play (WPA):
Jonathan Lucroy grounded into a double play in the top of first with one out and runners on 1st and second. WPA recorded the play as -.085. After that play, the Brewers never threatened. As the Cardinals scored nine runs in the first three innings, the Brewers' only base runner in the 2nd and 3rd was a two out walk from Domingo Santana. No play was worth more than .002 after the 3rd as Wacha made fairly easy work of the Brewers, whose only run was scored on a Chris Carter home run.
Trend to Watch:
It's been a week, and so it's hard to get too worked up about anything that's happened so far. However, Scooter! Coming into the season, it's fair to say that Gennett's future with the Brewers was by no means assured. Though the Brewers seem to want Gennett to succeed, his profile isn't much to write home about, as Seth Victor has discussed here and here. His defense isn't great, he can't hit lefties, and any power he may have had has been MIA since 2014.
But Gennett has started 6 of the Brewers' 7 games so far, and has a hit in each start. He also has four walks. As a reference point, his fourth walk last year occurred on June 24. If he's worked on his pitch recognition, then there's a chance that perhaps he's grown as a hitter and can at least be a serviceable second baseman and lineup regular. He's never had an OBP approaching his current batting average of .409, but even chopping 50 points off that would put him close to his rookie year OBP, when he showed promise.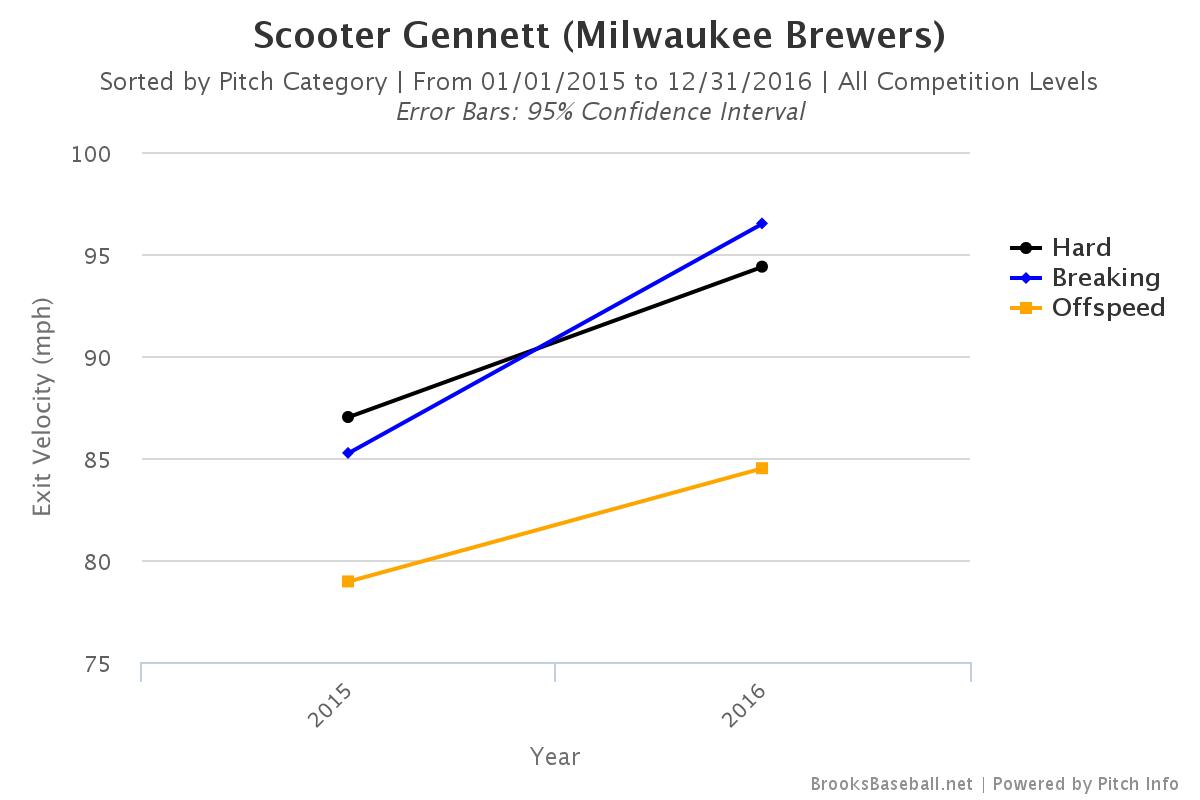 This slightly disingenuous chart shows his exit velocity has also increased at least through the first week of the season. However, there's some reason for skepticism. While he's hit three home runs this season, those are also his only extra base hits. It's not out of the realm of possibility that he'll be exposed as his home run rate lowers to a realistic level. So we may be a seeing a new Scooter, or these paragraphs will be laughable by the middle of June. Yay early regular season baseball!
Up Next:
The Brewers have today off to lick their wounds and get ready for the rest of the series. Chase Anderson will look to follow up his first solid start of the season against Mike Leake on Wednesday evening, followed by the series finale on Thursday afternoon.