The Brewers acquired the services of Aaron Hill in late January. Basically, acquiring Hill and his contract was a necessary evil in order to obtain Isan Diaz and Chase Anderson.
Hill's contract was collateral damage. It's not uncommon for teams, such as the Brewers, to make these type of deals. Acquiring bad contracts isn't the worse thing in the world, especially if it yields a good prospect.
With that said, remember when I wrote the article about finding joy in the smaller things? Well Saturday, May 7th, 2016 was one hell of a night in Major League baseball. First, and most importantly, of course, Bartolo Colon did the unthinkable. He hit a home run. And this wasn't just any home run, but a no-doubter at PetCo Park, flushing this writer's hopes of understanding baseball down the drain.
That same night, Aaron Hill did something amazing as well. He hit three home runs in one game for the first time in his career, including a grand slam. Hitting three home runs in one game is exceptional, but what made this game even more marvelous for Hill was when he hit those homer runs.
His first bomb came in the 6th inning. Jimmy Nelson was pitching for the Brewers and it was not going well for him, as he gave up six runs in only five innings of work. The Brewers were, therefore, down 6-2 going into the sixth inning. Jonathan Lucroy started off the inning, with a solo home run of his own. After Chris Carter then reached on an error, Hill came up to the plate and with the 10th pitch of the at-bat, he hit his first home run of the game.
That home run alone cut the deficit to 6-5 and had a WPA of .163. For a normal game, that would be the high point, clutch wise for any player, and that's ok. A .163 WPA play is very clutch. But, for Hill, that was just the beginning.
That chased Brandon Finnegan from the game. Both teams decided to go with their bullpens after the fifth inning, which was probably a good idea considering 11 runs were scored in just 5 innings of play. Both pens were able to quiet the offenses for a couple of innings. That is, until Aaron Hill came to the plate again.
It's the eighth innings this time, and the Brewers were still down 6-5. J.C Ramirez was now the pitcher for the Reds. When Hill came to the plate, this time, he wasn't messing around. On the second pitch of the at-bat, he hit a deep fly ball to center field for his second home run of the game. That tied the game at 6-6 and had a WPA of .258. Even more, "clutch" than the first home run he hit.
A couple of innings pass again, and nothing changes. Well, now we're in extra innings, free baseball as they say. The Brewers were the away team, so therefore they got the first chance to hit in OT. Ryan Braun was the leadoff hitter and he singled on a groundball to the shortstop. Then, Lucroy singled on a groundball, and so did Chris Carter (Thank you BABIP!). This brought up our aforementioned protagonist, Aaron Hill. He at this point had homered in two consecutive at bats. This time, the pitcher, Caleb Cothman fell behind 2-0. He then threw Hill a 92 mph fastball inside, which Hill hit for a grand slam.
Not only did Hill hit three home runs in one game, but he did it on three consecutive at-bats, and he drove in seven consecutive runs for the Brew Crew. The final home run had a WPA of .147. The reason this home run was less "clutch" than the others was that there was nobody out and the bases were loaded. The Brewers, therefore, had a very good chance of scoring a run in the 10th inning and coming out of there with a win. When the Brewers were down 6-5 in the 8th and Hill hit his second home run, the Red's had a win expectancy of 80 percent. When the bases were loaded with nobody out in the tenth inning, the Reds win expectancy was only at 16.1 percent. That's why Hill's second home run was more timely.
Hill's game was spectacular in terms of production, but also in terms of how it helped his team win the game. I, therefore, wondered if Hill ever had a more impactful game measured by WPA.
In short, no, but his cumulative .530 WPA that game was pretty close to his best game. In fact, it ranks as his 6th best game by WPA.
His best game, however, occurred on September 9th, 2006, when Hill was still playing for the Blue Jays. In that game, Hill went 4-4 with a hit by pitch, two singles, a double, and a home run. The reason this was Hill's best game by WPA measures was due to his final at bat.
That game went into extras tied at 3-3, but the Jays fell behind 4-3 after B. J. Ryan gave up a run in the 10th. This put the Jays win expectancy at 22.1%. In the top of the tenth, Gregg Zaun singled, bringing up Hill, who on the second pitch of the at-bat hit a two-run walk-off home run to win the game. (.644 WPA).
That, however, wasn't even the best play of his career. Hill's best or most valuable play to his team came on October 2nd, 2012, when he was with the Diamondbacks. In that game, the D'backs were facing the Rockies and were down 3-2 in the ninth inning. When Hill came to hit in the ninth, there were two men on with two outs, and the Diamondbacks win expectancy was at 20.4 percent.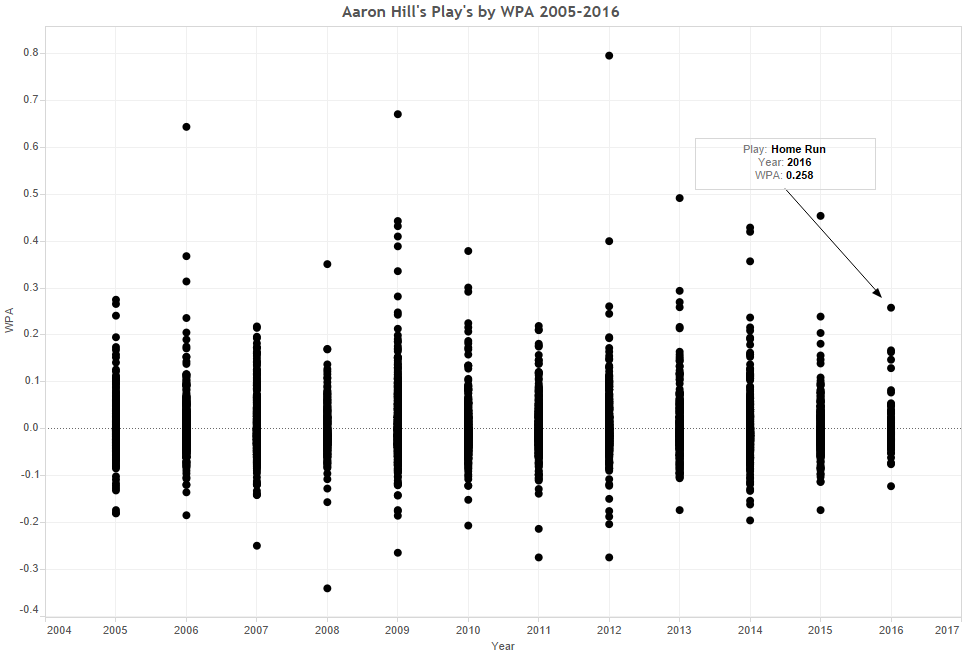 In this at-bat, Hill only needed one pitch to put the ball in the stands for a walk-off win. At .796 WPA, that was Hill's best play, with context, of his career.