The Brewers don't pitch well. You know it, I know it, so let's not dwell on it. In a long and dark rebuilding year, a few dominant performances will occur — not often, but enough to prevent fans from burning down Miller Park. Over the course of the season, I'll highlight as many of these explosions as I can, to keep up spirits until the farm system brings back winning baseball.
Yesterday against the Cubs, Junior Guerra pitched the game of his life. He allowed three runs over seven innings, striking out 11 batters while walking three. This came against one of the best offensive teams in baseball — the one with the seventh-lowest strikeout rate in the majors, along with the highest walk rate by far — so it's a hell of a feat. Let's break down Guerra's accomplishments from top to bottom.
The Numbers
In no particular order, these figures from Guerra's start stood out to me.
23 — Called strikes for Guerra, out of 113 pitches. In his first three starts to the year, Guerra had totaled 27 looking strikes, so this was a big step forward for him. Getting hitters to two-strike counts allowed him to punch them out, although that happened only once on a called strike…
21 — …because nine of Guerra's 11 strikeouts were swinging*. The 21 whiffs he got against the Cubs also blow away his past performance; before this outing, he'd thrown the ball past opponents just 30 times. The Cubs don't swing and miss very often, with the 19th-highest whiff rate in baseball, making this all the more impressive.
*One of his Ks was a bunted foul by Jason Hammel, who singled to right in his next at-bat swinging away. He's a strange one.
6 — Strikeouts Guerra tallied from the fifth inning on. After throwing 240 pitches combined in his first three starts, he easily posted a career high in this game. How did he stick around for so long? Unlike before, he held onto his velocity into the later frames. From BrooksBaseball: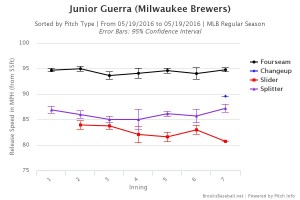 If you can throw an 87-mph splitter the third time through the order, you'll set yourself up for success. Although Guerra did allow a seventh-inning run on a triple and wild pitch, overall he was remarkably durable. The club has now had six seven-inning starts this season, including three in a row from Chase Anderson, Jimmy Nelson, and Guerra.
17 — Left-handed batters Guerra faced, compared to 11 righties. For his major-league career as a whole, Guerra has shown a pretty strong platoon split: Southpaws have roughed him up for a .263/.364/.395 line, while he's limited their counterparts to a .224/.257/.403 triple-slash. In this game, though, Guerra held his own against lefties, striking out six of them and walking only two. To stick in the rotation, Guerra needs to figure out opposite-handed hitters; this start might point him in the right direction.
The Arsenal
In his first three starts as a Brewer, Guerra had thrown three pitches: a four-seam fastball (61.5 percent of the time), a slider (15.7 percent of the time), and a splitter (22.9 percent of the time). In this game, he leaned on the latter: 50 of his 113 offerings were split-fingered fastballs. In two-strike counts, he ratcheted that up even more, throwing the splitter 17 times in 27 chances. Overall, the pitch notched 11 whiffs and accounted for six of his strikeouts.
Enough talk. Let's watch some of the highlights from MLB:

Here's Guerra's splitter neutralizing Jason Heyward, bouncing back from a leadoff home run to Dexter Fowler.
Here, we see Miguel Montero swinging through a splitter for Guerra's sixth strikeout.

Here, Brewer-slayer Anthony Rizzo waves at Guerra's 86th pitch, giving him his ninth K.
Notice something that these pitches have in common? Metaphorically or literally, they all scrape the plate. According to Brooks Baseball, Guerra threw 17 of his 47 splitters below the strike zone: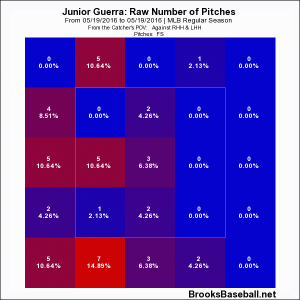 Guerra's splitter doesn't have great bite — its vertical movement ranks in the middle of the pack, and its horizontal movement is essentially nonexistent — but when it travels in the mid- to upper-80s, it'll surge past every batter who tries to touch it.
Of course, the splitter didn't act alone. The four-seamer set it up, by going for 33 strikes in 50 appearances. 11 of those were called strikes, and one of those  was this beauty to Ben Zobrist in the fourth frame:

Guerra deployed the four-seamer for 13 of his 29* first pitches, along with 10 first-pitch sliders. (He threw the slider just 15 times overall, so it certainly seemed like he had a purpose for it.) Neither of those pitches, like the splitter, has a whole ton of movement; the velocity gives them the deception they need.
*Guerra faced 28 batters in the game, but Martin Maldonado threw out Montero in the second inning when he tried to advance on a bounced pitch. This was a strange game, man.
The Matchup
What plate appearance stood out from the rest? When did it become clear that the Cubs had no chance? For me, the true hegemony came in the sixth inning, when Kris Bryant led off with a three-pitch strikeout. This at-bat went against the trends for the game as a whole: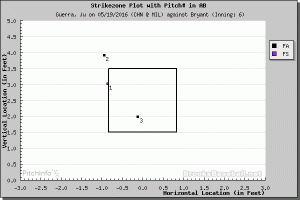 To Bryant, Guerra threw a first-pitch splitter, followed by two four-seamers. He managed to foul off the breaking ball, but the two heaters caught him by surprise. After a whiff on a fastball up-and-in to make the count 0-2, Guerra came right back down to fan Bryant:
Not only did Guerra sequence these perfectly — a center-cut fastball doesn't typically follow a high-and-tight one, and the difference in location means an effective velocity gap — he also hit Maldonado's spot almost exactly on the third strike. Bryant's one of the most dangerous hitters in the league; when you throw across the middle of the plate to him, you'd better make it a difficult pitch to hit.
This unpredictability, and execution, is precisely what the Brewers haven't seen from their pitching this year. For all the stuff in the world, these kinds of plate appearances make pitchers great. Guerra's a 31-year-old journeyman who hasn't accomplished much despite a formidable repertoire, but with pitches like these, you start to see some of the potential shine through.
***
As it stands currently, Guerra will take the hill again on Tuesday. He'll face the Braves, who are…less good than the Cubs. If he can keep up the changes he made here, he'll mow down the Atlanta hitters and continue rolling. With Guerra and Nelson both dealing, the Brewers just need three more competent starters, and they'll have themselves a rotation.