Junior Guerra continues to be the surprise star of the Brewers rotation. His latest start Thursday against the Cubs was his most electric yet. He held one of the best lineups in baseball to just three runs on five hits and three walks over seven innings Thursday night, and his ability to miss bats was eye-popping — the Cubs swung and missed at 21 pitches from Guerra en route to producing 11 strikeouts, a season high for the Brewers to date.
Related Content:
Anatomy of a Gem
Guerra now owns a 3.96 ERA through four starts for the Brewers, and his peripheral numbers are more impressive: 24 strikeouts (8.6 K/9) against eight walks (2.9 BB/9); just two home runs allowed; and a 3.17 FIP. And after drawing a truly ace-like 21 swinging strikes against the Cubs, he now has a 14 percent swinging strike rate. For perspective on that stat, Clayton Kershaw currently leads the majors with a 15.9 percent swinging strike rate, and the only other pitchers over 14 percent are Noah Syndergaard, Max Scherzer, Jose Fernandez and Michael Pineda.
It's no secret how Guerra, a 31-year-old with just four innings of MLB experience entering the season, is getting it done. His splitfinger has proven to be an absolutely nasty pitch. "You can't really tell the difference from the fastball," Guerra said through a translator after Thursday's start. "It's hard and late movement. I've got a lot more confidence on it. I can throw it any count. I can throw it for strikes."
Per Brooks Baseball, Guerra threw nearly as many splitters (42) as four-seam fastballs (50) in Thursday's start against the Cubs. His fastball sat in the low-to-mid 90s, averaging 93.3 and topping out at 94.7, while the splitter checked in at 85.3 MPH on average and 88.4 MPH at its maximum. Many pitchers have a similar velocity difference between their fastballs and changeups — Guerra is getting that same effect out of his fastball, and it's also a pitch with much heavier bite than most changeups.
And that's why even though Guerra has had a bit of a tendency to leave his splitter up in the zone, it has still been an incredible pitch for him thus far, primarily as the putaway pitch for many of his strikeouts. Observe a plot of Guerra's splitfingers with two strikes thus far this year: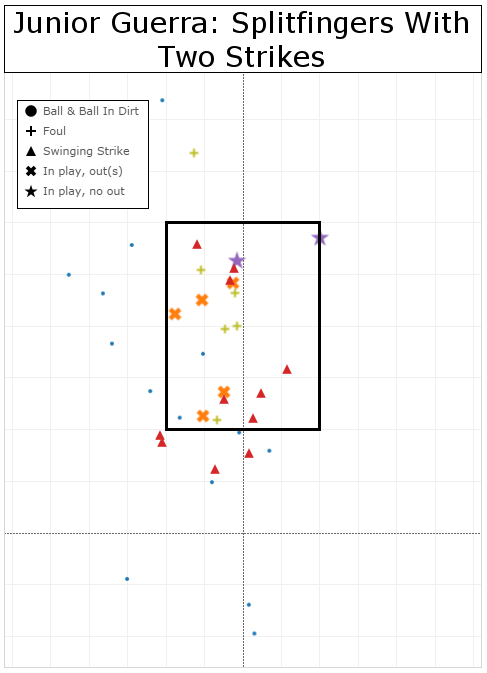 Even when he does miss upstairs, Guerra's two-strike splitter has only been punished for hits twice, one single and one triple. He has gotten three whiffs on pitches more than two-and-a-half feet above the ground, pitches around the belt that often get punished. And when he manages to keep the splitter down around the bottom of the strike zone, it has been quite literally unhittable. Of the 18 splitters he has thrown with two strikes at 18 inches above the ground — around the knees, basically — or lower, only two have been put in play, both for outs, and hitters have swung and missed for seven strikeouts.
Guerra hadn't thrown his splitter more than 25 times in any of his first three starts. Now, out of 101 thrown, Guerra has drawn a cool 24 swinging strikes, good for a 23.8 percent whiff rate. That's something only three other pitchers with 50 splitters thrown this year have managed — Jorge De La Rosa, Miguel Gonzalez and Danny Salazar.
Salazar is one of the nastiest pitchers in the game, but De La Rosa and Gonzalez have struggled in recent seasons. It remains to be seen how lineups will be able to attack Guerra now that they know the splitter is his main weapon, and how Guerra will be able to handle a lineup adjusting specifically to that pitch. But so far at least, his fastball has been strong enough to keep hitters off balance enough to make that splitfinger work. For Guerra, who has been waiting a lifetime for this opportunity, there's no reason to stop using it until major league hitters show they can beat it.