Tl;dr: The Brewers kept the game close through 6 innings and Wily Peralta had a non-disaster start, but the Cardinals destroyed Milwaukee's bullpen and pulled away for a 10-3 win.
Top Play (WPA):
Matt Carpenter's first triple of the game scored Greg Garcia from 1st base and gave the Cardinals a 4-2 lead (.154). They would also score the next 6 runs of the game before the Brewers got one back in the 8th inning. Matt Carpenter had a monster game last night; he went 4-for-5, and fell a home run short of the cycle, as he hit triples in his final two at bats.
Of course, this triple also bounced off Ramon Flores' glove. He took an awkward angle to the ball, but still had a shot to catch it before hitting the wall. That hit was the biggest blemish for reliever Carlos Torres. His other earned run scored off a double play, and he gave the Brewers two strong innings in relief of a competent Wily Peralta.
Bottom Play (WPA)
The bottom play according to WPA occurred in the bottom of the fifth inning. After Peralta struck out Mike Leake to begin the frame, he then allowed three straight singles, and topped that off with a walk The last single scored a run to give the Cardinals a 3-1 lead, but then Peralta induced a double play ball from Matt Adams to end the inning before any more damage could be wrought (-.111).
Peralta had an odd day. To start the game, he gave up hits to the first four batters, allowing two runs in the process, confirming Brewers fans' worst fears that Peralta is just cannon fodder. However, he got the next three batters out, and went on a mini-roll in the second through fourth innings: three baserunners and no runs allowed. Then came that fifth inning, after which Craig Counsell mercifully ended his evening.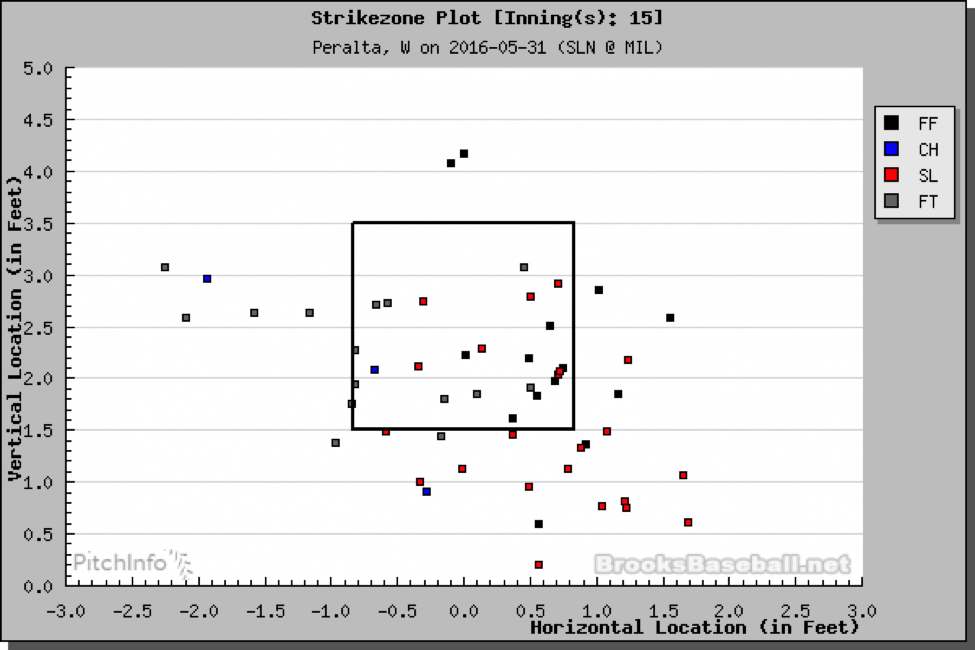 Not to be too simplistic here, but Peralta lost the zone at the start of the game and in that fifth inning, as shown in the strike zone plot above. If he can't get pitches in spots where skilled batters will look to swing, then he's going to fall behind and get hammered.
Trend to Watch
Human trade rumor Jonathan Lucroy had another good game. He went 2-for-4 with with a double, homerun, and two RBI., His at bat in the sixth inning was the last real chance for the Brewers to stay competitive in the game, but he flew out to left field. Lucroy's first two at bats were the aforementioned double and home run. On each of those pitches, Lucroy got a sinker from Cardinals starter Mike Leake which was placed on the outer portion of the plate, a little above waist high, and he handled them both.
In the sixth, after a first pitch ball, Leake went back to the same spot, but this time with one of the six changeups he threw all night, and the first that Lucroy had seen. Sure enough, he got the fly ball. Lucroy seems to be swinging big on changeups this year. His ISO against these pitches is currently .316, but he has only 4 hits in 19 at bats, while also striking out 37% of the time. His career numbers are .147 ISO, .291 batting average, and strikeouts 15% of the time. While Lucroy is feasting on fastballs and making himself a more attractive trade candidate by the day, it bears watching on whether he can adjust back to his previous form on changeups.
Up Next:
The Cardinals will look to complete the series sweep this afternoon, with a first pitch time of 12:40. Zach Davies will take the mound for Milwaukee. In his last start against Cincinnati, he pitched 5.2 innings and gave up 5 runs (2 earned), while striking out 4. He's been homer prone lately, surrendering 5 homers in his last three starts. Jaime Garcia will start for St. Louis. Garcia has had a strong start to the season with a 3.86 DRA. His best game of the season came against Milwaukee: a shutout with 13 strikeouts against one hit and one walk.