Carlos Gomez is not having a good season. His TAv is the lowest it's been since 2009 when Carlos Gomez hadn't yet become Carlos Gomez! His defense and base running are up from last year, but still aren't where they use to be. At this point, the Brewers trade with the Astros seems increasingly one-sided.
That said, Gomez had a couple of amazing seasons with the Brewers. It took him a few years to settle in, but once he did, he became one of the best players in baseball. What made Gomez so unique was his ability to hit for power and his speed. There simply aren't many players in baseball who possess that lethal combination.
Normally, if you're a big power hitter, such as Chris Davis or Jose Bautista, you're not also blessed with blazing speed. That skill is reserved for slap hitters such as Dee Gordon, who aren't blessed with great strength but can make their living on good contact ability and speed.
When Gomez hit his prime, from 2012-2014, his ability to combine those two elusive and rare skills made him one of the best players in baseball.
Fortunately, there's also a way to quantify this. In fact, you guessed it, Bill James created a metric called PwrSpd (Power-Speed). The formula is quite crude and as noted on Baseball Reference has little analytical value. It was essentially a way to quantify the idea of the 40-40 club. Here it is:
(2 x HR x SB) / (HR+SB)
Think of this as a fun metric. A metric that puts a number on the idea of which players had the best Power and Speed combination, but at the same time don't look for it to have any sort of predictive value.
My next step was to examine where Gomez ranked according to this metric, historically (min 300 PA).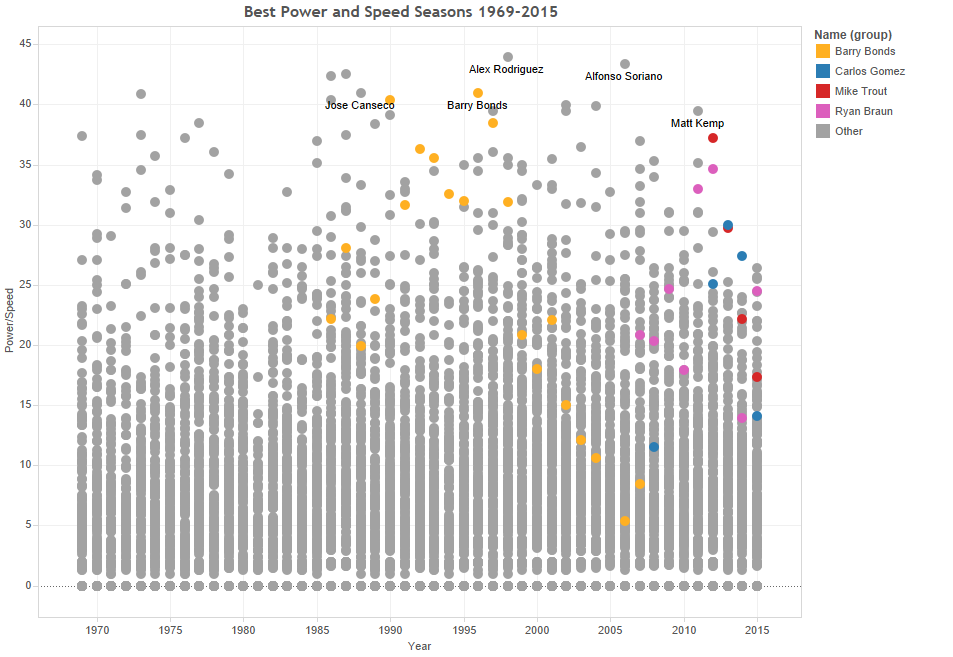 With this metric, Gomez led the league in 2013 and 2014. In 2013 Gomez hit 24 home runs and stole 40 bases, and in 2014 he hit 23 home runs and stole 34 bases. Gomez displayed his full potential those years and personified the identity of the power-speed player. Those were also his best seasons production-wise. The free swinger never raked up great walk rates, but he consistently hit the ball hard and combined with his blazing speed, it allowed him run above average BABIP numbers. Gomez also played sensational defense those seasons, especially in 2013, when just about every defensive metric loved him.
The other Brewer of noteworthiness on this chart is Ryan Braun. Braun isn't usually thought of as a great power and speed hitter, at least not anymore. These days, especially, I think of Braun as a slow corner outfielder that can still provide a lot of value with his bat. But, in Braun's prime, he was the biggest dual-threat the Brewers franchise ever had.
In 2011 and 2012 Braun was a 30-30 guy. Actually, in 2012 Braun was a 40-30 guy, as he hit 41 home runs and stole 30 bases. His 2012 season was the best in Brewers history by the PwrSpd metric, better than any of Carlos Gomez's seasons even though Gomez is traditionally associated with the power and speed combination.
I've never thought of Braun as a speed threat, and maybe he isn't, but he definitely has an ability to steal bases. His average stolen base percentage in those seasons was 76%. Meaning, that Braun wasn't exactly hurting the team by swapping all of those bags. He wasn't Shin-Soo Choo in 2013 when Choo stole 20 bags but got caught 11 times. At that rate, a runner is better off not stealing bases.
The only player to ever come close to Braun's seasons was Tommy Harper who only played two years with the Brew Crew. Fortunately for them, one of those seasons was doozy. He hit 35 home runs and stole 38 bases finishing with an 8.5 WARP, the best mark of his career.
THE 40-40 CLUB
The point of the metric, however, is to quantify the notion of the 40-40 club, which is supposed to signify the pinnacle of power and speed. I've, therefore, labeled every member of that club, and Matt Kemp. Kemp, "tragically", in 2011 fell just one home run shy of being the fifth member of the 40-40 club.
The best season, according to PwrSpd went to Alex Rodriguez in 1998 where he accumulated a score of 43.91. That year, Rodriguez hit 42 home runs and stole a career-high 46 bases. Ironically enough, that wasn't even his best season. His defense, according to FRAA, was poor.
Barry Bonds was only the second player to reach the 40-40 club, and it also wasn't his best season. In fact, his best seasons came later in his career when he started hitting for more power. The reason I included Bonds' color scheme is because you can see the trajectory of a changed player. At the beginning of his career, Bonds' game was about more than just hitting, it also included the ability to steal bases. He was more well-rounded.
Mike Trout is very similar in that regard. His best season by this metric was in 2012, the year he broke out. Trout's first season was a beautiful mixture of speed and power as he stole 49 bases, hit 30 home runs, and played quality defense. Trout doesn't steal that many bases anymore. In fact, his stolen base numbers have gone down every year since 2012, but Trout isn't necessarily a worse player. He's just a very different player, one that relies more on power than speed. The interesting part is that Trout is having these changes in his early 20s. Normally players in their early 20s don't lose their speed, for power. If that adjustment happens, it usually does in a player's late 20s and early thirties.
The next question is whether we'll ever see another player reach that mark. There's an influx of great talent in the game but, at this point, none of them have shown the ability to accomplish both tasks. If anyone could accomplish the task, I thought it would be Trout. That doesn't seem all that likely anymore.
While the league-wide value of the metric isn't trending downward, there's a more condensed distribution. No one has sniffed the level of Trout's 2012 season in the last three years. And, A.J. Pollock was the lowest leader in the category since 1981, a lockout-shortened season, which might mean that we won't see another 40-40 player for a while. On the other hand, Soriano accomplished the task when he was 30, so maybe we just need to be patient and wait for one of these young studs to develop into their power.