Stop me if you've heard this before, but Junior Guerra pitched another gem.
Top Play (WPA):
There was only one run scored in this game, so naturally, it was the top play. The run happened in the fifth inning with nobody out. Martin Maldonado who was catching for Jonathan Lucroy in this game was leading off the inning. Max Scherzer fell behind 2-0 to Maldonado but got him to swing and miss on the third pitch of the at-bat to make it 2-1. Maldonado, however, didn't miss the fourth pitch:
The Brewers, as mentioned above, didn't need another run in this game as Guerra was magical once again.
Bottom play (WPA):
Guerra only allowed four men to reach base all game. That said, two of them reached in the sixth inning, which was one of the only chances the Nationals had of scoring in this game.
The inning started off as many others. Guerra got the first two hitters out, one by means of a groundout and another by the strikeout. Jason Werth was the next hitter, and after Guerra fell behind 3-0, Werth swung at the 3-0 offering and lined a single to right field. Ryan Braun misplayed the ball, allowing it to roll by him, and allowed Werth to reach second base on the error. The Brewers then walked Bryce Harper to face Wilson Ramos.
On the first pitch of the at-bat versus Ramos, Guerra bounced a splitter in the dirt which got away from Maldonado and allowed the runners to advance a base. This put runners on second and third with two outs. Guerra then fell behind 2-0 but was able to work the count back to 2-2. Then, after a couple of fouled pitches, Guerra was able to get out of the jam with his splitter.
Junior Guerra's Game Score:
Junior Guerra, as you might know, has been the Brewers best starting pitcher thus far this season. That's not something I thought I would ever say.
He's been by far the Brewers most consistent pitcher and he's had some of their best starts. In this outing, Guerra pitched 7 1/3 innings striking out seven hitters, only walking two, and gave up no runs. He also only allowed two base hits all game.
This was on the heels of another gem where Guerra went eight innings against the Dodgers, striking out seven hitters, walking two, and giving up no runs. He also only gave up two hits. Both starts were very similar, at least by those numbers.
That start, versus the Dodgers, Guerra had the second-best game score of the season for the Brewers at 83. (Game score is a metric that quantifies the quality of one start). The best was by Zach Davies when he pitched 8 innings and struck out nine while giving up no walks versus the Cardinals (85 game score).
Considering the similarity of Monday's start to those games, it should not be surprising to see that Guerra posted a 79 game score yesterday.
Guerra's Pitch Mix:
One of the more fascinating elements of Guerra's success is his pitch mix. His bread and butter has been his splitter. As it's been mentioned before, Guerra doesn't have a ton of movement on the splitter yet it's got a whiff rate of 42.86, which is the second highest percentage among splitters for 2016, only behind Kevin Gausman. Even more impressive, however, is if the season ended today, Guerra's splitter would have the second highest whiff rate among all active pitchers, only behind Gausman.
The reason this is so fascinating is because during Guerra's last game he increased the usage on his fastball and slider and decreased the usage of his splitter: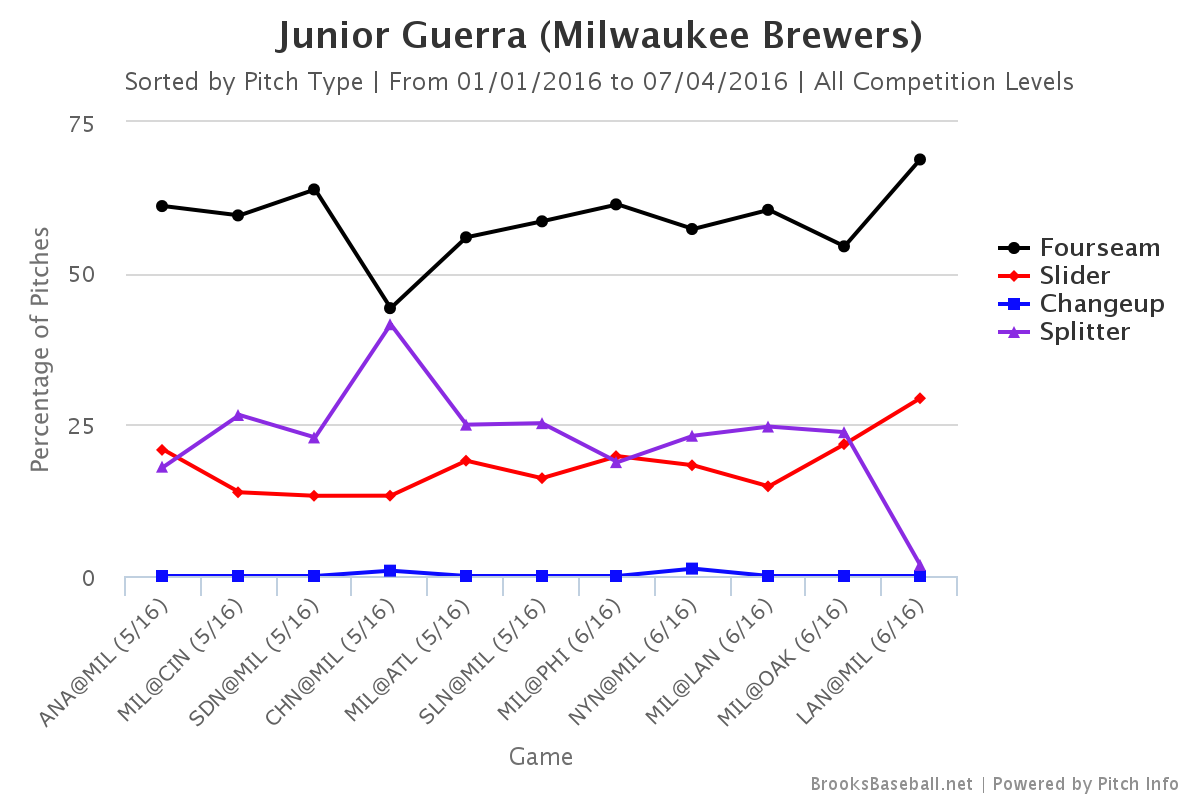 In that start, Guerra only used his splitter 1.8 percent of the time.
In this start, Guerra threw his splitter 32 percent of the time (According to MLBAMs pitch classification). This would be more of the norm for Guerra. That said, it's interesting that Guerra, for one reason or another, decided to drop the splitter last time out, considering that it's probably his best pitch. Certainly it's the pitch that induces the most swing and misses. It's certainly possible that Guerra simply didn't have the "feel" for his splitter that day. It's also possible that Guerra saw something with the Dodgers lineup that he thought he could exploit with the slider more than the splitter.
Coming Up Next:
The Brewers are in action again tomorrow, and Zach Davies will get the nod. Davies had one of his worst starts of the season in his last outing. He gave up six runs and three home runs. Pitchers such as Davies usually struggle with the long ball. With their velocity ratings, just one mistake could end up in the bleachers. That said, Davies has been a bright spot this year. He's been able to mix his pitches well, and will need to continue doing so if he wants to have more success.