Orlando Arcia has been Milwaukee's shortstop of the future since well before his call-up and Brewers debut this Monday. His arrival has been perhaps the most anticipated part of the 2016 season, a rebuilding year destined for a fourth-place finish from the start. But the brightest star in Milwaukee's season so far has been Opening Day shortstop Jonathan Villar, who leads the club with 3.5 WARP. He continued his career year Sunday against the Diamondbacks, as he hit his ninth home run, stole his 42nd and 43rd bases, walked twice, and scored all three Brewers runs in a losing effort.
The stellar performance brings his season batting line to .306/.391/.454, and while his glove work at shortstop certainly wouldn't earn any Gold Glove votes, he has been adequate at one of the toughest defensive positions in the game. Understandably, the arrival of Arcia, considered one of the game's best young shortstop glove wizards, has displaced Villar for the moment and pushed him over to third base. But what will his future be, and will the Brewers do with their newly crowded infield?
Villar has spent the vast majority of his major league career at shortstop, with 263 games there against 16 at third base, seven in the outfield and three at second base. His minor league career was similar: 617 games at shortstop, 19 at second base, eight at third base, and three games in center field. Shortstop is a difficult position, though, and his competence there suggests he should be able to play any infield spot and potentially the outfield as well (as demonstrated by Nate Silver's defensive spectrum chart below).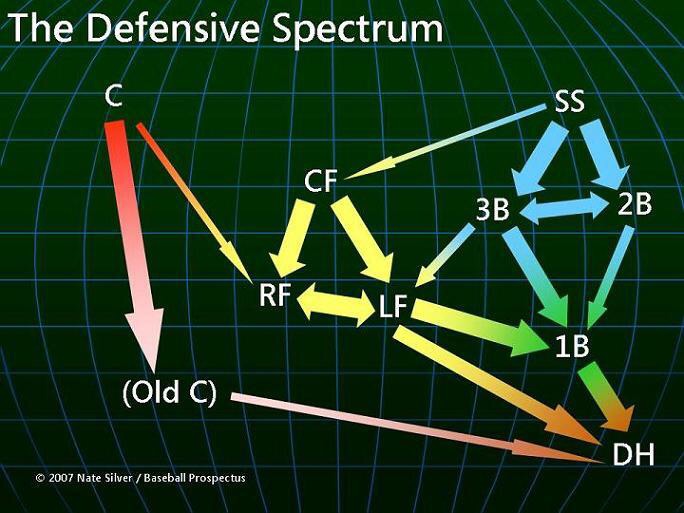 Scooter Gennett has rebounded this year, hitting .272/.329/.411 with seven home runs and nine stolen bases. However, he still ranks slightly below the National League second base average of .275/.339/.420, all despite the fact that he has hit a downright competent .278/.354/.431 against the left-handed pitchers who had been the bane of his existence in prior seasons. Hernan Perez is hitting .291/.314/.455 with eight home runs in just 72 games and has been on an absolute tear since July, with a .313/.330/.515 line, five homers and 20 RBI in those past 29 games. That hot streak has put him in the conversation for third baseman of the future, although he also has experience at multiple positions, including second base and the outfield.
Luckily, for now, the Brewers have the roster spots to work with. Domingo Santana's injury issues means right field is open for Perez, which leaves third base open for Villar. But this is not a permanent solution by any means. Not only should Santana return to right field as soon as he is capable, Perez's bat, which has been roughly league average so far, plays much better at third base than in a corner outfield position. So what are Milwaukee's options?
First of all, Gennett's play hasn't been enough to earn him a guaranteed starting spot heading into 2017. Despite his improved play against southpaws, his career batting line against lefties is still an awful .184/.232/.259 in 201 plate appearances. His .299/.335/.446 battling line against righties is useful, especially considering that very few second basemen hit left-handed. But that might signal he should be used in a platoon role with either Perez or Villar going forward — or that another team should acquire him to play that role.
The outfield as a long-term destination for either player doesn't make much sense. Ryan Braun owns one corner outfield spot as long as he's in Milwaukee, Santana will hopefully return to claim the other, and even if he doesn't, four of the Brewers top eight prospects (Lewis Brinson, Corey Ray, Trent Clark and Brett Phillips) are all outfielders. Moving a natural infielder to the outfield to block these prospects would be counterproductive.
To me, there appear to be two big questions: can either Villar or Perez play second base effectively, and if so, will the Brewers be willing or able to move Scooter Gennett to accommodate them? My preferred solution would be to see Perez at third base and Villar at second base going forward, as the natural shortstop would be the most likely to adapt well to the keystone (although this is not always true, as the differences in double play mechanics can occasionally confound shortstops moving across the middle infield).
Fortunately, the Brewers won't have to commit to any individual option for some time. Villar's play at just age 25 should cement him as part of Milwaukee's long-term future, and they will find a position for him as long as he's hitting and running like he has this season. They can also use the rest of this season to find out if Perez's recent hot streak is real or a mirage.
All in all, these are good problems for the Brewers to have — few rebuilding teams have an abundance of talent anywhere, much less at the premium infield positions Villar, Arcia and Perez play. Given the talent on hand right now, the club will have plenty of options in the future, and that's as good as a team in Milwaukee's rebuilding situation can ask for.