After pitching terribly in his previous start, Jimmy Nelson struggled again on Sunday; after pitching terribly in his previous start, Archie Bradley put together a solid effort. Yeah, it was one of those games.
Best Play: Two of the more exciting Brewers hitters did everything they could to give their team the win. With two outs in the top of the fifth and the Diamondbacks leading 3-2, Jonathan Villar worked a free pass on seven pitches. He proceeded to take two extra bases on a stolen base/throwing error combination (the third time he's done so this season). Orlando Arcia didn't hesitate to bring him home, lining a 2-2 fastball past Jean Segura and into center field.
Arcia's single (+.122) gave the Brewers a win probability of 46.5 percent, up from 34.3 percent when Villar moved ahead. Not long after that, the Diamondbacks would overwhelm their adversaries. Still, for a fleeting moment in the fifth inning, the Brewers had evened the score and nearly evened their odds, thanks to the second RBI off the bat of Arcia in his young career.
Villar's swipe was his second of the day and his 43rd of the season. With the home run and pair of walks he picked up on Sunday, he's upped his triple-slash to .306/.391/.454, exceptional leadoff numbers for a team that's needed an offensive spark. Meanwhile, Arcia followed up a smooth defensive play with his fourth major-league hit; he's now at .211/.318/.211 through a week of big league play, which are pretty solid results for a guy with his inexperience. These two up-and-coming middle infielders showed us what the next great Brewers team could look like in the fifth inning on Sunday.
Worst Play: Just as soon as the hitters knotted the score, the pitchers gave the lead away. Paul Goldschmidt led off the bottom of the fifth with a seven-pitch walk of his own. Jake Lamb, who had missed out on RBIs in each of his first two at-bats, capitalized here. On the first pitch that he saw from Nelson, Lamb crushed a two-run home run 420 feet to center field, which granted the Diamondbacks a 5-3 edge.
Lamb's dinger (-.201) dragged down Milwaukee's odds from 38.7 to 18.7 percent — and opened the floodgates for an Arizona onslaught. After striking out Yasmany Tomas, Nelson gave up a double to Rickie Weeks (yup, that Rickie Weeks), before an RBI triple made the deficit 6-3. That three-bagger chased Nelson from the game; two batters later, Michael Blazek allowed another two-run long ball to Phil Gosselin. By the time the inning concluded, the Brew Crew found themselves in an 8-3 hole and had a 4.7 percent chance of winning.
By runs allowed, Nelson hasn't looked good in his most recent four starts. Over that span, he's worked 18.0 innings and permitted 25 opponents to cross the plate. By deserved runs allowed — i.e., DRA — Nelson has floundered all of this year: His 5.34 DRA ranks as one of the worst in the majors. His early season luck has dissipated, and at age 27, Nelson needs to get his career back on track if he wants to stick in the rotation for the future.
Trend to Watch: Does anyone really want to harp on Nelson, though? Or delve into Blazek's spectacular meltdown? I'd rather focus on one of the offensive bright spots from Sunday's game: Keon Broxton. He earned two bases on balls in the contest, boosting his walk rate to 15.8 percent for the season. More importantly, he's shown a superb eye at the plate this season — out of the 384 players with 100 plate appearances, he ranks 13th in O-Swing rate and just 223rd in Z-Swing rate.
Brooks Baseball's zone charts illustrate Broxton's strategy at the plate — swing at the close pitches, and lay off the ones outside: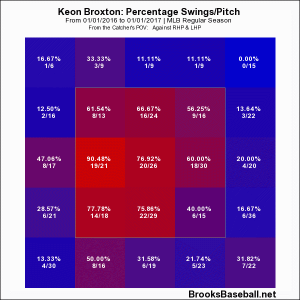 Broxton does have a 38.9 percent strikeout rate on the year — which his two strikeouts on Sunday exacerbated — but if he keeps swinging at pitches in the strike zone, that should help him cut down on his Ks. That, in turn, would improve his batting line from its current .211/.336/.368 state. Broxton can see the ball, make solid contact, and play defense; if he puts all of that together, the trade that brought him to Milwaukee might go down as a steal for David Stearns's best.
Up Next: With the west-coast swing over, the Brewers head back home to feast on some cupcakes. The four-game set against Atlanta begins tonight at 6:20 CST, with Zach Davies facing Rob Whalen. Wily Peralta replaces Junior Guerra (elbow soreness) on Tuesday and squares off against Tyrell Jenkins, and Chase Anderson takes the hill versus Joel De La Cruz on Wednesday. In a series finale that should make for an even matchup, Matt Garza and TBD will wrap things up on Thursday. The youngsters will likely continue to see playing time from here on out; we'll have to hope they make the most of it.