Tl;dr: The Brewers withstood a strong start by Colorado's Jon Gray and scored six runs off the Rockies bullpen to win 6-4.
Top Play:
After being held in check by Jon Gray through six innings, the Brewers came back to take the lead in the seventh inning. Jake McGee started the inning for Colorado and gave up a pinch hit double to Orlando Arcia after recording one out. McGee gave way to Boone Logan, who struck out Scooter Gennett and intentionally walked Ryan Braun. Logan then gave way to Carlos Estevez. Yes, in a late August game between two teams out of the playoff hunt, we saw two pitching changes in an inning.
Anyway, after going down 0-2, mighty Hernan Perez saw a fastball low and away and lined it down the first base line. It fell fair and rolled into the corner allowing Arcia and Braun to score, and Perez ended up on third base with a triple. The hit gave the Brewers a 5-4 lead and was easily the top play of the game (.436).
Bottom Play:
The bottom plays of the game were a tie and occurred back to back, which has not happened in the year plus I've been recapping games here at BP Milwaukee. After taking a 4-2 lead in the top of the sixth inning off a Jon Gray double, he faltered to start the bottom of the sixth inning. Three of the first four batters of the inning reached base. Gray allowed a single to Gennett and walked Braun and Chris Carter, sandwiched around a strikeout to Perez. With the bases loaded and one out, Gray induced two straight fly outs from Kirk Nieuwenhuis and Keon Broxton to end the threat, the inning, and his outing. Each fly out was worth -.118 WPA.
Trends to Watch:
With Jeremy Jeffress and Will Smith gone, speculation has turned towards who will be the closer for Milwaukee during the 2017 season. The two obvious choices are Tyler Thornburg and Corey Knebel. Based on performance, and the assumption that a manager will choose his best reliever to be his Closer, then Tyler Thornburg seemed to be the guy. This season he's on pace for his best DRA (2.75) and K/9 (12.2) of his career, while also reducing his walks and hits.
However, some thought that Corey Knebel was the closer in waiting. His DRA hasn't been as impressive as Thornburg (3.84) and he strikes out fewer batters (11.4 K/9), but he also hasn't been blessed by the BABIP gods (.308 compared to Thornburg's .224). After Thornburg had pitched the past two days, Knebel got the opportunity and converted the first save of his career.
Knebel mixes a four seamer with a knuckle curve, using the knuckle curve around 25 percent of the time to throw the hitter off balance. He started the inning against the Rockies' two most dangerous hitters: Nolan Arenado and Carlos Gonzalez. Knebel dispatched them with only three pitches, all fastballs.
He hit some tough luck when Gerardo Parra hit a grounder just out of the reach of Gennett, who appeared to be positioned closer to first base. Scooter almost made the play, but the ball got through. Knebel then appeared to get too fine when pitching to Daniel Descalso: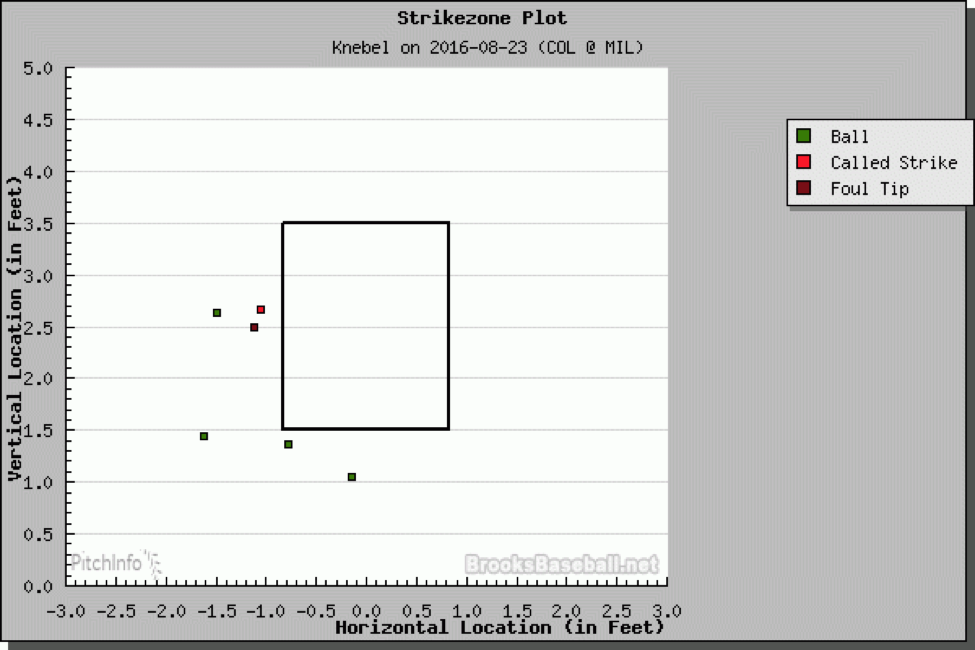 No disrespect intended towards Descalso, but late game situations with the tying run at the plate is not the time to nibbling against hitters with a career .249 TAv. Instead of challenging Descalso, Knebel walked him, creating the potential for a disaster inning. Luckily, the game plan called for no fear against catcher Nick Hundley who softly lined out to Gennett on his first pitch to end the game.
As the team looks towards 2017, it's incumbent on the players who are not guaranteed roles to showcase themselves for next year's roster. Based on his output to date, Knebel will be on the 2017 team. However, he has the chance to move himself up the ladder and become the bullpen anchor. While analysts who look towards advanced stats might (correctly) malign modern bullpen roles and pitcher usage, it makes a big difference to the players themselves, at the very least in terms of salary and perception. Former closers continue to receive chances upon chances, even if their performance doesn't warrant it, if they once accumulated a large save total. Seventh and eighth inning guys don't receive a similar benefit of the doubt. If Knebel has chances in the future in this role, he needs to attack weak hitters and stake a claim to a more prominent role, a higher salary, and a more secure future.
Ephemera: Per the Brewers Twitter account, Brent Suter (win) and Corey Knebel (save) are the first Brewers to record to their first win and save in the same game for Milwaukee since 2013 (Donovan Hand and Alfredo Figaro).
Up Next: The Brewers will look to complete the series sweep in today's afternoon matinee. Zach Davies will start for Milwaukee and look to get back on track. In the month of August, Davies has allowed 17 runs in 21.7 innings across four starts, while striking out 15. In his start last week against the Cubs, he gave up seven runs in four innings. Colorado's starter is Tyler Anderson. His last start was also against the Cubs, and he pitched seven innings, allowing five runs and striking out eight. First pitch is 1:05.