Best Play (WPA):
Whoever you were rooting for, it would be difficult to say that the seventh and eighth innings weren't exciting.
The top play happened in the top half of the eighth after the Brewers came roaring back from a 3-1 deficit, to take a 5-3 lead. Corey Knebel came in to pitch in relief for the Brewers. The inning starting off well, as he got Yadier Molina to ground out softly to the pitcher. The next batter, however, was Jhonny Peralta, and he singled up the middle.
That brought up Randal Grichuk. Knebel fell behind early, as he threw to straight balls. He then threw a strike which Grichuk took, but the next pitch was a 95 mph fastball down, and Grichuk crushed it to deep center field and over the wall, tying the game at 5.
Worst Play (WPA):
The worst play of the game happened only a few batters later that same inning.
After Grichuk homered, Kolten Wong singled on a soft line drive just over the glove of Chris Carter. Wong then stole second base and advanced to third base on an error made by Martin Maldonado. The winning run was now on third base with only one out.
But, Knebel was able to bear down and strike out Tommy Pham on the fifth pitch of the at-bat. This was the worst WPA play of the game for the victorious Cardinals. At that point, the Brewers only had a 37.8 percent-win expectancy. After the strikeout, the win expectancy rose to 51.8 percent.
The Brewers then decided to intentionally walk Chris Carpenter to face Jedd Gyorko. While it is unwise to intentionally walk batters, this time the move worked out as Knebel struck out Gyorko on four pitches.
Arcia hits a home run, keeps chasing:
When the seventh inning started, the Brewers were down 3-1. After the inning ended, they were up 5-3. The rally started with Orlando Arcia's second home run.
It's a good piece of hitting. Matt Bowman threw him a slider down and away and Arcia waited back on it. Arcia timed it perfectly and then swung hard, and crushed the pitch.
In my last game recap, I wrote that Arcia was chasing the slider away. Therefore, this is a good sign, but Arcia still has some work to do. Let's examine his at-bats a little closer and a little further.
Second inning: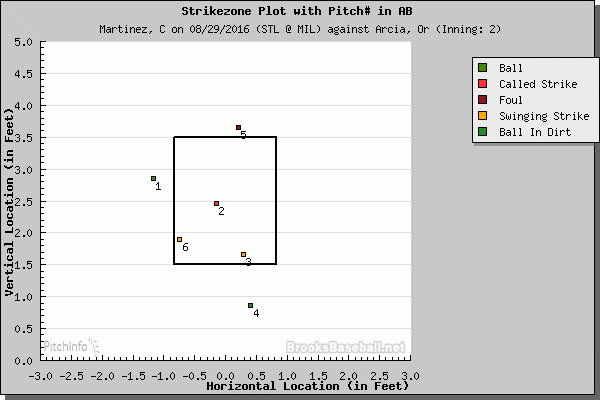 Fifth inning: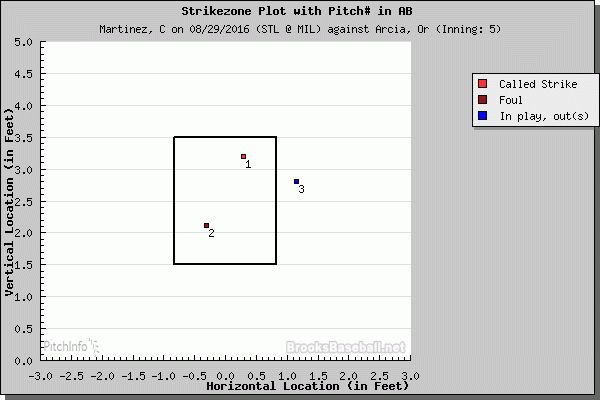 Seventh inning: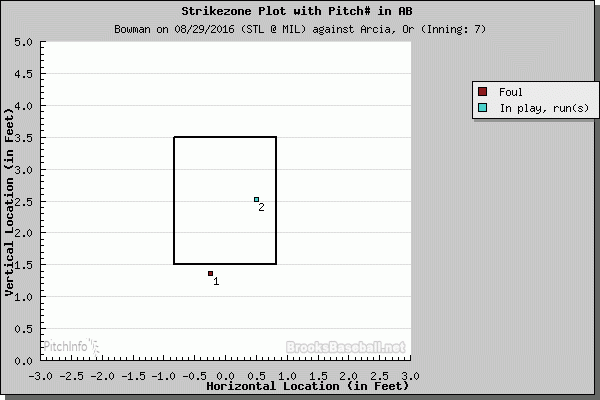 Eighth inning: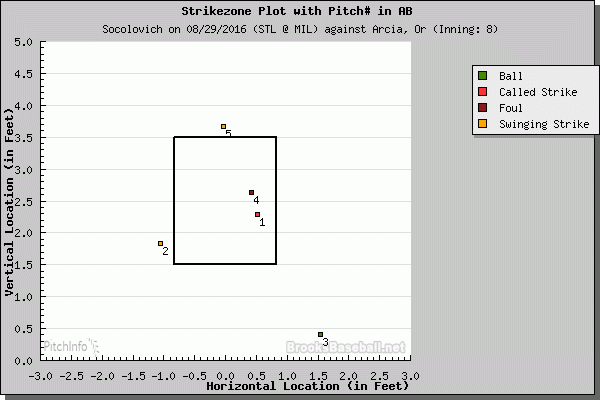 In this game, Arcia saw 16 pitches. Eight of them were thrown for balls, and yet Arcia swung at five of them.
The first at-bat wasn't that bad. He did chase the fifth pitch, but it was close to the plate, and he already had two strikes on him. The at-bat in the fifth inning, however, he was thrown two strikes and then a curveball that wasn't even close to the plate. He chased it and hit a weak groundball to third. The third baseman then got Kirk Nieuwenhuis out at second on a fielder's choice.
Then, even in the at bat where he hit a home run, he still chased a first pitch fastball. Thankfully, for him, he fouled it off, but that was still a bad pitch to swing at.
Finally, there's the eighth inning at bat, where he once again chased two pitches.
Arcia is swinging 49.2 percent percent of the time, which is a little bit higher than the average. The real problem right now is that he's swinging at pitches outside the strike zone 35.9 percent of the time when the average is 30 percent. He's also making contact on 74.3 percent of the pitches he swings at outside the strike zone, which is well above average. This isn't good because when you swing at pitches outside the strike zone and make contact, you usually end up making week contact (just like Arcia's second at-bat of the game).
This isn't to suggest that Arcia is doomed, or that he will be a bad player going forward. It just means that he's going to need to improve his plate discipline if he wants to have success.
Coming Up Next:
The Brewers will be in action again Tuesday, facing the Cardinals and Adam Wainwright. Wainwright has been one of the Cardinals best pitchers for a number of years, but this season has been different. He's sporting a 4.27 DRA, which isn't bad, but he's clearly not the pitcher he used to be. His strikeouts are up and his walks are down, and he's allowing a harder TAv against than in his past years. The Brewers will, therefore, have to take advantage of Wainwright's decline if they want to have success in tomorrow's game.