When Wily Peralta was sent to the minor leagues in the middle of June, he was struggling tremendously. He had put up a 6.68 ERA in in 66 innings and struck out 42 batters and walked 27. These numbers were absolutely horrible, and—as I wrote at the beginning of the season—Peralta's underlying performance was trending downwards as well. The demotion was justified.
But when Junior Guerra went on the disabled list, the Brewers decided to call Peralta back up. This decision wasn't based on his performance in the minor leagues; his 6.31 ERA in Triple-A certainly did not set the world on fire. Additionally, his strikeout-to-walk ratio remained approximately two-to-one (39 strikeouts, 17 walks), although his strikeout rate did spike as those 39 strikeouts came in 41.3 innings.
Triple-A Colorado Springs isn't the greatest place to judge a pitcher. Colorado Springs itself is a terrible place to pitch because of the altitude, and the rest of the PCL is as hitter-friendly as any minor league outside of the California League. Therefore, it is likely that the club saw the spike in Peralta's strikeout rate and decided that they would give him another shot.
In the four starts he's made since being recalled, Peralta has been much better. He has put up a 3.52 ERA and struck out 17 batters in 23 innings. Most encouragingly, though, we have seen an improvement in some of his peripherals.
One of his big problems earlier this season was his inability to keep the ball down, which in turn impacted his ground ball rate. His career ground ball rate is 54 percent, which is just about in line with many of the league's other groundball pitchers. This season, though, that number is just 51 percent.
But in the month he has been back, Peralta has shown some encouraging improvements. As opposed to earlier this year, when it was clear that his pitches were drifting up, he has been able to harness his control a bit better in August.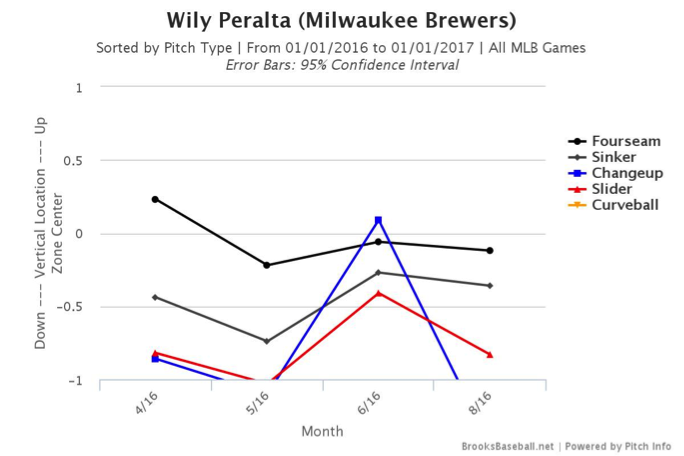 Each of his four pitches has been lower in the zone this month, albeit to varying degrees. So as an overall trend, this is absolutely a positive, and it has resulted in an improved ground ball rate as well.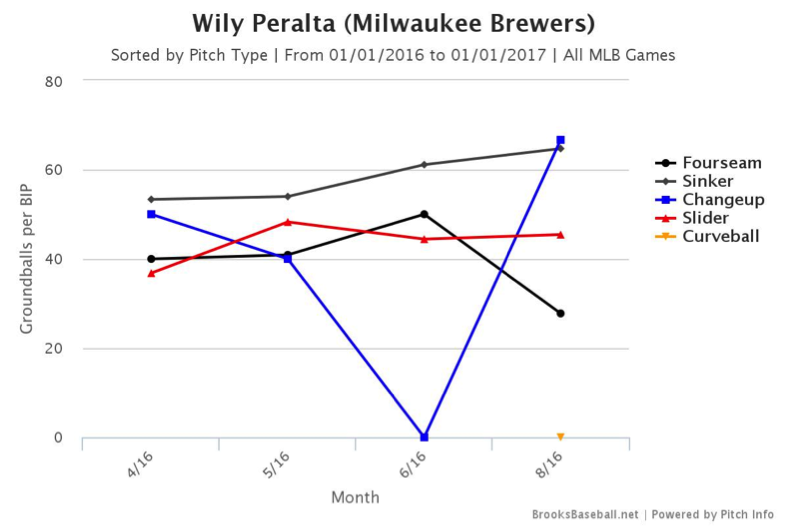 A ground ball pitcher like Peralta will rely on his sinker to generate ground balls, so it is encouraging to see that line continue to rise in the graph above.
There are a couple clear caveats here, though. First, despite the improvements listed above, he has simply gotten his numbers closer to his career levels. Overall, he is still trending in the wrong direction—as you can see from the two graphs below, both his location and ground ball rates do not indicate any improvement. In fact, if there is any change at all, it is slightly negative on all counts.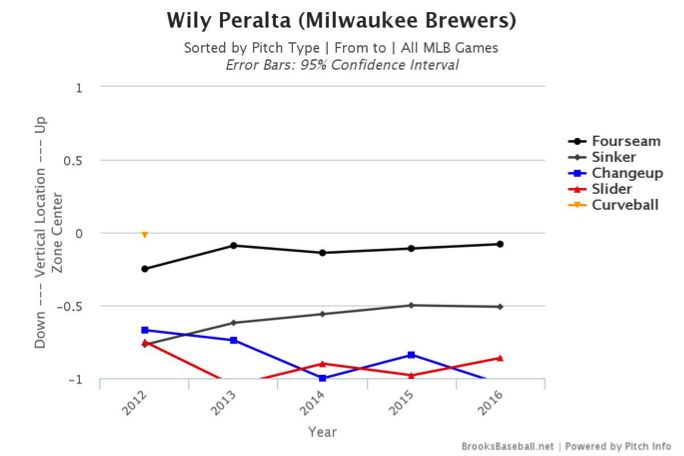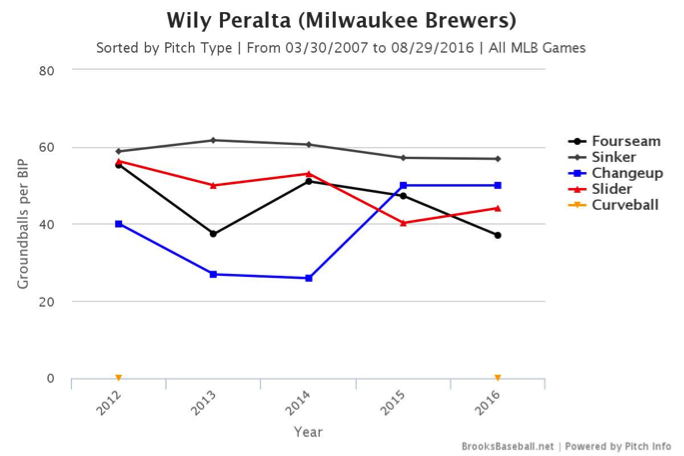 The second caveat is that Peralta returning to his career levels isn't exactly a positive. When he burst onto the scene as a 23-year-old in 2012, the Brewers had high hopes for him. They would have hoped he was going to be a reliable member of their rotation for the next several years. However, that simply hasn't happened. His career DRA is 4.71, and his mark last year was 5.99. Peralta simply returning to form does not make him a good pitcher; it simply makes him not an unplayable wreck.
However, the trendlines appear positive and the overall performance is good, so an optimist might suggest that Peralta has in fact figured something out. It is still too early to tell whether he is in fact getting better or we are simply seeing a regression to his career levels. However, this development is certainly better than seeing no improvement whatsoever, so it gives viewers something to watch out for down the stretch of a generally lost season.